Digital branding for business is a key strategy to differentiate your company in the market. Choosing the right digital branding agency puts your organization ahead of the rest.
Digital branding for business is how your website, social media, digital advertising, and more come together to make your brand memorable to customers.
We are sure there has never been a better time to own your own business. Despite competition in 2023 for online consumer needs, you can benefit from this boom. However, with this competition, you need to optimize all areas of your business venture to make sure you stand above the herd. Digital branding is one of those hallmark areas.
So, let's discuss what you need to know about online digital branding for businesses and how you can use this marketing strategy successfully.
Digital Branding: What It Is and Why You Need it
Digital branding encompasses many areas of your online business presence, including but not limited to:
The look and feel of your website, including its design
Product photography style and packaging
Logo and brand colors
Social media content strategies
Digital advertising (paid social, display, and SEM)
SEO
Online reviews and customer word of mouth
Content marketing (blogging, how-tos)
And more
Please note, all these tactics define how customers see your business and your brand online. It's a strategy you cannot ignore. A digital brand that accurately depicts what you want your company to represent will help you attract more clients and sales.
When looking at all digital elements together, it should look like a cohesive design. Strong digital branding means you become recognizable. For example, if your logo disappeared, could your customers still identify your products and content as yours from other elements? The answer is yes if you have a solid presence.
For example, take the famous brand Kinder by Ferrero. If I handed you a red and white package, you likely would not need to turn it over to know what it is.
Apart from the colors, the company consistently brands itself through colors and shapes. Even if I handed you an unpackaged egg, you could probably guess who made it. That is the power of a digital brand that's consistently applied throughout all mediums, and it drives sales. You can see the unique benefits for your organization too.
Image source: https://stanbranding.com/
Digital branding is essential for your business to build a clientele and make a profit.
Let's break it down in detail based on the following example. Slack is entirely digital. Beyond the convenient channels and taglines about making email obsolete, is a prime example of minimalist branding. Even without the word 'Slack' next to it, chances are you recognize the current Slack logo.
It's everywhere and it's so consistent that you do not notice. This ubiquity of the brand and its rapid adoption due to amazing customer service made the 27.7-billion-dollar sale to Salesforce possible in December 2020. A solid brand contributes to that kind of success.
The Benefits of Digital Branding for Business
It is important for you to understand that creating a digital brand strategy is not the same as creating your marketing strategy. Marketing reaches consumers and moves them down the sales funnel to buy your product.
Your digital brand, however, is what people think about you based on their online interactions. The effectiveness of your efforts can help influence purchasing decisions, but it also helps influence your customer after the sale. Loyalty always primarily tied to your digital brand strategy design.
Consider Facebook Inc and its recent shift to Meta. Facebook itself is among the most recognizable social media platform in part due to the prevalence of its digital brand.
When they update, the platform still looks the same. You would recognize the blue Facebook uses anywhere, and the logo is recognizable even if it's the wrong colors.
With the announcement of Meta, Facebook branding shifted again, but remained relatively unchanged. Instead, the Meta brand dovetails into Facebook while removing Facebook itself from what has become a multi-brand company. It will be interesting to see the long-term effects, though the short-term effects on stock prices look promising.
Your digital branding builds trust with the consumer and helps set their expectations. In a world that is increasingly digital, that is a significant consideration. In the online world, all brands have high potential visibility, but only those with a plan achieve enough visibility to make a difference.
How visible is your brand online right now? Let us do a free analysis of your project and give expert tips and creative solution outlines!
How to Develop a Digital Branding Strategy
It is vital to intentionally design and build your digital brand, rather than picking colors and logos simply because they look nice or come at a discounted price. We're sure that you don't want to risk creating an impression that doesn't suit your ideal target audience, correct? Your brand should look cohesive.
Choosing the tone of your brand and marketing should involve extensive research. That's why your organization should conduct research into your target audience, competitors, similar brands, and product marketing only through a reliable source or agency, not the intern pool.
When your commercial profits are on the line, this step should not be ignored in the process of developing a brand strategy for your business. Having a good digital presence can help you build a community of like-minded consumers, bonding over similar interests and hobbies.
Moreover, with their trust, you can increase your customer retention, grow your business, and increase the volume of your word-of-mouth marketing at the same time. Let us share with you a similar story of our client, that will explain the essence of the problem to you in even more detail.
The CEO of The Healthy Chocolate Company approached our award-winning agency about a year ago after expanding nationwide from what was a strong vision to create tasty, wholesome, and guilt-free chocolate for chocolate lovers — without the additives.
They had already done some good work with their marketing and business was booming, so they needed a brand refresh that to reflect a more robust variety of products they now had. Initially, they had tried to optimize their budget by getting their digital design work done by inexperienced contractors.
Unfortunately, they received sub-par work from the performers and needed to hire more contractors to re-do the work. However, more contractors did not improve the quality. In addition, the cycle of finding contractors and needing to manage them also took up a significant amount of time for the department.
By the time the director decided to contact our agency, they had used half of their marketing budget. Despite the huge amount of time and money spent, they had no workable digital content to show for it.
A lack of digital content meant lack of industry recognition and brand awareness they deserved. Their staff was frustrated with the lack of progress on the project and the lackluster attention the organization received, which shook the stability of the company at the start.
With Mark (CEO of The Healthy Chocolate Company), one of his acquaintances shared our contact information with him. He had heard about our successes. Mark scheduled a free Zoom meeting with our CEO and got pre-development for his organization.
As soon as possible our creative team of designers and marketers brainstormed, analyzed the market, and the brand's mission as part of the brand package pre-development.
While completing this project, the company shared some data showing their growth in the market and as an organization.
And you know what? Literally, the CEO of The Healthy Chocolate Company a few months later sent us briefs for the development of 4 new product launches. This only reflects the hardwork and impact of our winning design and digital branding expertise.
If this teaches us anything, it's that you shouldn't cut corners when it comes to putting your company's best foot forward. Instead, this is an opportunity to set it up for long-term success.
Here're a few questions that should be top of mind for you to answer when crafting your brand:
What does my company stand for?
Why did I start my business?
What values does your brand represent?
What values do your customers expect your business to meet?
What do you want your audience to say about your brand?
How should they feel when they look at your packaging?
How do your products fit into their daily life?
Why does your demographic choose your brand over others?
How does your product or services stand out?
What kind of marketing excites my target group? What platforms do they frequent?
While some of these questions may feel similar, it's essential that you take time to answer all of them. Think about the brands, businesses, and organizations that you support financially. Why are you loyal to them? Your audience should know that answer too about your organization.
Once those questions are answered, you need to determine how to show customers this impression.
2023 Digital Branding for Business Trends
The core of creating a brand identity has nothing to do with trends but rather with the principles of your website and positioning. However, the digital landscape evolves, and there are new ways to communicate with your audience every day.
For example, McDonald's was founded in 1955. They successfully leveraged many business trends and weathered many changes to the market. Currently, McDonald's employs several concurrent strategies.
For instance, the encouragement of food photography to match the ongoing trend, which also includes video now. This turns into free video and group content, which in turn helps the brand reach more consumers without requiring direct input by the sales team.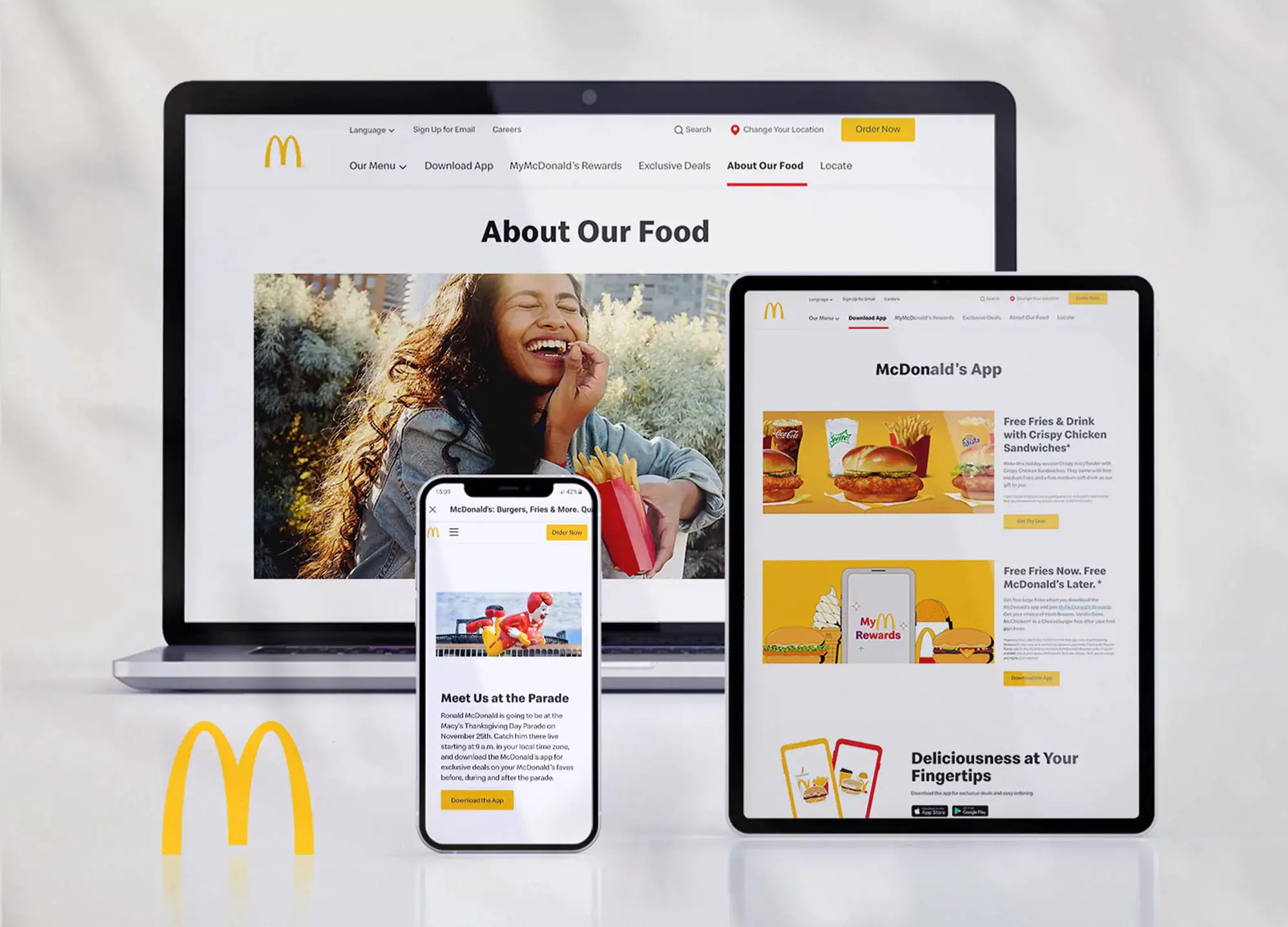 Image source: https://www.mcdonalds.com/us/en-us.html
Our team of experts conducted our own research based on trendy information. Below, we share with you a few of our recommended trends to evolve your business marketing and customer management in 2023:
Chatbots and Conversation Marketing:
Texting and direct private messages on social media is the new phone call for many consumers. With 71% of customers expecting real-time communication with business, changing how you communicate with your audience can increase their sentiment and brand trust.
Facebook Groups:
Successful Facebook groups are an excellent source for communication with your target viewers. They can help create more opportunities to build trust, especially for those that like to socialize in a digital space.
However, it also requires a lot of attention and time from a brand employee to build. Therefore, content or community manager is necessary for this 2023 trend should you decide to act on it.
Increased Video Content:
This trend is mainly Instagram Reels and TikToks. Don't do video unless you go all in. You've seen some cringe-worthy videos online. You don't want your company to have that same reaction with consumers. Create your video content intentionally and with an organic feel in mind.
Over-designed content does not work on Reels. Plan it out, study your peers, and try again. You may not understand the formula for successful reels right away, so don't give up if your first try doesn't gain the views you expect. Who knows, video could become a new hallmark of your business's digital identity.
Visibility into Processes:
Now more than ever, consumers want to know what your company stands for and your organization's values. If you can, share your sustainability processes, what community programs your business supports, whether the products are cruelty-free or vegan, diversity in your staff and founders, and other important call-outs. Consumers are more likely to buy from a business that matches their values. Make sure this information is on your website, social media bios, and your physical packaging.
Can Small Businesses Use Branding Trends?
Yes! Small businesses can build digital brand strategies like these. There are no barriers when it comes to creating an online reputation. Every business, small or large, already has an online reputation simply by being online.
This fact is why considerations with digital business footprint should be looked at carefully. Have you done an audit of your business lately? Google your business name and analyze what you find. What would a stranger think of your design at first glance? Does your design come off as tacky or amateurish? Does it communicate your values?
Remember, everything in that Google search is part of your digital reputation and identity. It's up to you to clean it up and build it better so that it shows the message you want to share. Maintaining your brand identity online also includes community management, the act of responding to your customer's online posts and reviews.
If you do not respond and consider client feedback, it isn't good for your organization. Other potential customers online view that lack of response, and it makes them feel like they would not be taken care of by your company. Do not make that mistake.
Well, let's take a look at these errors in practice.
A good example is Nationwide Insurance. The company is well known and regularly uses a digital marketing strategy in conjunction with broadcast advertising.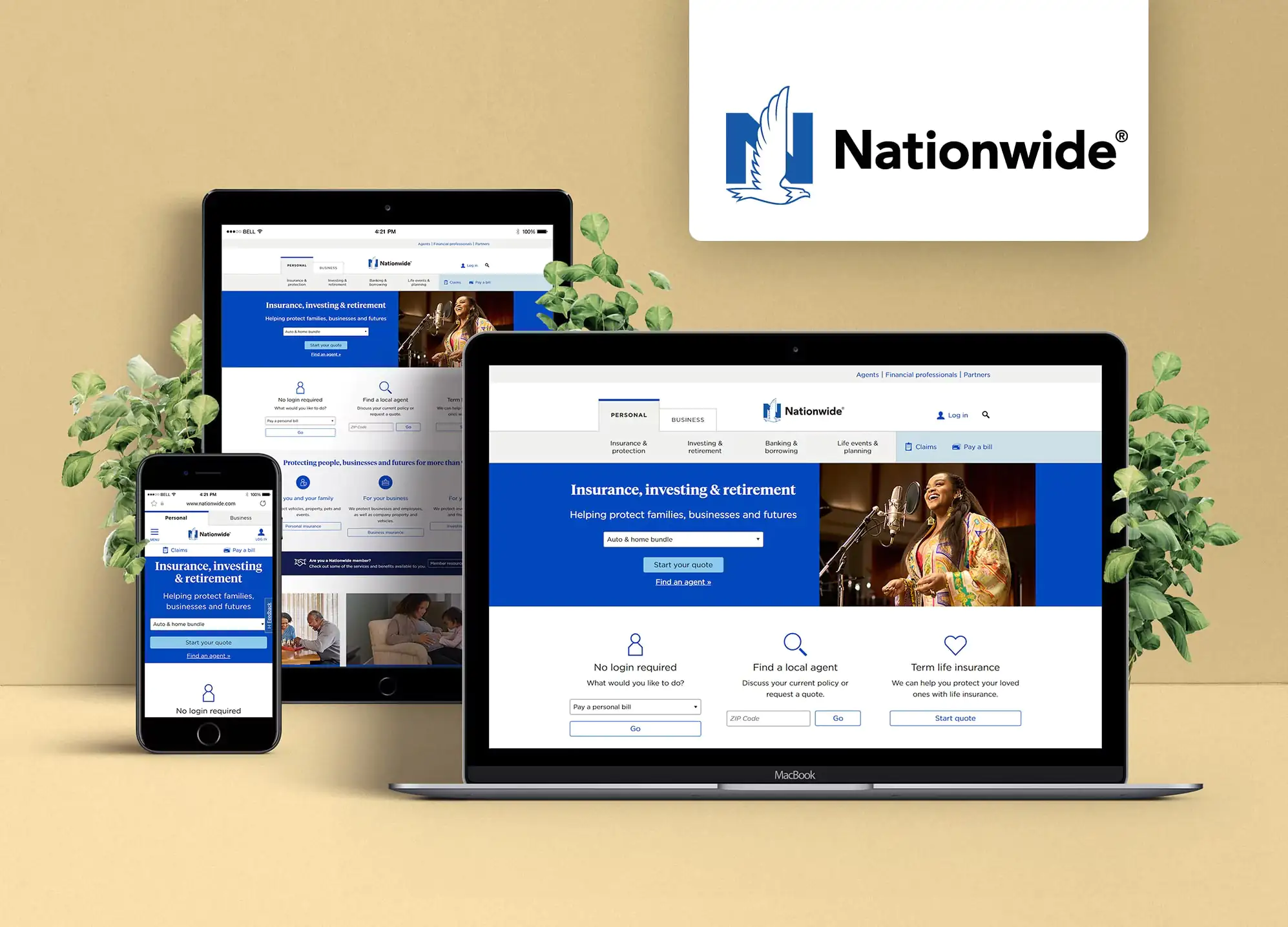 Image source: https://www.nationwide.com/
In 2015, the company decided to run a Superbowl ad to 114 million viewers. Unfortunately, Nationwide did not consider the atmosphere and brand of the event they were advertising during, so the ad did not fit the event in the slightest.
While the resulting complaints on social media did increase the brand's visibility, it also meant that the company forked over more than $4 million for a publicity failure. This is still on the internet and accessible for anyone who wants to look, years later.
While Nationwide made $41.9 billion in revenue in 2020, that one misplaced ad still affects consumers. Now, Nationwide works hard not to repeat that incident as well as employing more proactive marketing strategies. Not the best experience, right?
Digital branding for businesses first of all will help you acquire more leads and prospects and help increase your brand's presence and recognition online. Build your intentional presence today, because if you aren't optimizing your branding, you are losing potential customers. That's the bottom line.
What You Need to Consider When Choosing a Branding Team
With so much noise about digital branding, how do you pick the right design services for your business? Our award-winning designers have highlighted four main factors for you to consider:
High-Level Creativity:
Your brand should never be stale, so don't look for companies with too many projects in progress and that are strapped for time. You need fresh eyes, not an overworked agency that takes every client that comes through their doors. You deserve a designer that can help you grow your digital presence through a unique and eye-catching lens.
Commercial Understanding:
A branding agency should take the time to understand your business's mission, digital capabilities, and values before starting on the design work. Think about the questions you asked yourself in the development stage.
The digital agency you commission should think through those same answers when creating a pitch for your brand.
Proven Track Record:
Look for businesses that have proven results like awards, case studies, example designs, and content, or referrals from previous clients. All accolades should be tailored to your industry. Don't risk your digital branding on a business that can't show you results from your industry.
Our agency has earned several awards across multiple industries, including Top 9 Web & Development Designs, Top 100 Print Graphic Designs, and Top 100 Eco-Friendly Packaging Design of 2023, and we're really proud of that.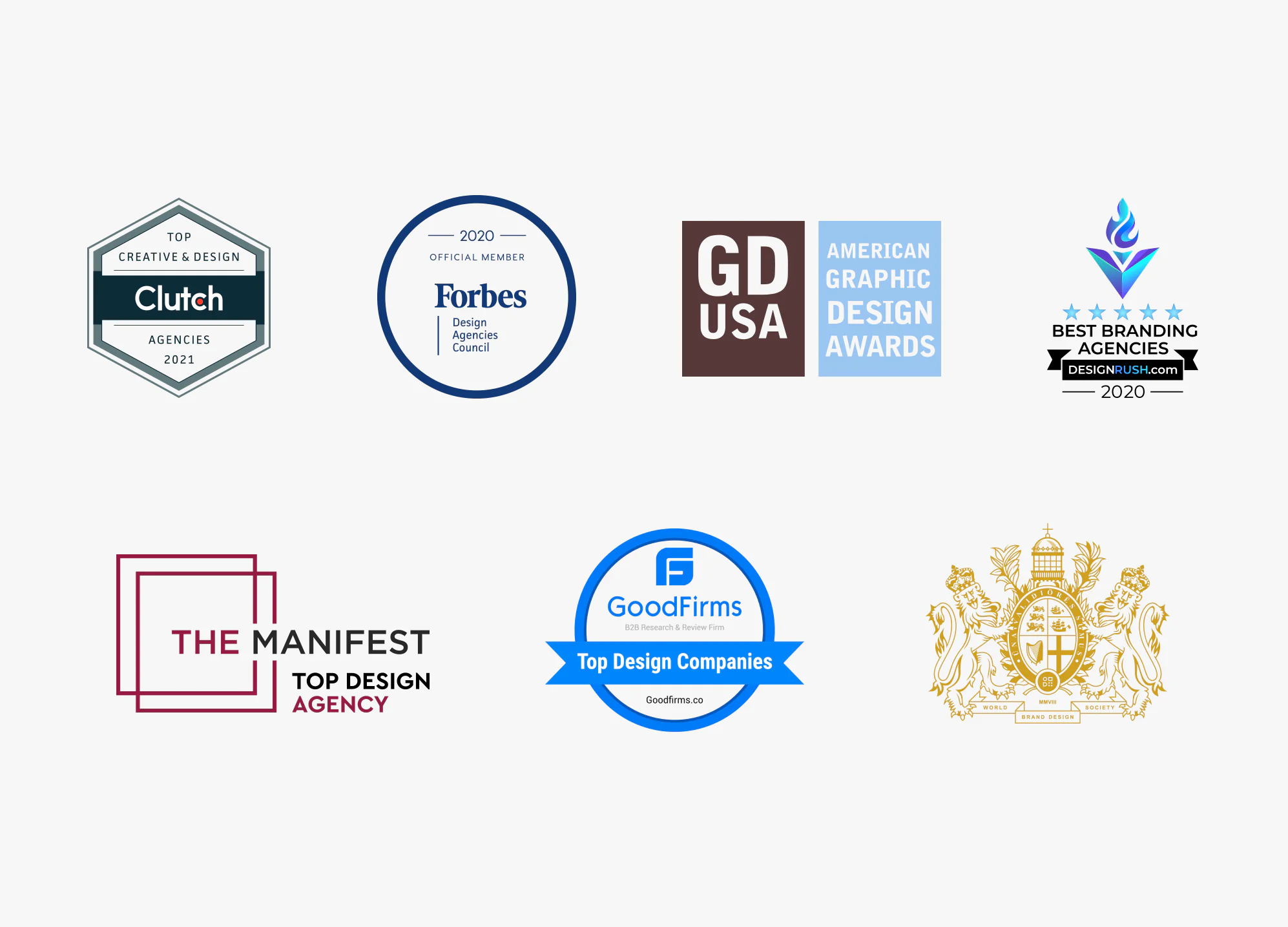 On-Time and On-Budget Delivery:
Dealing with an agency that makes excuses about their work being late isn't the professional and respectful relationship you deserve. If digital branding is about creating trust and positive expectations with customers, then the agency you work with has to create that same experience within their ranks.
Do you trust your current designers? We often receive orders with tight deadlines, after mistakes when choosing a quality and expert agency. Remember, delivery on time is half of the agency's success.
Imagine that you have a huge production that has planned to print your company's labels on a certain day, but your designer has a car break down, the lights turned off, a relative is ill, or many other problems happen that do not concern you. What will happen to your company?
These are not rhetorical questions, and the options mean:
1) You are wasting your precious time and while you "want" to launch a product, a competitor has already launched it.
2) Your budget is no longer balanced. A digital branding agency should help you increase profits with its services, but not lose them in any way.
Remember that every time you want to make a choice in favor of any agency.
I am sure that already at this stage of reading the article you have many questions! Feel free to book any free time on our CEO's calendar to get all your questions answered and get free pre-development of your project.
Branding Horror Story – Don't Let it Be You
Brands should evolve while still maintaining that core message and transitioning customers along the journey. Imagine choosing the wrong team to lead your creative digital direction and then rebranding it six months later. Nobody wants to make that mistake and experience that 'design blowback'.
Choosing the wrong digital agency can lead you to wasted time and effort, inefficient design, lower profits, and a poor customer impression. You know how hard it is to change a negative first impression, right? With the wrong online perception, you can lose your target audience and have to start from scratch for your business.
Let's talk about one of our award-winning branding agency's unique completed projects with proven results. One of our clients, Jack Wilson, had a similar negative history before working with us. His organization, Sport Zero, based in Copenhagen, Denmark, sells a line of cycling products featuring bicycle accessories and bicycles.
They initially chose what they thought would be a quick and easy solution. 70% of their marketing strategy was aimed specifically at selling over the Internet. And you know what? They shattered their existing branding into little pieces for nothing.
Before they turned to a low-quality agency, they had minimal success in the market. Their competitors' advantages reinforced their want to get better, but they went about it wrong. Skimping a budget on a branding agency is not a good idea, don't you think?
In addition to money, he lost the most important thing – time and his premium reputation. Eventually, our expert team took up this project and implemented the customer's plans.
Hire the right creative team to get the job done correctly, with your vision, the first time. Look for more than just an agency; look for a partner who empathizes with you and for whom the reputation of your agency is equal to their personal reputation.
As one of our repeat clients, Sport Zero set themselves up for success in this competitive digital landscape. Now, they know the value of a well-chosen agency.
Common Questions about Digital Branding
Now that we've gone into the details, let's sum up some frequently asked questions about building a digital brand strategy for your company in short snippets for your reference. Did we miss anything you wanted to know? Let us know in our chat form, and we'll update the article.
What is meant by digital branding?
This term refers to the elements that create a virtual representation of your brand identity. The details can include your website design, brand colors, social media, online reviews, and more.
Why is digital branding important?
Without intentional brand identity work, your target audience doesn't know what to expect, making it more difficult for your business to make sales.
What is a digital branding strategy?
A digital branding strategy is the planned choices and content you cultivate over time for your online presence. This strategy can include building your blog with relevant topics and more.
What services should I hire for my business branding?
Branding agency services like logo design, web design, packaging design, commercial research, and social media marketing are options to consider.
What else do you need to know?
Our agency has experience in various non-standard projects, creating over 500 unique projects from different industries with results that prove our high level of creativity. Contact us to build your intentional digital branding strategy today with a free consultation from our CEO.