Learn how to strategically position your corporate brand for increased awareness, unwavering customer loyalty, and a long-standing brand reputation.
Airlines in the US are having a rough patch now. The holiday season could be a lot better with numerous flights canceled due to the Omicron variant of COVID, leaving them short-staffed. Couple that with the hard-hitting winter storms and the question of the corporate branding of these airlines is thrown up in the air.
The development is due to test the concept of corporate branding among airline companies, and it will be interesting to see how they manage this mini-crisis with their customers. Will the reactionary backlash throw their brand reputation off balance? If so, how can they manage such mishaps before any further dent on their brand image?
These questions all hover around these companies' brand. We all have, at some point, seated in our offices or working from home, ran a few 'conspiracy theories' about the old chestnut of corporate branding — that it's is a hustle meant for only companies at the top of the food chain, and should not be too much of a priority for emerging (small and medium scale companies. Wrong.
Corporate Branding is the stepping stone through which companies attain that 'high-flying' status. Look around, and you'd find that most 'industry giants' like Coca cola, the Dollar Shave Club, Toyota, Mcdonalds, IBM, and Disney have climbed the ladder of relevance into the minds and hearts of their target audience using this business concept.
Your corporate branding determines how your company is perceived in the minds of your audience. In an increasingly digital age where a brand reputation could suffer steep damage from the slightest action or inaction, you must learn about creating an identity for your company here and now. Let's break down a few concepts right before any heavy lifting:
What is Corporate Branding?
It's is how you create a unique visual, perceived identity (brand image) for your company and how you shape the perception around your company in the mind of your audience.
Why is Corporate Branding important?
It's a must-have for companies because it provides you with the unique identity you need to set you apart from your competition and give you your market share in a saturated industry.
What are the benefits of corporate branding?
A unique identity, loyal customer base, planned direction for your company, increased awareness for your company – these are just some of the many benefits gotten from it.
Why Corporate Branding
Besides the immediate benefits of increased awareness, customer loyalty and the ability to inspire confidence in your employees and target audience, corporate branding is essential because it helps your businesses evolve into a well-oiled machine with fantastic business prospects.
It's the foundational core of your leap into the world of business that positions you to grow your business exponentially and deliver ROIs. A study carried out by CoreBrand's Corporate Branding Index®, is proof of this as it reports that the corporate brand accounts alone is responsible for 5-7% of market capitalization.
The bond between corporate branding and other types of branding in companies with multiple brands (products, services, and other sub-brands) is called brand architecture. Think of it as an "umbrella" brand presiding over a group of products and services that the company offers.
It's not just about promoting your company's name for the sake of it. It ties into other significant aspects of a company's identity, such as its logo, design elements, level of customer service, work culture, product packaging, unique selling point, and even the quality of products and services.
Speaking of brand architecture, one of our collaborations that paints the full picture of its essence is with Estative — a social platform connecting professionals and clients in the real estate industry based in Finland. Think of it as LinkedIn, but for real estate projects.
Estative had begun to snap up tech innovation within the real estate industry. More innovation meant more digital offerings for their users. The disruption that came with more innovation saw 'user confusion' around these digital offerings, becoming a constant worry for their customer support team, product team, and even executives.
So, they needed a brand architecture underpinning their corporate identity to be the 'single source of truth' for their communications. To manage this increasing complexity, they hired us following a free pre-development of their project.
A lot was at stake for Estative as they were already starting to experience an increase in bounce rates for most of these products. But the application of winning design strategy in multiple brainstorming sessions our marketers and designers held helped drive growth eventually.
Our team of experts came up with a comprehensive branding design that reflected the brand's 'user-first' approach, values, and social media presence. The full branding assets were delivered — logo, website design, color schemes, typeface — and the names for this portfolio of digital product offerings were suggested in a way that linked one to another, as parts of a whole unique corporate identity.
The high-level of creativity and hard work we devoted to this project was acknowledged by their team. Brand guidelines for Estative's corporate identity were also well-received. Ever since, they've gone on to become a leading professional service in Italy, and they've amassed over 300 million users while at it. Just recently, they expanded their base to Thailand!
How to Build a Powerful Corporate Brand Identity
As new businesses are established, new brands come to life; and consumers increasingly find themselves spoilt for choice when it comes to which companies serve their best interest. How do you get consumers to choose you from a sea of well-established companies with an array of products and services?
From the desk of our experts here at Stan Branding, to you, here are some surefire tips you can immediately and futuristically apply to give your brand the competitive advantage and build a strong, customer-centric corporate identity:
Choose Your Brand Name
First off, your company's name. It's the foundation on which its identity will be built. It individualizes you and gives your company a unique identity within your commercial sphere. Generally speaking, it's logical for up-and-coming businesses with a singular scope of products and services to pick names that instantly signal to their audience what services they provide. A marketing strategy in itself, It must stick — like a big, fat earworm.
For instance, a potential consumer with no prior knowledge of 'Stan Branding', upon encountering the brand name, can instantly tell this agency offers corporate brand development & consultancy services. And even Stan himself will agree with us on this one: that it'll prove practically impossible to create a relatable identity for a branding agency with a brand name like 'Stan.'
While founder names work extremely well for personal brands, luxury brands, high-end fashion brands (think "Tommy Hilfiger" and "Gucci"), descriptive names like "Facebook," "Grammarly," and — you guessed it — Stan Branding clearly communicate all the details about your company through their name alone.
Studies hint that 72% of clients patronize companies based on their names. The goal is not to have the most-catchy name; but to create a unique name that resonates with your corporate values, the services you provide, or your mission.
For instance, Amazon uses a metaphor (Amazon, being the largest river globally) as a brand name to help consumers paint a picture of how they've come to be the biggest one-stop, online and physical store for consumer goods.
Also, it is advisable to avoid choosing names that are hard to spell or pronounce, names that are limited to specific cities or products and services unless you're very certain you'll have no interest in expanding your horizon in those regards, and names that do not reflect the substance of your business.
If you've read up till this point and you still have questions, don't hesitate to seek clarification and get helpful advice from our team of experts. Or better still, you can click here to get a free pre-development of your project.
Iron out your Company's Goals, Mission & Vision
First, you want to understand what your newly rolled out brand identity seeks to achieve in the market. From our collaborations with clients, we understand that a large part of this aspect usually involves touching base with the leadership and management teams to know the goals and objectives for the branding exercise, both for the future and in the present (short and long-term marketing goals).
Surveying the employees is also a step in the right direction, as their status as the 'customer nanny' means that they know where the shoe pinches. You want to ask questions on their perception of the company and how they feel you should communicate it in your messaging. Here are a few of these questions:
What do you believe is our USP? (Unique Selling Proposition)
Why do you choose to work for our company over other competitors?
Do you share the values of this company?
What do you believe to be our brand promise?
Aligning the company's vision and mission statement to blend in with its values is also a crucial part of your strategy and will further help you determine how to whip out a compelling brand messaging, tone, and voice. The percentage of customer engagement your company receives will increase according to the level of impact of your company's vision. Where the vision is meaningful, engagement will be high:
The higher the meaningfulness of your organization's vision, the higher the percentage of engagement your company receives from customers and investors alike.
— Map out your company's brand mission & values
This is the backbone of your identity and what is reflected in it. Before picking out your name, logo, overall design, or message, you have to understand and be self-assured, as much as possible, on what your company's mission and values are.
The benefit of determining your mission and values is it will help prevent you from molding your mission and mandates towards goals that are sure to fizzle out with time, controversial or not profitable.
We can cull a good reference point from Salesforce with their meaningful mission for their users to "bring companies and customers together."
— Your Unique Selling Proposition (USP)
Every successful organization has a unique selling point that makes its products better than those of its competitors. It's your differentiation point that separates you from other companies in your line of business, and proves helpful as the management, as well as marketing team can harp on this USP in their messaging.
M&Ms slogan spells out its USP in a quirky way, "It melts in your mouth, not in your hands." It resonated with the target audience who love the melt-in-the-mouth goodness that it promises.
Your USP is the reason why your customers choose you instead of your competition – think FedEx that promises your parcel gets delivered the very next day or Robinhood that breaks down barriers to the investment market, allowing people of all financial classes to invest (commission-free) in thousands of stocks with as little as $1, and with no prior knowledge of the market.
It is vital for you as a decision-maker for your business to think through what your unique selling point can or should be. How can you provide a service that others do, distinctively?
A compelling brand message
Your corporate brand's message, otherwise known as your 'brand promise' is part of your identity that can easily attract an audience to your products and services, particularly if your message speaks to your audience's emotions in a way that shows them that you care.
There are countless taglines put out by businesses out there every day. So, drilling down on a compelling brand message is a personal journey that asks a bunch of questions to arrive at what the true essence of your company really is.
Ultimately, what matters most then is that you pick a message that is true to your business' mission and values — a message that speaks to your products and services, and not one that'll leave your audience with more questions than answers.
You want your brand promise to spark serious feelings of belongingness. A good example is Starbucks' "to inspire and nurture the human spirit — one person, one cup, and one neighborhood at a time.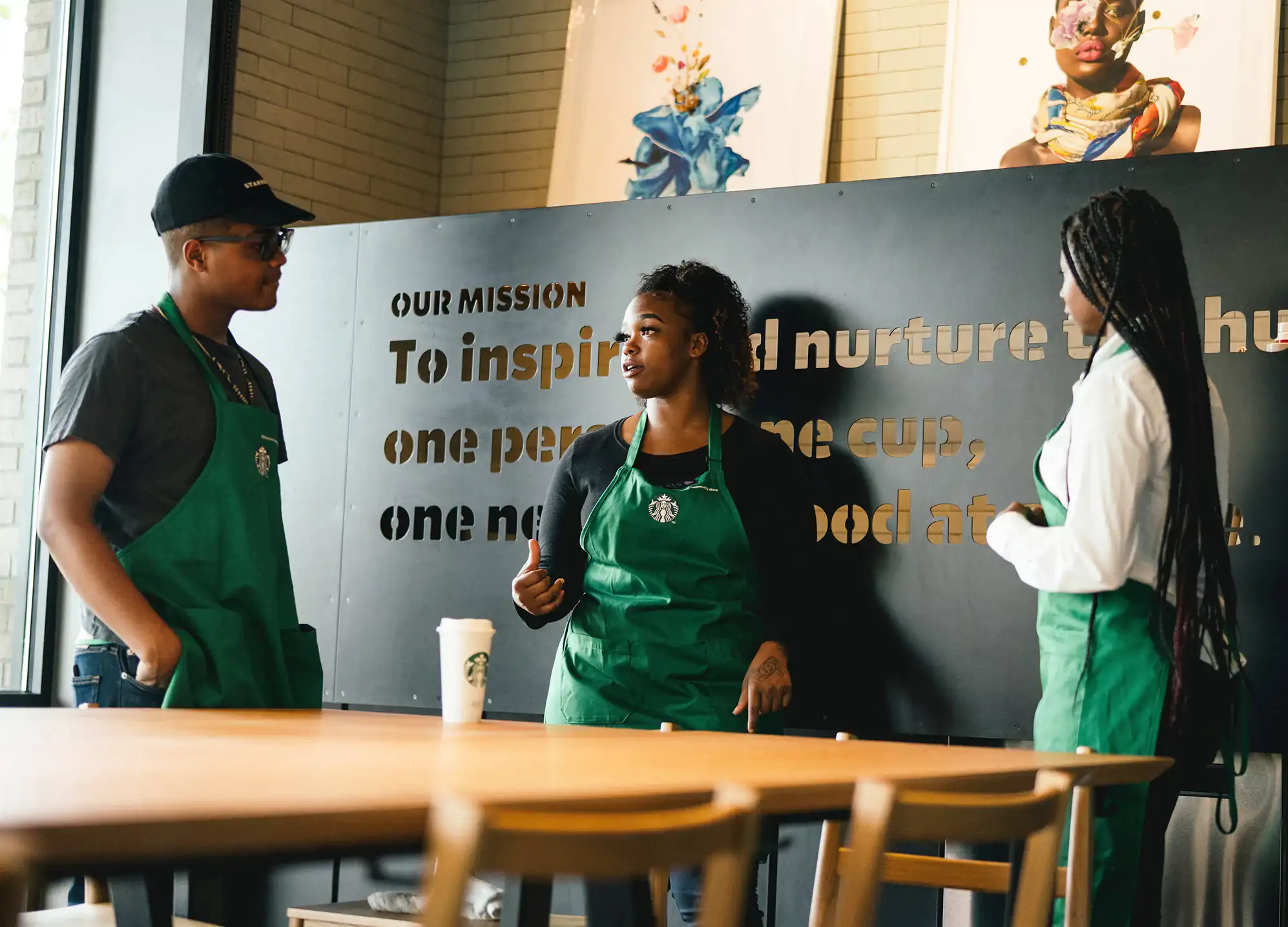 Image source: https://www.businesswire.com/news/home/20200116005239/en/Starbucks
If you're feelin' funky and you wanted to put a sexy spin on your brand messaging, the Dollar Shave Club can be your role model with their "Shave time Shave money" tagline (The Dollar Shave Club is a company that delivers razors and other personal grooming products right to the doorstep of customers).
Define your target audience
The brand image for any company must reflect the audience that it is looking to target. So, it becomes crucial for the audience to be defined. It'll help you save a ton of effort, time, and resources as you work on your brand, and expand its marketing reach.
Nailing your audience can help make the process for other elements of your corporate identity like its name, logo, design, and message easier to scale through. Your audience will also determine other specifics, like your tone, personality, and voice.
By all means, if you're an upscale fashion brand that deals in lingerie and women's underwear like Victoria's secret, the copy that reads on your website and your overall brand messaging should not look to appeal to a masculine audience.
SWOT analysis & market research
A Swot analysis demands that you go back to the drawing table. It requires that you regularly assess your brand's values and how they reflect your company's strengths, weaknesses, opportunities, and threats (SWOT).
The outcome of this analysis of your brand in the grand plot of your marketing objectives will guide you to tailor your corporate identity in a manner that favors and protects your company while giving you a competitive edge above your competitors.
Professionally carried out market research is what helps you find your position in the market, and how you can stand out in this spot shoulders above your competitors using cutting-edge corporate branding. The data you come up with in your market research will then inform your strategy, so you can find a targeted niche and concentrate on market segments that need branding attention.
A comprehensive SWOT analysis or market research demands a deep commercial understanding of your industry and how your branding decisions affect business outcomes. Which is why you're in need of expert opinion involving brainstorming sessions involving designers, marketers, and a thorough approach to your analysis (Oh, and loads of coffee) :).
From our experience with clients, (especially management teams,) they usually do not have the requisite understanding of how branding affects their bottom line. They usually make a mess of their SWOT analysis and market research by failing to strike a sweet spot between the commercial considerations and visual identity.
With 7 world awards for unique projects (with proven results to show for our experience in providing value) for both local and international clients, we'd love to share helpful tips and creative outlines right from the desk of the chief analyst of our creative agency CEO.
Create your corporate brand identity
Remember the survey gotten from employees and consultations with the senior staff? (management teams) You can now use these bites of information to present your company accurately.
Before delving to the visual elements, start out with a defined brand personality. Like humans, corporate brands have their personalities with, more often than not, human traits. The Harley Davidson brand of motorcycles is known for their rugged personality, and they reflect this quite accurately in their message, especially with their gritty language that addresses customers like part of the cult, inspiring a rebellious, dare-devil streak that goes against conventions.
Your corporate brand identity also encompasses visual elements which form the physical impression consumers is about to form about you.
Studies indicate that the brain has the ability to process visuals about 60,000 times faster than texts. The visual elements of your brand comprise your logo, color scheme, typography, and other design elements that make your brand's visual identity pop.
— Your brand logo must effortlessly blend Style & Substance
Every logo speaks to the personality and values of a corporate brand. A company's logo is a representation of its mission and its value, which is why much attention should be given during its creation.
Your logo could initially be detailed – showcasing your company's name (a wordmark), products and services you offer, or your brand message. For instance, the original Nike logo created in 1971 by Carolyn Davidson had the company's name written on the now popular geometric 'check' shape (Swoosh). Google's logo, since 1998 has featured the iconic wordmark. Microsoft's logo since 1995 has featured a square shape with assembled puzzle pieces tucked in and a wordmark placed right beside the shape.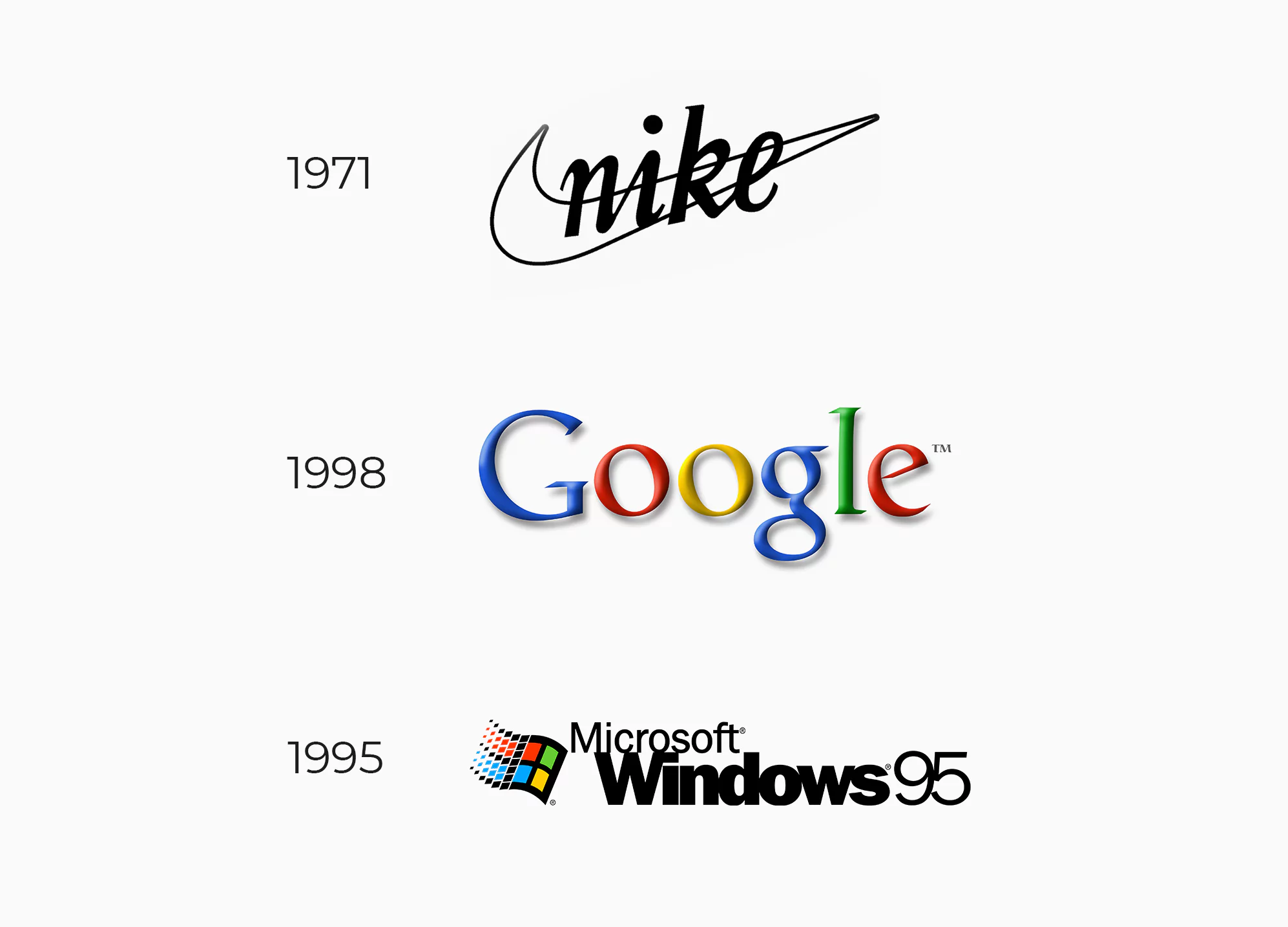 Image source: https://inkbotdesign.com/nike-logo-design/ , https://logos-world.net/windows-logo/ 
https://azbigmedia.com/business/technology/google-logos-1998-2000/
One common thread runs through the examples we have cited above: the logos of the world's finest brands have always represented what the companies are about and their range of products and services. These (and many more) are the kind of steps you need to take for unbeatable corporate brand.
Whatever the case, it's vital that your logo is a reflection of your substance or value. The typography (font) and colors used for the logo should also be chosen carefully as each font showcases quality in varying degrees, and colors carry with them deeper meaning.
— Your Color Scheme
Since colors catch the eye quickly, your colors should underpin your identity and whatever personality you are trying to convey.
Again, it takes the professional insight of experts to help you achieve this. There is a psychology behind colors that mean that they leave a certain impression on your audience, helping you set the tone for further interaction. For instance, the color Pink leaves a physiological imprint of comfort, happiness, warmth, love, sexuality, while the color Blue gives off the notion of intelligence, trust, serenity.
— Typography
Your typography should not be all over the place. They should be carefully selected. Why? Because just like your color palette, your typography also leaves impressions. This means, for a strong identity, you want to pair only compatible fonts and stick to a certain type or weighted version of these fonts rather than jumble them all together.
Fonts pairings are a delicate art, and it should be left to the expertise of professional designers to strike a fine balance between fonts that are visually appealing, combine excellently, and can make an easy read.
— Visual Elements
Other visual elements like geometric shapes, illustrations, interactive design elements, and patterns that will spruce up your visual identity should also be considered. Things like icons, animations, shapes, and illustrations should be looked at if you're looking to give your corporate identity that extra oomph that makes it unmistakable.
Headspace's identity focuses on mindfulness, so it makes use of peace characters (illustrations) in mild color hues across all its platforms. Companies like Notion, Mailchimp, and DuoLingo are notable examples of companies that engage illustrations beautifully.
Like we tell our clients who're just starting out, it's not advisable to try to cut corners. You should look to partner with a team of experts who will not only deliver a professional job with a diligent approach and winning designs but offer a fresh perspective to their team that can unlock new horizons.
A branding agency with deep commercial understanding is important because brilliant ideas alone cannot cut it, even by management. The same is especially true when you're trying to build a brand identity that can deliver exponential growth and blooming brand equity.
A lot of business owners, from our experience, have seen their growth slow down due to this ultra-conservative approach. Money wasted and precious time that could have been contributed to delivering quick ROI, down the drain.
We at Stan Branding agency have delivered 300+ projects with proven results, each being unique in its requirement of corporate branding and how we apply high-level creativity within our team of designers and marketers.
This means one thing — we're more than competent to share creative outlines and ways forward for your corporate branding efforts. Click here to have a chat with our experts.
Now, let's look at one of these companies whose identity we helped build — Uphi. Uphi is currently a popular Canadian-based CBD brand. They reached out to us to help them enhance their already existing brand as the company was looking to expand and evolve its line of medical cannabis products.
Their CEO (names withheld) was wary about the 'CBD bubble' in Canada at the time and didn't want to be portrayed as a 'me too' cannabis brand and get lost in the sea of sameness within the CBD industry. He wanted it to be authentic, unique, and meaningful, which was why he sought out an award-winning agency in the first place.
During brainstorming sessions, our marketing experts and designers showed deep commercial understanding to explain how many brands in the CBD industry are known for false advertisement and no transparency about the true content of CBD/THC in products (THC is illegal in most countries) In response; we coined their brand values to UpHi's values to focus on the brand archetypes: transparency, quality, and customer service.
The logo made use of an inflected 'U' to a marijuana leaf that typified the herbal and therapeutic nature of UpHi's CBD products. The website was a reflection of UpHi's values and visual identity and was designed with the user in mind. It was a fresh take on conventional cannabis-related visuals that only created confusion in the minds of audiences.
This collaboration with their management served as a springboard for industry-wide success as Uphi's brand retention and brand awareness reached an all-time-high from (18.65% to 76.2%) within seven weeks of their launch (source: Stan Branding Tracking Study).
Your bland-to-brand transformation begins here
Nothing good comes easy, and corporate branding is an exercise that is thorough in how it is applied, overhauling the very foundations of your brand underneath the physical/visual cues. But it pays long-term dividends.
From the many years of experience in the commercial landscape under the belt of our award-winning designers to the project collaborations with results that we've had with past and present clients, we've seen strong corporate identities drive growth for many companies.
Are you an up-and-coming company looking to launch a powerful brand? Does your brand already boast the reputation of an industry giant, and you're looking to create a solid, consistent, and coherent brand architecture for your company? Are you looking to get your brand to the next level?
As an award-winning design agency with 300+ projects with proven results, our experience in crafting corporate brand identities for many local and globally recognized companies positions us as experts, helping you avoid the trap of having to design without any commercial implication or insight.
Here's what we mean: It's incredibly easy to find a quacked, half-baked designer to whip up a cool design (even this, is not guaranteed) that doesn't connect with your brand's personality, values, or brand promise in any manner.
If your logo or design is disconnected from your commercial identity as a company, it lacks meaning, and it's merely a fancy work of art. All style… no substance!
Besides rollouts of winning design, we create corporate identities that serve as a springboard for industry-wide success. Need help? It's never a bad time to snap up this opportunity to get in contact with us to get a free pre-development consultation with our CEO.