The best boutiques offer experiences customers can't get elsewhere. Discover how, through boutique branding, you can convert one-time customers into raving loyalists!
Car dealerships across the US are hiking their prices to outrageously higher levels than those recommended by the car manufacturers due to limited stock and low sales.
The catch here? They're facing a lot of backlash — so much that manufacturers are considering pivoting to a D2C (Direct to Customer) model where customers walk into their showroom and directly purchase (think Luxury car brands, like TESLA).
Fashion stores, though operating at the same model and scale as Car dealerships, are built differently. It's a more sentiment-driven market, unlike cars which are highly functionality-based (except for the few luxury brands). This leaves a window of opportunity: If your boutique's branding is alluring enough, then you're likely to sell more clothes at higher prices, without the tragedy of reputational damage that will befall, say, car dealerships.
Now, the first thought that probably strikes you when 'boutique branding' gets mentioned is, "Why branding my boutique store? We just want to 'sell out' clothes!". Frankly speaking, the reality is that customers always have a pool of boutique options to choose from — whether online or physical. So, while other businesses may keep afloat without branding, boutiques simply can't.
Here's why — when customers decide to patronize a store, they look out for one thing: a relatable brand identity. Whether made-to-measure or ready-to-wear clothes, customers in the fashion industry are drawn to visual cues and values which help them form a firm connection to the clothing lines on your shelves.
Time and again, a new company pops up somewhere. According to the National Retail Federation, the majority are small, independent retail businesses (or what is popularly known as boutique).
Unlike the widely held consensus that a boutique is a small shop dealing in fashionable clothing or accessories, a 'boutique' typically refers to a specialized retail business, particularly fashion.
We've seen how the clothing boutique Lulus gives a perception of feminine flair and attractiveness when you purchase their signature sundresses. That's exactly what branding does to your boutique.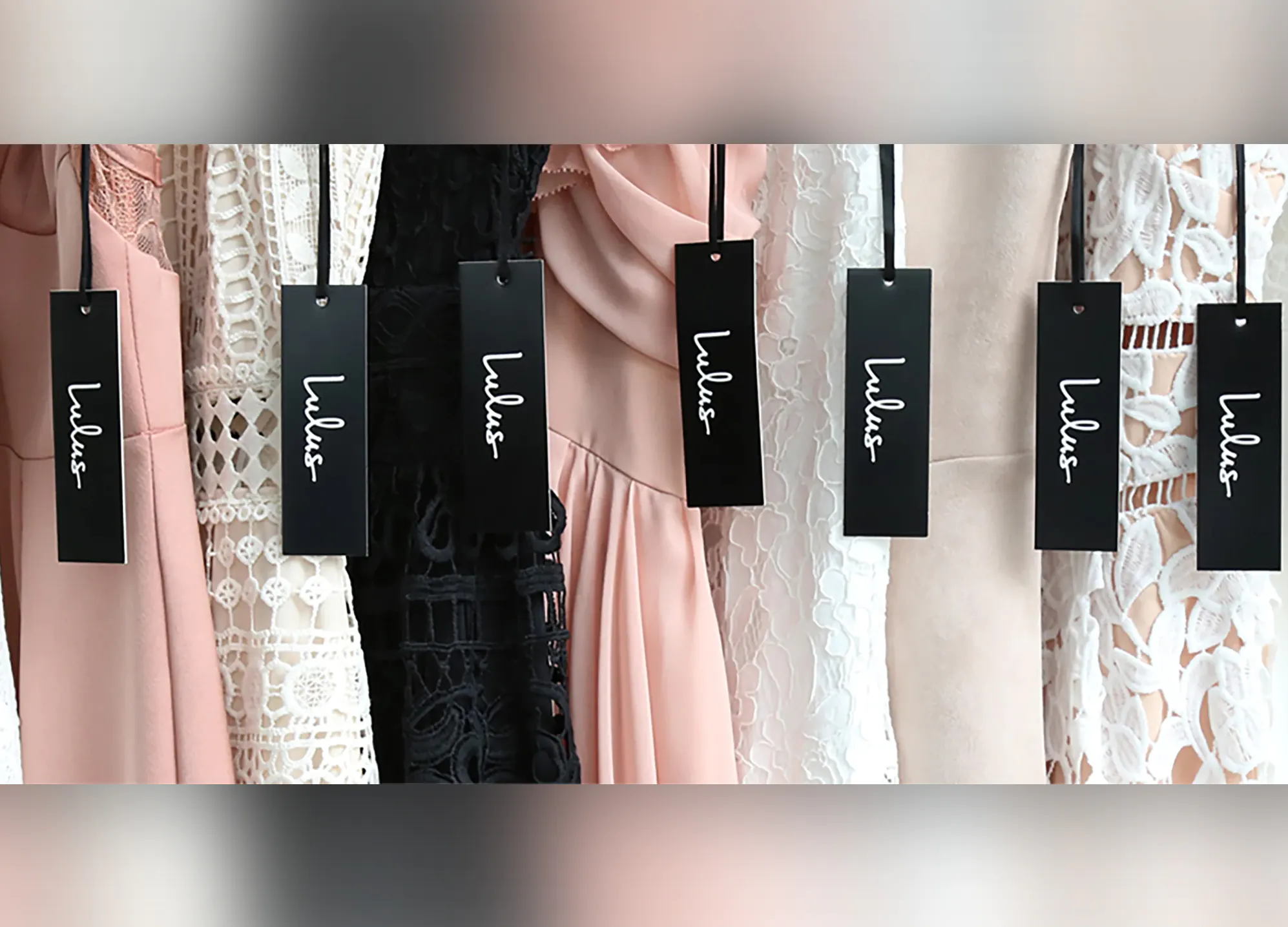 Image source: https://www.lulus.com/aboutus
It inputs a unique feeling into every interaction that a person has with your fashion store — whether online, or in person. Better yet, it magnifies the touchpoints of your brand for improved customer engagements and an improved overall brand appeal.
This shows one thing: to increase patronage and retention rates; boutique owners should always consider effective ways to enhance the customer's experience of their business. And what better way to do this if not through boutique branding?
If you run a boutique or intend to start one, or you're just curious about the concept of boutique branding, then get ready as we break down all you need to know about:
1. Why branding your boutique is a move that will pay off immensely.
2. How to go about branding your boutique into a fashion powerhouse.
First, the basics.
What is boutique branding?
Boutique branding refers to a form of marketing strategy for organizations that focuses on enhancing the company's image to achieve top-tier positioning within their industry.
What are the elements of boutique branding?
As with any kind of branding, some pillars hold up the art of boutique branding. Amongst others, a good logo design, an impeccable color palette, and a consistent theme lead the pack.
How do you make your boutique branding unique?
You research your target audience and create a brand identity that matches their values and needs. The goal is for your boutique brand to resonate with your target audience.
Nothing screams "unique" like an impressive brand that immerses customers in another world right before they walk into your boutique store. But it's no cakewalk.
Several bits of the puzzle are needed to coin a richly curated whole. It usually involves several brainstorming sessions involving marketers and designers, rounds and rounds of iteration in the development stages, the right sketches & skeletal frameworks, and deep commercial insight needed to select the most fitting design concepts.
From experience with boutique owners (most of whom are also clients), we get that they're often entirely new to this. There's a lot that could go bad, and not having the technical know-how required to pull off large scale changes to your brand can leave you in search of answers. Need ideas? Our team of experts will create solutions and share tailor-made ideas for your project!
Why boutique branding?
Fashion items gain and lose popularity, so your store needs a distinct brand identity that not only separates it from other stores but also instills trust and buyer confidence in your customers.
To illustrate, if you are a fashion stylist operating a boutique named 'DARIA'. Your priority is to make sure that everything in your boutique has been branded with both your logo and tagline. Running a boutique business, it's expected that you get flooded with requests from other people who want you to style their outfits and also those who wish to purchase outfits from you.
You would like them all to know that they are dealing with a genuine company called DARIA. Instilling trust among customers is an utmost priority for businesses looking forward to building their brand image and establishing themselves as one-of-a-kind.
Customers should understand what you are selling and why they need it, who it's for, and whom the products will benefit from. Your brand must be authentic to you and cut through all the noise out there. To do that, you need a cohesive and coherent voice across all your communications — email marketing, social media posts, website copy.
Take the multi-brand fashion emporium Showpo for example. They offer clothing pieces from the trendiest fashion brands — whether trendy ones or hidden gems. From their logo design to the ambiance of their digital and physical stores, the boutique's passion for avant-garde fashion is unmistakable.
And this is why their customer base continues to increase globally, earning them a reported annual revenue of $65.3M.
Boutique branding tips and advice
Boutiques need to regularly up their branding game to establish and maintain a competitive edge within their specific retail business. Here are some ideas on how to use effective branding to ensure that your boutique always remains top-of-mind for customers:
Brand Identity
Customers become repeat buyers when they have positive experiences with the brand. And how do they have effective branding if there's no identity to start with?
Melanin United is a startup cosmetics company in the United States focused on creating cosmetic products for women of color, both in the country and internationally. With a renewed focus on the wellbeing of people of color in major conversations in the country, Dencia, their CMO (Chief Marketing Officer) saw an opportunity to reposition in mainstream cosmetics as a pioneer leader in the cosmetic industry when it comes to catering to women of color.
To pull this off, they wanted a brand identity that would relay its message, while remaining just as sophisticated as the mainstream cosmetics brands. Our expert team immediately went to work, deploying deep commercial understanding and a high level of creativity in creating a winning design that will underpin their new corporate direction. First, a new logo and website user interface.
We decided to go with text for the logo, rather than an icon; what better way to highlight the company's pioneer status? In stylish lettering, our award-winning designers crafted the word "Melanin" to be the biggest component of the logo; so that at first glance, anyone who sees it would immediately see a company created to serve the needs of people of color. Then, we placed "United Cosmetics" just underneath it, in smaller-yet-noticeable lettering.
Furthermore, for their web interface, we centered a photo of different shades of their wide-ranging products stacked together, alongside a dark-skinned woman, to highlight how the dark tones of Melanin United worked perfectly with her skin tone.
Melanin United went to town with this new brand identity in January 2023, and in the short time since then, they have achieved significant market success. When they published their earnings for the first quarter, their revenue numbers were nearly double the projection.
From this, we can see that a boutique brand identity is not just for luxury boutiques. Whether you are running a high-end fashion boutique or selling mid-market items, your target audience will remember your brand better if you give it an identity of its own to create positive associations.
Zara's wordmark logo is a catchy example of a brand identity that combines a booming high-end feel with infinite simplicity. This perfectly blends into their brand values.
Ideally, your brand identity should have the following components.
— A Distinctive business name
Remember that as a boutique, it's a given that your brand name should give off an aura of class and style. So make sure to choose a name that stands out — do some research and avoid names that sound similar to other existing brands. Similarities in name can pose legal issues and customer confusion, which means your brand name must be completely unique.
Select a name that entices customers to inquire about your brand, just like how Sabo Skirt's intriguing name instantly encourages people to check out their website or sample their products.
— A sophisticated logo design
Your logo is an integral part of your boutique's brand identity. Most times it's the only thing customers take note of and use in identifying your products, so it's in your best interest to choose a unique, eye-catching logo design.
And just as we mentioned above about uniqueness, our experts understand that logo forms a key part of the registration of trademark and other brand assets, which calls for professional contributions, preferably from a branding agency who can help you take stock of these considerations.
Think about the pink crown in the Hello Molly logo and how it influences the women who shop their wares into feeling like royalty. That's the effect your boutique's logo design should have on your target audience whenever they encounter it.
You also want to consider where you will use the logo. You may have an awesome new fashion company logo, but if you can't use it anywhere other than on your business cards, it's not going to do much for your branding.
You need to think about how else people might see your logo and pick something that is versatile enough to fit with different sizes, styles, and uses. Ensure the full scope of what is possible is reflected in how you develop your design.
— A unique style / positioning statement
You want to try to be creative and innovative with your branding efforts because customers like discovering new things, which means they won't associate themselves extensively with something that looks old-fashioned or dull.
Make sure you convey the right messages about your company through its products and services to attract potential customers and engage already existing ones.
Much like the way Urban Outfitters is intentional about providing the most alluring swimwear and spring outfits to suit all lifestyles. You could also borrow a page from Revolve's playbook; where all clothing items are categorized and constantly upgraded according to holidays and seasons, giving the customer a perfect glimpse into old and new trends to choose from.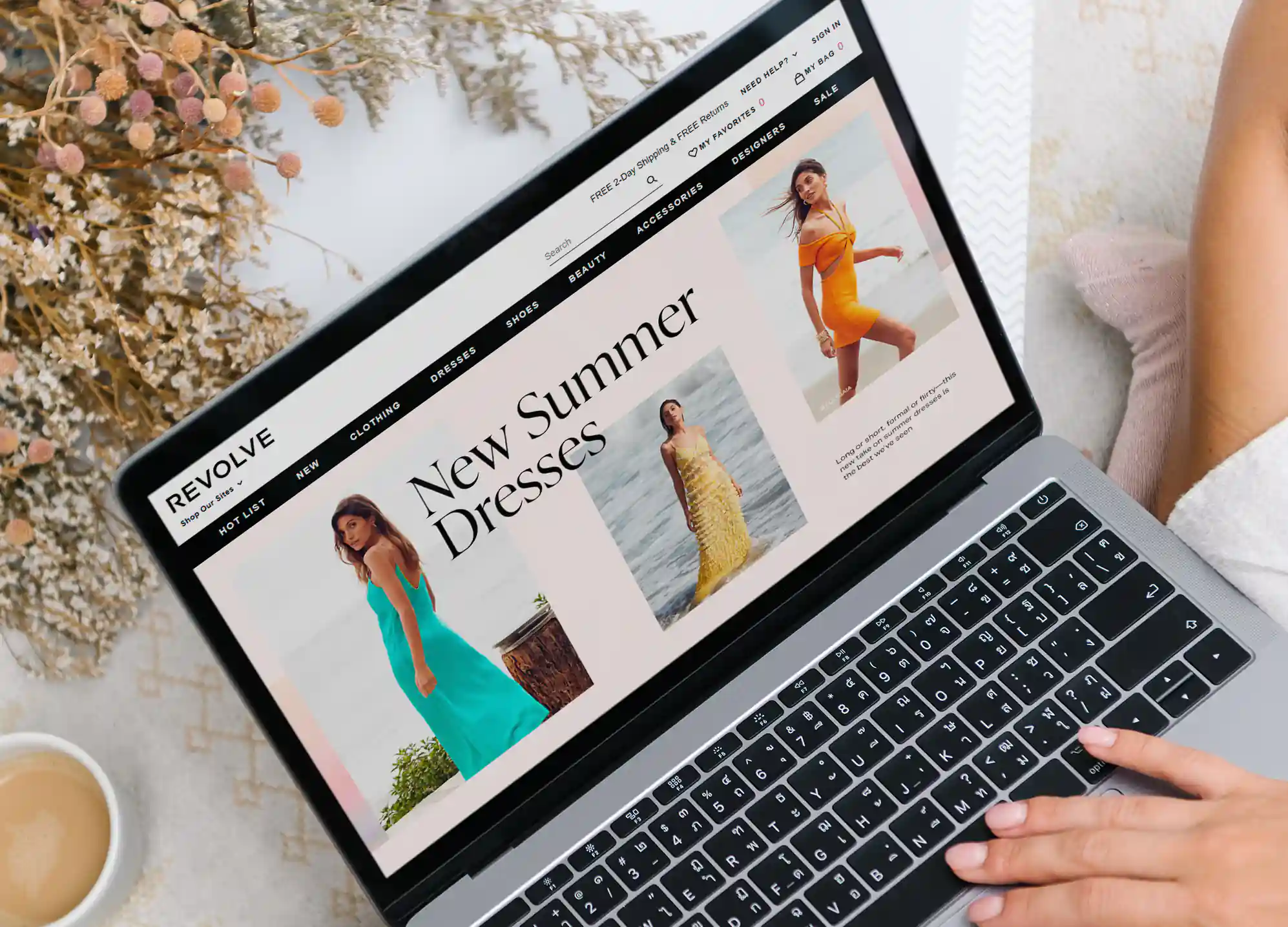 Image source: https://www.revolve.com
— Sleek, attractive labels for your products
As a boutique with a mission to impress, labeling is a brand marketing strategy that you cannot afford to turn a blind eye to. Just like your official brand logo stands as your boutique's identity, labeling is how you ensure people know that a product is yours. Simply put — a label is your product's personal logo design.
We say this from experience — it is not enough to merely attach a logo to your product. For a great effect, the label must be creative. You wouldn't want to attach a boring or ugly label that customers are quick to rip off when they get home.
Pro Tip: Imbue your labels in your brand's colors to always remind buyers of the classy purchase they just made from your boutique. It's kind of like how you get Victoria Secret labels after purchasing any of their lingeries.
A consistent brand theme & inventory
As noted by our experts, customers instantly recognize brands when they spot their visual cues. So, you want to help them find your products under any circumstances with ease.
You do not have to display your logo or website address on every product offered, but you must use the same color scheme, layouts, slogans, etc. whenever possible because this will assure people that what they are buying from you belongs to your brand (even if they cannot recall its name!).
Your online presence has to offer the same feel as your physical store when going digital. When customers visit your online store, it has to have the same effect on them as your brick-and-mortar store — simply put, your content should constantly reflect what your brand has come to be known for across all channels, including social media platforms.
A good example of a boutique brand with a consistent theme and inventory is Suitably. You can experience the concept of confidence through clothing that the brand represents by merely checking out their website. What's more, the feeling is the same when you visit any of their social media pages.
Your brand theme should also elaborate on what type of clothing you sell. Do you sell corporate wear? Men's wear? Let your brand's visual identity indicate that you do!
Prioritize the Customer Experience
A boutique with signature high-quality products will attract customers — true. But a boutique that puts the customers' experiences at the heart of its identity will attract a wider, more loyal pool of customers.
Here, the goal is to convince customers that they are getting a unique experience that caters to their individual tastes. For example, at Princess Polly, there's an outfit for every kind of personality. Their brand identity is evident in their ability to cater to every individual's taste in fashion through exquisite clothing and jewelry pieces.
Another useful example is the now-famed Kara Collection. When they started out as a virtual shop on FaceBook Marketplace, they were pulling pretty decent numbers.
However, The online clothing and accessories market is estimated to be over $439 Billion in 2018, and is projected to grow even further over the next decade. Competition is intense, and without the right strategy, retailers can lose out.
With this in mind, Kara Collection's management team took advantage of our CEO's free project pre-development and consultation offer. After a few interviews with their staff, customers, and a cursory inspection of their catalog, we leverage the wisdom of the marketers on our team to develop a commercial understanding of their business' strengths and weaknesses.
During this, we discovered that their audience is young women between the ages of 25 and 35, who prefer the lightweight, chic, everyday fashion pieces with soft, muted colors that Kara Collection offers. Accordingly, branding efforts and design choices must be tailored to that demographic.
We developed a winning design that espoused exactly these characteristics.
After a few iterations, we came up with a text logo that incorporates a small star under the first "A", invoking a fondness for delicate aesthetics. "KARA" is spelled out in huge letters, ornate yet clearly visible. And "collection", outlined in a much smaller font.
When designing the web UI, we made sure to include pictures of some of their most in-demand items — a straw hat and bag, a crop top, among a few other items.
5 months after the Kara Collection online store went live with these new designs, their CEO raved about how they had set conservative sales estimates, in line with their sales history on Facebook. But when they launched, they surpassed these estimates in record time, and tripled their sales. The branding exercise has also opened doors to a few prominent partnerships with two globally renowned logistic companies.
A Clearly Defined Niche
As a boutique, you are cut out from the general retail community into a more specialized category. The best way to establish your brand is through your product choices.
For instance, a fashion-oriented boutique should offer top-tier clothing items that will help customers form a positive perception of the brand (let's be honest, if your products fall short of the latest trends, no one will purchase).
So, engage in careful product selection when stocking your boutique business. The fact that customers can rely on you to provide the latest products goes a long way to establishing a high-class positioning for your brand.
If your store focuses on kiddies' wear, your digital website should feature images and blog posts that communicate children's clothing as your brand's focus. For instance, the kids' section on the Gap Kids website features pictures of children posing happily in exquisite fashion items, and that clearly tells us what demographic that segment intends to connect to.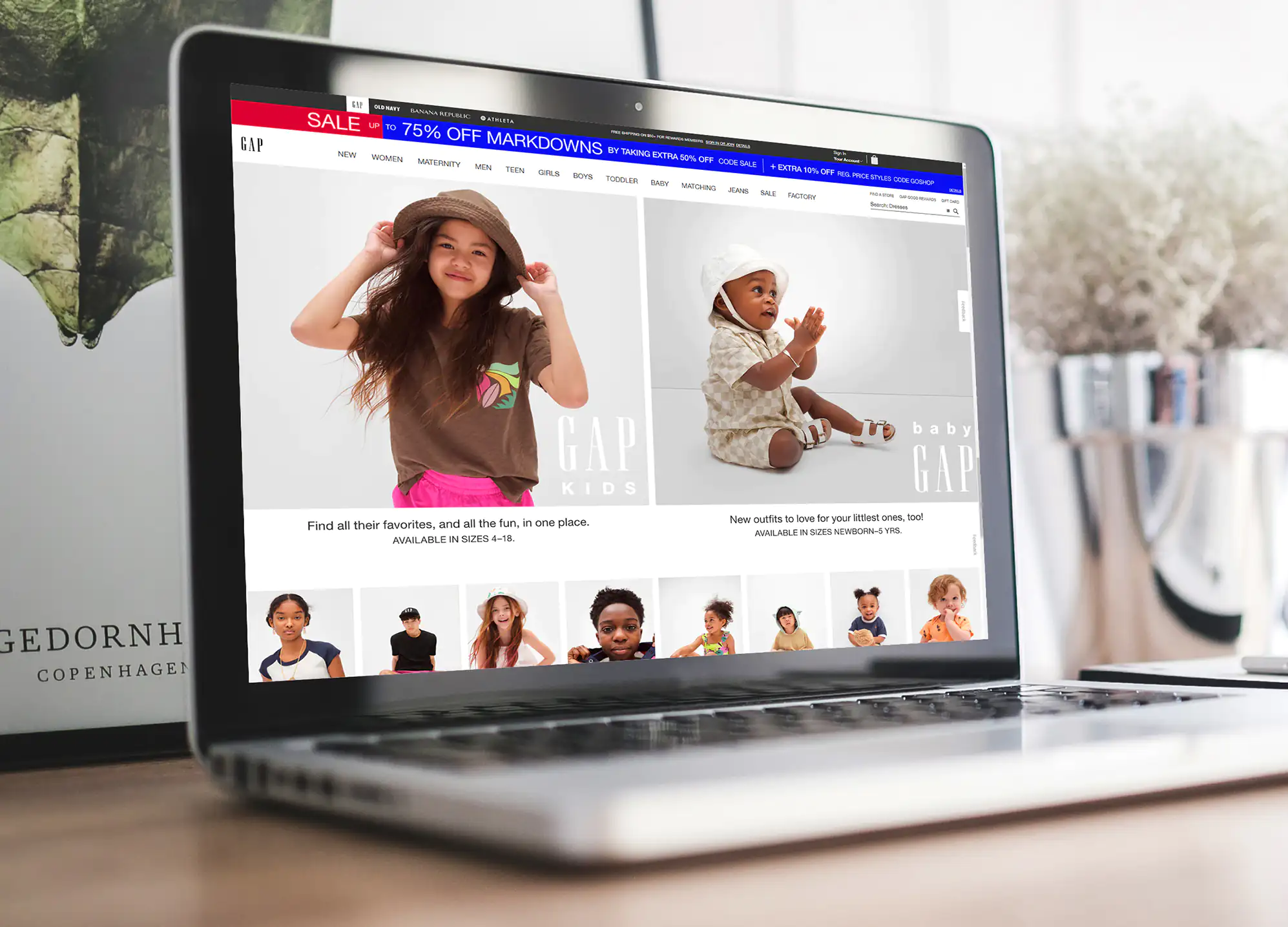 Image source: https://www.gap.com/browse/division.do?cid=6170 
Further, take Capitol for instance — they are a clothing boutique that curates pieces from the biggest fashion brands like Balenciaga and Valentino, and this has given them the reputation of a famous luxury boutique brand.
Branding for Boutiques is a big investment that should not be hurried or done without the professional help needed to get it right from the first touchpoint till the last layer of the customer experience. Besides ending up having to execute your project twice, you could end up skewing your brand identity in a way that could turn loyal customers against your business.
You need a strategy that is based on cold, hard facts, and you need your management & employee's buy-in and support to make it work. You also need to know your competition and what's on your shelves in terms of what clothing solutions you offer customers. Is it stylish, functional?, upscale?, a thrift boutique?, traditional?
Our 300+ unique completed projects by our award-winning branding agency with proven results has yielded a blueprint that can help evaluate your individual branding needs and discover opportunities to accelerate brand growth.
If you are considering shaping your boutique with a brand identity that gives commercial structure and substance, then you shouldn't miss the opportunity to ask our experts for their professional advice and insight.
Why Choose a Branding Agency?
Hiring a professional might seem like the 'proper' thing to do. But it's the more profitable thing to do. You're leaning on the expertise of seasoned experts because they have a deep commercial understanding of the fashion industry, which means they have a solid grasp on customer sentiment, as well as what moves customers.
Think about it — it's also not a good time to 'learn on the job'. Even with experts, sometimes, it might take a lot of iteration to hit the sweet spot for your brand. When it comes down to it, whether or not you think you need to spend money on branding depends on how much you think your business is worth.
Our experts have noted, especially among our clients, that when they're just starting out, they consider it wise to invest some time into getting the shop up and running before taking on a financial burden.
While this is completely expected, far more established business headhunters are usually willing to offer a pretty penny for established brands who've already done the hard work. This leaves you playing catch up in the long run.
The point is, if what you're looking for is a branding agency that will level up your boutique using cost-effective, tailor-made, and professional solutions, you should consider hiring a branding agency. Here's why:
Relationship
The branding experience is very personal when you work with a branding agency. You're able to build a bond with the agency that positively influences the branding approach applied to your business.
The relationship is even more personal for agencies, since it's a high-stakes situation; More so for agencies with a reputation that precedes them. When award-winning agencies partner, for instance, partner with your brand, every branding move reflects on their reputation, which they have earned over the years, and would love to sustain.
What's more? You and your marketing team are constantly in direct contact! This means, the ideas continue to flow uninterrupted until your branding goal is achieved.
Targeted Focus / Specialization
Branding agencies often pay more attention to the client's industry and niche, and that's why they usually understand the dynamics of how businesses work, better than even the owners themselves.
While a boutique owner may zero in on merely attracting customers for the day, or a month, a branding agency will employ tactics that will keep the boutique brand growing progressively, beginning from the local level all the way up.
Most of the time, branding agencies specialize in using their geographic / demographic projections and considerations for effective delivery. It takes deep commercial understanding, and a level of experience to achieve that, which you might not get elsewhere.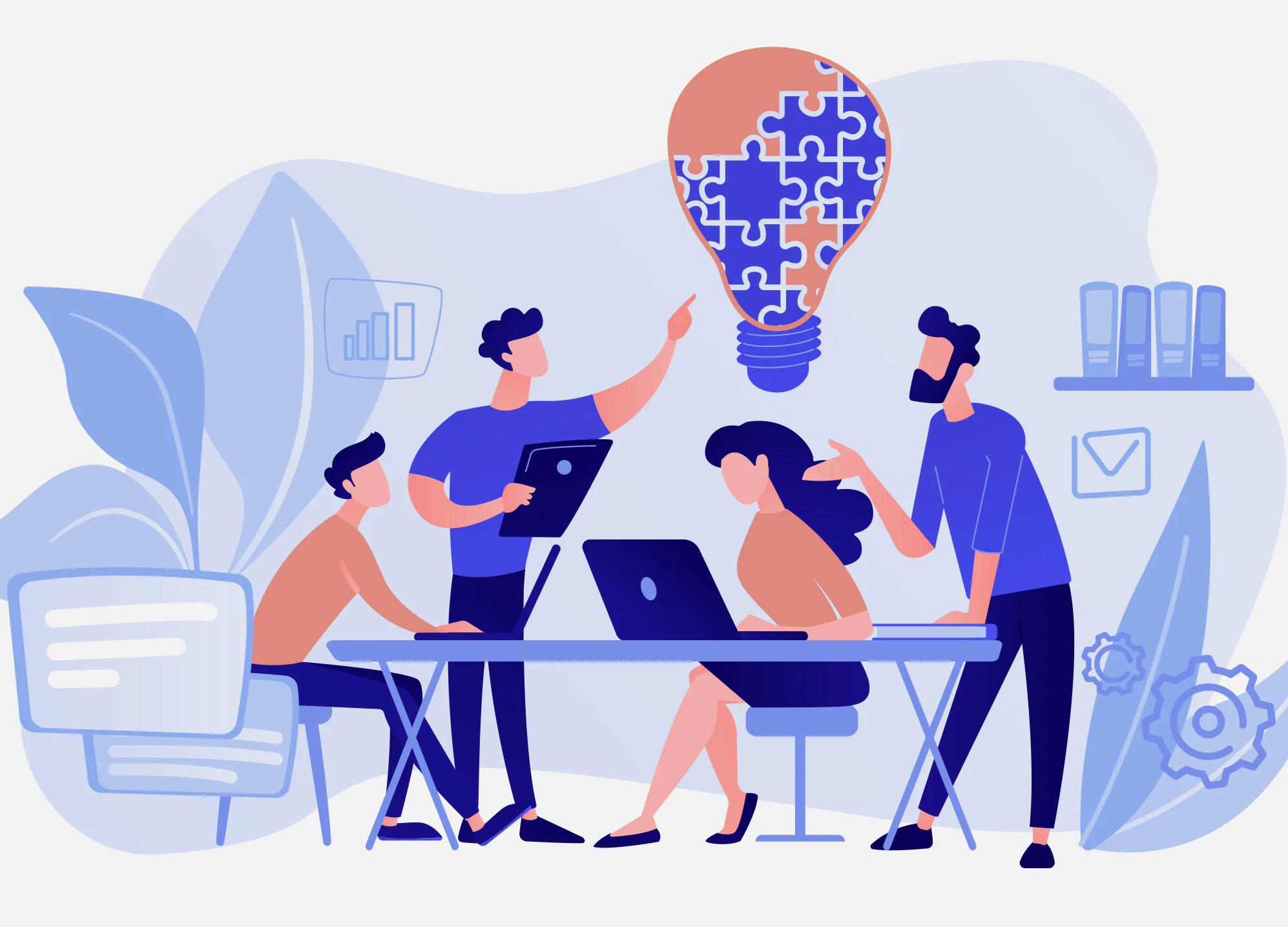 Image source: https://ru.freepik.com/search?format=search&query=business&selection=1&type=vector 
Innovation
By hiring a branding agency, you create room for limitless innovation in your boutique's branding. This way, the output is not limited to a designer's perspective only, but is more robust, and well-rounded, to cater to any unforeseen considerations.
Branding agencies never use a one-size-fits-all method to serve clients in the boutique business since different fashion genres exist.
What's more? While other professionals might succumb to a creative bloc when ideating new ideas, a branding agency involves their best heads to undertake numerous intensive brainstorming sessions until they find the most innovative ways to communicate your brand message.
Wrap-Up
With this, you're all set up to gain brand recognition and emotional connection with your customers — a sure recipe to set you up for an upward trajectory. And speaking about upward trajectory, you need a trustable partner who has been down that road before.
Looking to create an outstanding impression of your boutique in the minds of existing and potential clientele? Before ordering a full-scale development of a branding strategy for your project, you can get a free pre-pitch deck, developed by our leading analysts.
Tell us a little more about your project and we'll get an analysis in the next few days from now!