If food is the heart of fine dining, then restaurant branding is the soul that defines the overall experience. Discover how memorable brand experiences can keep customers coming back for more.
Following the drop in unemployment rates across America, restaurants are starting to gain full recovery from their post-pandemic slump as they now begin to onboard from a younger workforce. With this increase in productivity, there's no telling how well they can skyrocket their brand equity and increase revenue — especially if they have the backing of a strong branding identity.
Restaurant branding dates back to ancient times when taverns and inns used symbols to identify themselves. The tradition continued with trademarks like the golden arches of McDonald's.
As restaurants grew more sophisticated, branding became not only an essential element but also a valuable marketing tool. With many restaurant chains operating hundreds or thousands of locations across the country, unique brands with their visually striking designs helped customers find their favorite meals on the road.
But as social media and GPS have reduced our reliance on brick-and-mortar businesses, branding has turned from a tool of recognition to one of differentiation. We've all seen restaurants with similar menus located around the corner from each other. But why do some succeed while others fail?
A memorable restaurant brand experience is a good place to start for sure. Seeing that good food is one commodity that hardly dips in its demand. The restaurant business is a profitable venture. But if we've learned anything from our 8 years of experience in branding, it is that not just anybody can start a restaurant business and grow it successfully.
Depending on which study you go with, companies with strong branding have the most customer retention. And considering that the restaurant industry is one with a high failure rate (60 percent of new restaurants close shop within their first year and almost 80 percent die out before their fifth anniversary) discernable brands get a larger chance of success.
Not too long ago, Yum Brands (operators of Pizza Hut, Taco Bell, and KFC) declared it beat its projected revenues for the year 2021. This was despite the lockdowns and other COVID-induced restrictions that largely kept restaurant businesses from operating in full swing.
As 90% of our customers in the restaurant industry say, small wins just don't cut it. Popular names like Applebee's and Subway have had to close record numbers of locations in the past few years due to pressure from competitors. Now, If you want to build a truly exceptional business in this industry, you must follow a deliberate path to creating an irresistible brand identity.
Even if you're no foodie, everyone knows Salt Bae's Nusr-Et restaurant chain and its celebrity clientele falling over one another to be fed thousand-dollar gold-encrusted steaks at their Miami location and everywhere else. But it hasn't always been this way. Only six years ago, he was 'just another' Turkish chef and restauranteur.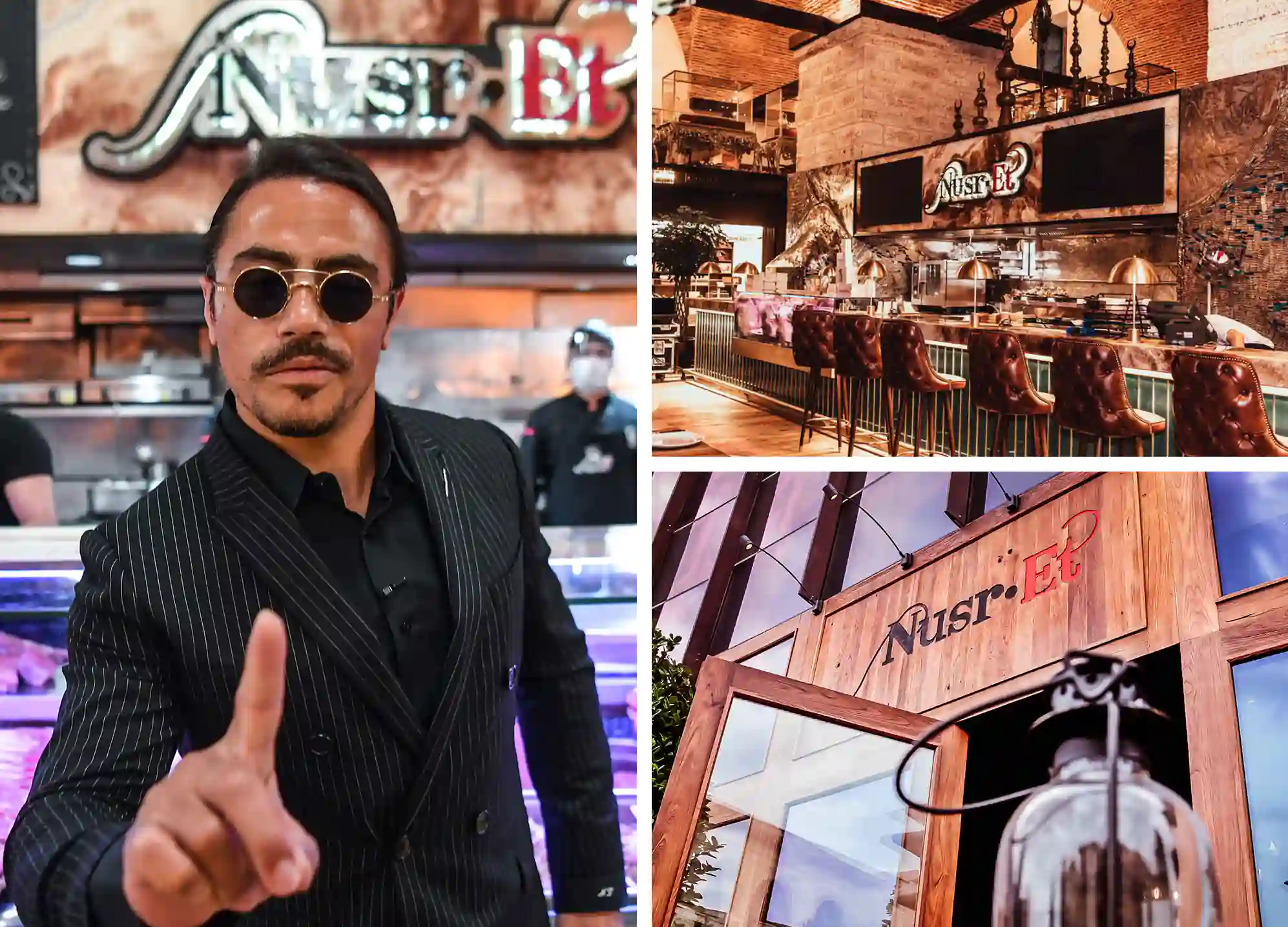 Image source: https://www.almosafer.com/en/city-guides/dubai/restaurants/nusr-et,
https://noticiasya.com/nacional/2021/11/04/salt-bae-solicita-chef-para-cocinar-carnes-de-2000-con-paga-de-16-la-hora/,
https://www.opentable.com.au/r/nusr-et-steakhouse-sandal-bedesteni-faith
When did it all change? Or, to ask a more relevant question — how?
Prior to 2017, Salt Bae wasn't as well-known as he is today; it all changed with a simple 36-second video that showed him, wearing a unique pair of dark sunglasses, cutting up a steak in what has now become his customary style, closing with an enigmatic salt sprinkle.
Although none of these elements particularly add any special flavors to the food, they were enough to earn him viral fame and explosive success. Today, this is his brand's major identity. Today, the Nusr-Et brand operates 18 ultra-exclusive restaurants worldwide, including three in the USA alone.
Now, what exactly is restaurant branding? And how exactly can it help turn the fortunes of your business around? In this article, we provide the answers to just about any questions you may have. Let's launch our inquiry from these talking points below:
What is a restaurant brand?
A restaurant's brand is the business' identity. It is everything from visual cues to specialty offerings on its menu, to its interior décor and the overall customer experience.
How do you start a restaurant brand?
To start a restaurant brand, you must come up with visual cues that are reflective of your restaurant's personality and style, and these should be communicated through all aspects of your business, from your marketing assets to your interior design.
How do you make your restaurant unique?
These days, everyone jumps on trends for brand visibility. But you know what's even better? Creating trends and novelty meals of your own. To create that uniqueness, you need to invest in strong brand identity for your restaurant.
Got any questions? Do you have any points of clarification you need to understand these concepts better?
If you're considering branding your restaurant, don't miss the opportunity to seek expert advice and insight. Hit us up here for consultations that'll lead to discovery here.
Elements of restaurant branding
Now, to achieve your desired success, you must draw up a cohesive restaurant branding strategy, built on the elements listed below:
Name
8+ years of curating exceptional brands for some of the finest restaurants in the hospitality industry has shown us the importance of distinctiveness when choosing a brand name. Your goal should be to find a name that stands out but is simple enough for everyone to recall, while also hinting at what specific niche of the industry you are in.
When KFC was first created by Colonel Sanders, it used to be called Sander's Court & Café; a name barely distinguishable from any other small-town bed and breakfast.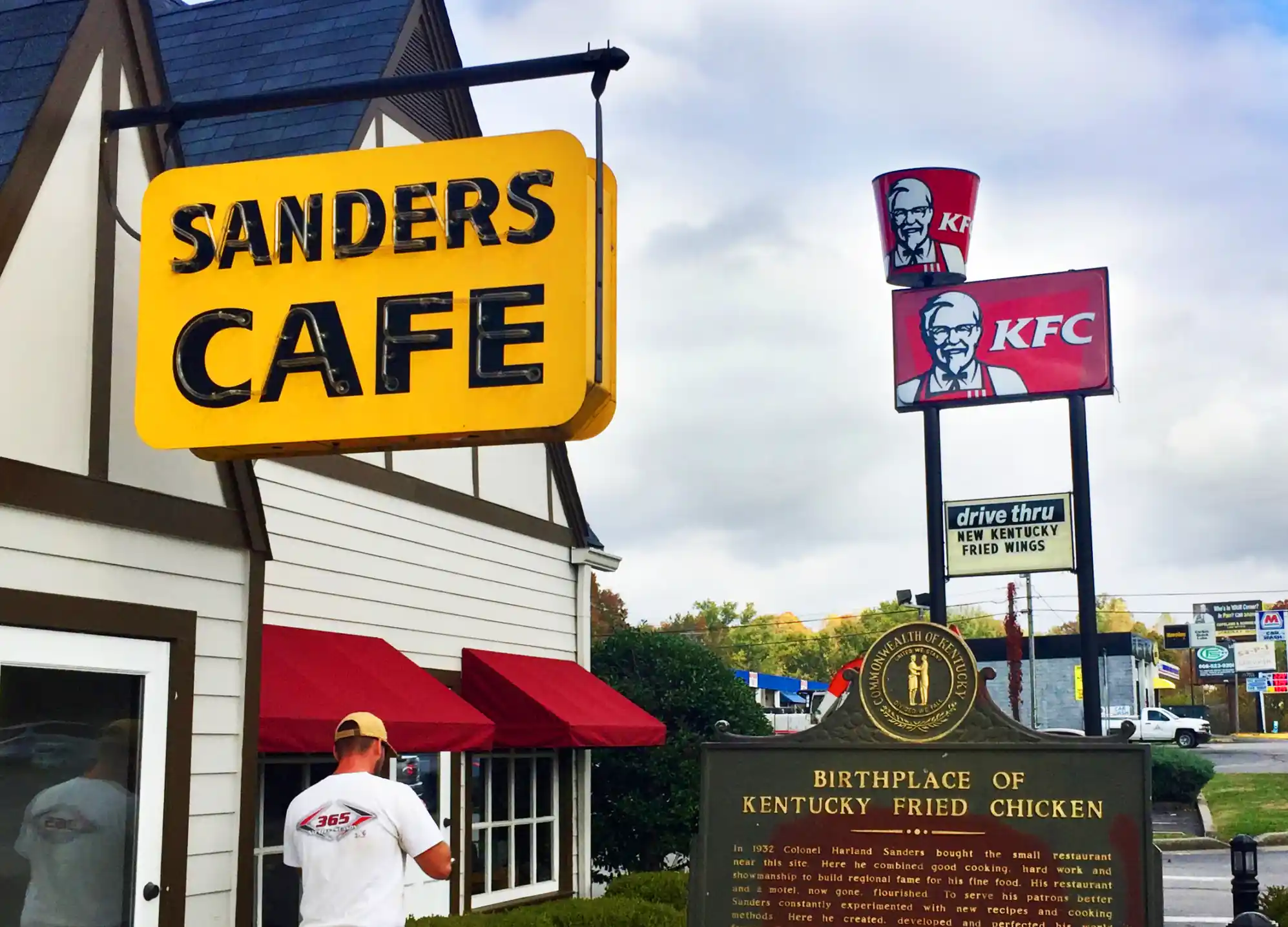 Image source: https://www.changesinlongitude.com/harland-sanders-museum-cafe-kfc-founder-story/
Then, Pete Harman, one of the chain's first franchisees, coined Kentucky Fried Chicken. He effectively differentiated the brand from competitors, while aligning it with Kentucky and general Southern America's reputation for exotic cooking.
It was a resounding success and was considered good enough to be retained when the company was eventually sold to investors. 70 years later, the brand has gone to become one of the largest restaurant operations in the entire world and has gone through several changes along the way. But the KFC name still remains etched in the minds of billions of people.
Logo
Your logo is almost equally as important. It is going to feature on all of your signages and is a visual image that is overtime, going to represent your brand. The rule of thumb is to ensure that your logo features your brand's name and business in a legible font.
Also, you must choose colors that are consistent with other aspects of your brand identity. It is always considered best practice to maintain an image of coherence on all your marketing platforms.
The popular Wendy's logo takes on the signature freckles & pigtails of the founder's daughter. It's targeted at a younger generation and creates a nice, welcoming feeling for burger lovers and enthusiasts.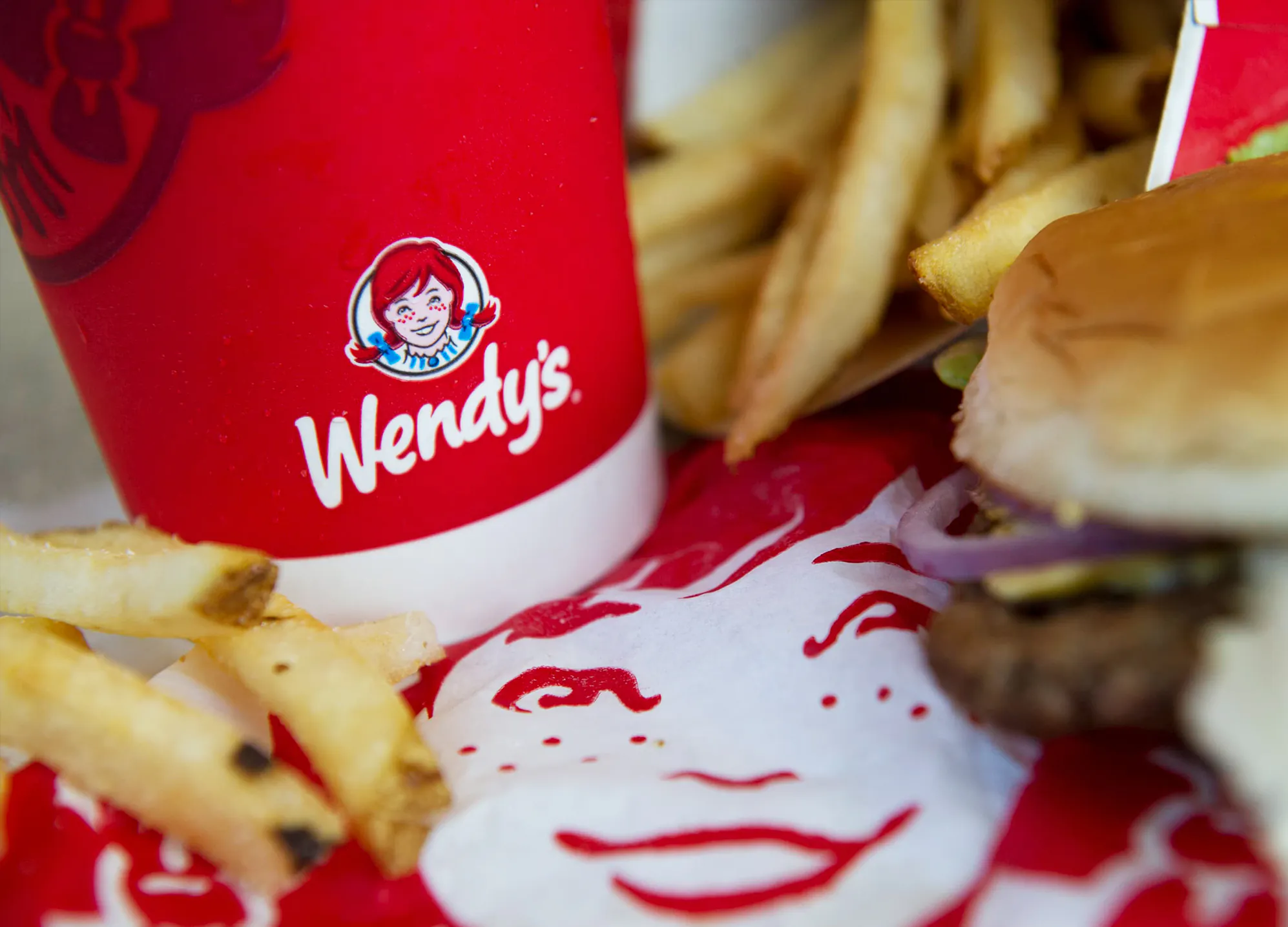 Image source: https://www.cnbc.com/2020/05/05/nearly-a-fifth-of-wendys-us-restaurants-are-out-of-beef-analyst-says.html
Tagline
You simply can't do branding without taglines. A tagline is a simple phrase designed to convey the entire essence of your brand image while still being catchy enough to be memorable for your target audience. KFC's tagline, for example, is "it's finger-lickin' good".
They adapted a popular phrase used to praise good food and made it their tagline, and it became a smash hit. 65 years after, one would be hard-pressed to find a tagline in the restaurant business that's more successful than that.
Interior decor & branding
Your interior branding is all about creating a cohesive and visually appealing space that reflects the restaurant's overall brand. While the visual cues help create the initial perception that potential clients have about your brand before they walk in, the ambiance inside your establishment is probably the single biggest factor that actually cements your brand's identity in the minds of your clientele.
This can be achieved through thoughtful design choices, like color schemes, materials like furniture, paint colors, and artwork on the walls, to cups and other branded items, to your staff's uniforms — and finishes. It's also important to consider how furniture is arranged and how signage is used to further reinforce the brand.
They all have to be crafted towards the central goal of creating a deluxe dining experience, in line with your brand's vision. By paying attention to these details, restaurants can create an inviting and memorable space that will keep customers coming back.
Special features
Another component of branding strategies is to have some features or offers that make your brand stand out to the customers. It may be, like Salt Bae, an eccentric performance, or it may be special menu offerings.
Consider McDonald's Big McChicken. McDonald's is mostly known for its burgers and fries, but that market has become saturated. But with the Big McChicken, they have been able to restore some uniqueness by replacing the usual bread buns on the burgers with McChicken Patties.
Coffeehood is an upscale coffee shop. Without the right identity, building a profitable coffee brand could be tough, especially when you consider the caliber of the frontline competitors in the industry (Starbucks? Anyone?). Matt, their Head of Growth reached out to us with the brief.
We held a couple of meetings, first externally with them, and then, internally — late nights, early days, and a whole lot of iterations, and general brainstorming sessions.
Leveraging the deep commercial understanding of our marketers and designers, we discovered that a lot of the focus in the coffee industry is on-demand — consumers need the quick jolt to get gingered up for work. So, a lot of the packaging and design is built around to-go disposable paper cups. But, this practice ignores a growing proportion of coffee hobbyists, who enjoy coffee, not for its caffeine content, but for its aroma and the different possibilities that it brings. And this is the niche that Coffeehood fills.
With this, our team of award-winning designers crafted a logo that features an illustration of a standard lamp and a coffee cup to show how the company considers coffee to be one of the finer things of life — not just another elixir to fuel the fast-paced American lifestyle as it has come to be known. And to keep it grounded in its identity as a coffee brand, we slapped on a brown color scheme.
Coffeehood went live in the third quarter of 2021, and in the months since then, they've been on the up and up, on all metrics. The brand has not only successfully positioned itself as a hub for coffee hobbyists, but it has also gained a significant share of the functionalist coffee market.
Target audience
Finally, restaurant branding is not complete without a defined target audience. The language and them involved in restaurant banding must be directed towards a specific audience. It might be an age group, income class, gender, or tourists.
All that matters is that you research your location's demographic data to find the audience that's most likely to help you turn the most profit and focus on them. Restaurant chains like Ruth's Chris steakhouse, for example, have long settled into place in the high-end market, earning as much as $500 Million in revenue annually.
All of these — brand name, logo, website, tagline, and curating an exceptional ambiance that customers fancy enough to book a return ticket — is way too consequential to your business development as a restaurant for non-experts to handle.
There's too much competition out there for your restaurant's branding to be anything but the possible best given the competitiveness of the restaurant industry. In our interactions with clients, many of them lack the deep commercial understanding needed to deliver a consistent brand identity across offline and online channels.
Some other clients have different commercial needs, like the personalization of the layout of the menu and other vital parts to blend into their brand identity. These requirements need the touch of a professional branding agency that can partner with you to bring real results. The 300+ unique completed projects by our award-winning branding agency with proven results include diverse restaurants, from small to medium scale.
Our bid to help you craft and fulfill the winning strategy that gets you the largest market share possible has driven us to offer a free pre-development for your project from our CEO. Need assistance? Click here!
How to Devise a Restaurant Branding Strategy?
Decide on a clear endpoint
The first question that you should be asking yourself is: "what do I hope to get out of the branding exercise?
Restaurant branding is not a goal in itself. It is a means to a goal. So, it's very vital that you figure out what the goal is for you. Do you aim to create a global franchise, or do you just want to solidify your presence in your current community? This will determine what further actions you take, and the approach.
Value proposition & Brand positioning
What do you plan to offer your customers? Are you setting out to be a five-star gourmet restaurant, a family spot, or maybe a fast-food spot for people to grab and go on their commute to work? There should — and must — be more to the killer food you create.
It could be the ambiance, your kitchen consistency, and preparation, the convenience they enjoy, or even the cultural philosophy that underpins the food you serve. Finding your value proposition enables you to create the right marketing messaging to draw in your ideal customers.
When you have identified your value proposition, you can now begin to craft your marketing and general business strategy towards positioning your brand in that niche.
When taking on restaurant branding projects, our marketing experts zero in on the '4 Ps':
— Price: Your pricing strategy should be a true reflection of:
1. Your target audience.
2. Your brand positioning. I.e, whether you're upscale or middle-income.
— Product: Of course, the first thing is to develop is the content of your menu. Thus, if you plan to create a gourmet restaurant, burgers and chips cannot be the first items on your menu.
— Promotion: And then, you're going to want to create marketing strategies that resonate with your target audience with a unique brand voice that reflects your brand's personality. Promotional strategies differ. For instance, while mascots might work fine for grab-and-go fast food spots, but wouldn't quite fit for a luxury steakhouse.
— Place: I.e, the physical location of your restaurant.
Wabi-Sabi, for instance, is a high-end, plant-based restaurant based in Dubai and Saudi Arabia. Wabi-Sabi positioned itself as a plant-based restaurant, and its value proposition is that of a dining/relaxation spot for vegans that also accommodate non-vegans.
They quickly etched this philosophy unto their ambiance too. Right from the entrance till exit, the Wabi Sabi's aesthetic Ambiance is a breathtaking work of art, but the art continues on the plate — and in the overall dining experience.
Although we've already mentioned Shaken or Stirred as an example in a previous post "The Role of Graphic Design Branding in Your Marketing Strategy", it's worth re-visiting the brand transformation of this modern wonder of a cocktail brand.
Shaken or Stirred is a chain of cocktail establishments that pride themselves in the experience they serve customers just as much as the products they sell.
Seeing that they were caught up in a high-stakes situation (with their launch looming large) they needed a winning design that would not only quickly get their bottom line up and running but also more permanently solidify their position as a major player in cocktail service in Poland. Their request? A brand identity that appeals to an upscale, sophisticated audience.
After a free project pre-development involving Philip and Stan, our expert team immediately set to work creating unique designs for their branding campaign — ads, mobile app, website, menu books — and just about any other designable/print graphics that a cocktail outlet chain should have.
Philip's company got nominated for the Polish Leading Brand Awards in the year 2021, and now Shaken or Stirred is fast becoming a household name in Poland.
During client presentations, our chief analyst hardly focuses on the number of projects completed, but on the quality and the results that our branding efforts could achieve.
With over 300+ unique projects, Stan Branding is the go-to if you're looking to get it right the first time. Our agency has a large staff of designers and each project is unique:
Develop your brand's look & feel
The final thing on our checklist is to set about creating your brand's aesthetic — name, logo, signature colors, menu design, signage, interior décor, etc. Remember, they learn a lot about your restaurant through design before they even walk into your restaurant.
And it's not just about your letterhead or logo — it should extend to your interior decor — your signage, menus, and the wall decor. A mood board of fonts, colors, logos, and other aesthetic elements is a good way to arrive at a solid foundation for professional graphic designing experts to chalk out your brand personality.
Restaurant Branding Ideas to Implement Right Now?
"Water, water everywhere and not a drop to drink." When Samuel Taylor Coleridge wrote this in his poem: The Rime of the Ancient Mariner, it was just about a man on a voyage. Over time, it has been applied to several fields. Even in restaurant branding, it holds true.
Below, we outline a few ideas that we had. We hope you get inspired and this gives you a few handy tips on how you can improve the brand experience you're able to share with visitors in your restaurant.
Monochromatic decor
The average person is, today, faced with a flurry of colors. From yellow taxi cabs to the multi-colored cars in traffic, green cafes along the walkways, and stripped eaves. You gotta admit, it can all feel a little overwhelming at times.
Why don't you buck that trend by creating a wholesome monochromatic space where people can come for a little respite from the bustling color palettes outside? Monochromatic decor should also find its way into your lighting — in a way that sets the mood (whether you choose fluorescent lighting or low lights).
Appetizing Colors
Asides from the aesthetic purposes, colors can also be functional in their use. Our experts also recommend the use of red (or hints of red) as they find that it stimulates appetite somewhat — and it's backed by decades of science as it signifies abundance in sugar-packed, energy-dense veggies or fruits — think grapes, red apples & Pomegranate.
Other milder appetite stimulants like Yellow or orange are also recommended. Yellow — happy — a full tummy. Got it? Good. Yellow is also known to trigger serotonin when you're on the cusp of being served — a feeling that could fill you 'upstairs' right before the scrumptious meal lands on your tastebuds.
Plant-based restaurants can play around green as well to signpost a haven for benign, non-cruel, edible, and healthy environment for their vegan dining experience.
Portioned packaging
Portioned packaging makes sense for so many reasons. Take Pizza, for example. People hardly eat pizza alone. So, packaging individual slices in separate boxes just makes it easier for your customers to share their pizzas with friends.
Since they are separate slices, they may no longer have to have hour-long arguments about what pizza flavors to get when they can just as easily order a mix of portioned slices. Customers who have to eat on the go will also fancy this.
Unlike the large unwieldy boxes that traditional pizzas come in, individually packaged slices give you the opportunity to reinforce your brand identity at every bite.
Poetic license
Another interesting idea that you may consider is using poetry, riddles, or puzzles on your menu books and packaging materials. Especially if your business is located in a town of literary-minded folk, these can be explored in creating a brand identity.
Now, instead of waiting and getting irritable as their order takes some time to get ready, your clients might just pass the time, solving riddles on your menu books. It's. Just. Perfect.
Crests (Bonus tip)
If there's anything the US is known for, it is for its elaborate crests, often featuring in family symbols and organizational logos. For a people deeply sentimental towards tradition, these crests convey a sense of class, quality, and tradition.
It just makes sense to incorporate a crest into your logo and packaging, especially if you're planning on setting up in America.
Conclusion
To build a unique and similarly successful brand identity, you don't need to be a Michelin star chef, successfully innovated recipes, or have the finest upscale, modern interior peppered with the world's most emotive chefs and food servers. While these surely do your chance of success no harm, exceptional restaurant branding helps you put your strongest foot in the door.
Your restaurant branding goes a long way in determining its longevity or otherwise. From its name to the logo and interior décor, all these elements factor importantly in deciding whether your brand is strong enough to entice your customers to return, or whether you can even pull in first-time clients.
Stan Branding is an award-winning agency with 5 restaurant brand international awards between 2018-2023. Creating unique solutions for all kinds of restaurants — local, international & multinational, year after year — we've developed a high level of creativity and deep commercial understanding within our team.
And though projects may share certain commonalities, we take a unique approach to each project. As we evolve our expertise alongside market shifts, trends, and new realities, we constantly ensure to leverage our experience during general brainstorming sessions involving our expert team (of marketers & designers).
Need a helping hand? We're happy to be the one you lean on for your next big branding move. So, click here to get an exclusive offer of a free pre-development of your project from our CEO!