Looking to scoop brand awareness & recognition in one strategic move? Vehicle branding means attention on wheels. Learn how to make the most of it without fuss.
A fierce inflow of Artic air is expected to rock areas around the regions of Southern Texas, the Midwest, and the East Coast. Predictions made by AccuWeather also claim that its reach could be the longest and far-reaching stretch of cold (strong winds and subzero temperature) this winter season.
The development, though unrelated, can be likened to how Vehicle Branding works. Though hardly the belle of branding strategies, it's yet another practical and effective medium of clearly communicating your message to your target audience… with an ultra-wide reach, and at low cost to you as it boasts broader coverage than other brand marketing channels.
Let's face it: as a company or a local business, you're probably not asking for the unthinkable. You want returns on investment, with no red ink on your business's balance sheet (financial loss). So, in many ways, your company thrives on your ability to drum up enough brand awareness, boosting your brand messaging and overall marketing (and sales) in the process.
Vehicle branding affords you just this. Quite surprisingly, it gets under the radar of most companies' branding strategies. But it remains a one-of-a-kind strategy that can pull in double duty to create brand awareness and boost your marketing (advertisement) at the same time.
It's a bit of an old-school branding strategy that is regaining relevance in today's brandscape, and for all the right reasons! Little wonder, the average pedestrian is always one traffic light away from seeing a U-Haul van in their emblematic orange and white, or the almighty Pepsi Buses.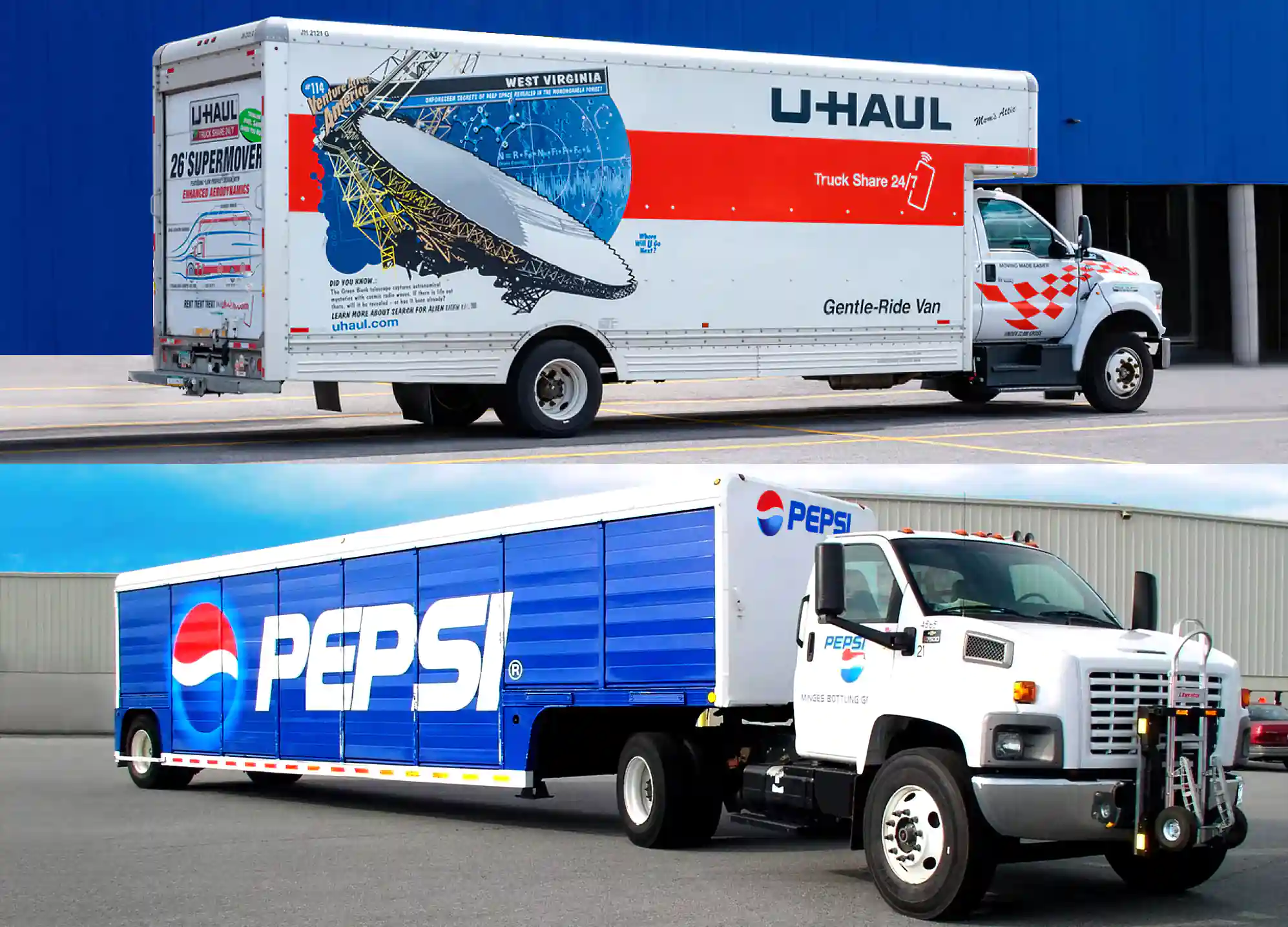 Image source: https://capplatam.com/articulos-guias/trabajo-de-truck-driver/,
https://www.shutterstock.com/ru/image-photo/ottawa-ontario-canada-september-3-2020-1808452903
How does it work? Vehicle branding is basically any branding asset put on your vehicle, car, to whip up cool brand recognition for your company. It could be anything — as long as it sticks on your vehicle — from stickers on both sides of your car to entire vehicle wraps.
It's yet another reminder that regardless of the influence that digital platforms and media hold on how branding for most businesses is done, there are several low-price point options that still rake in just as enough brand recognition as conventional channels.
To put it simply, you hardly need a big budget to execute your vehicle or car branding, and it's a great way to reinforce your brand in the memory and minds of your target audience, increase awareness, and boost your bottom line. Logistic companies get the hang of this. The DHLs, XPOs and Americolds of this world have been able to gain tremendous commercial success with the help of vehicle branding.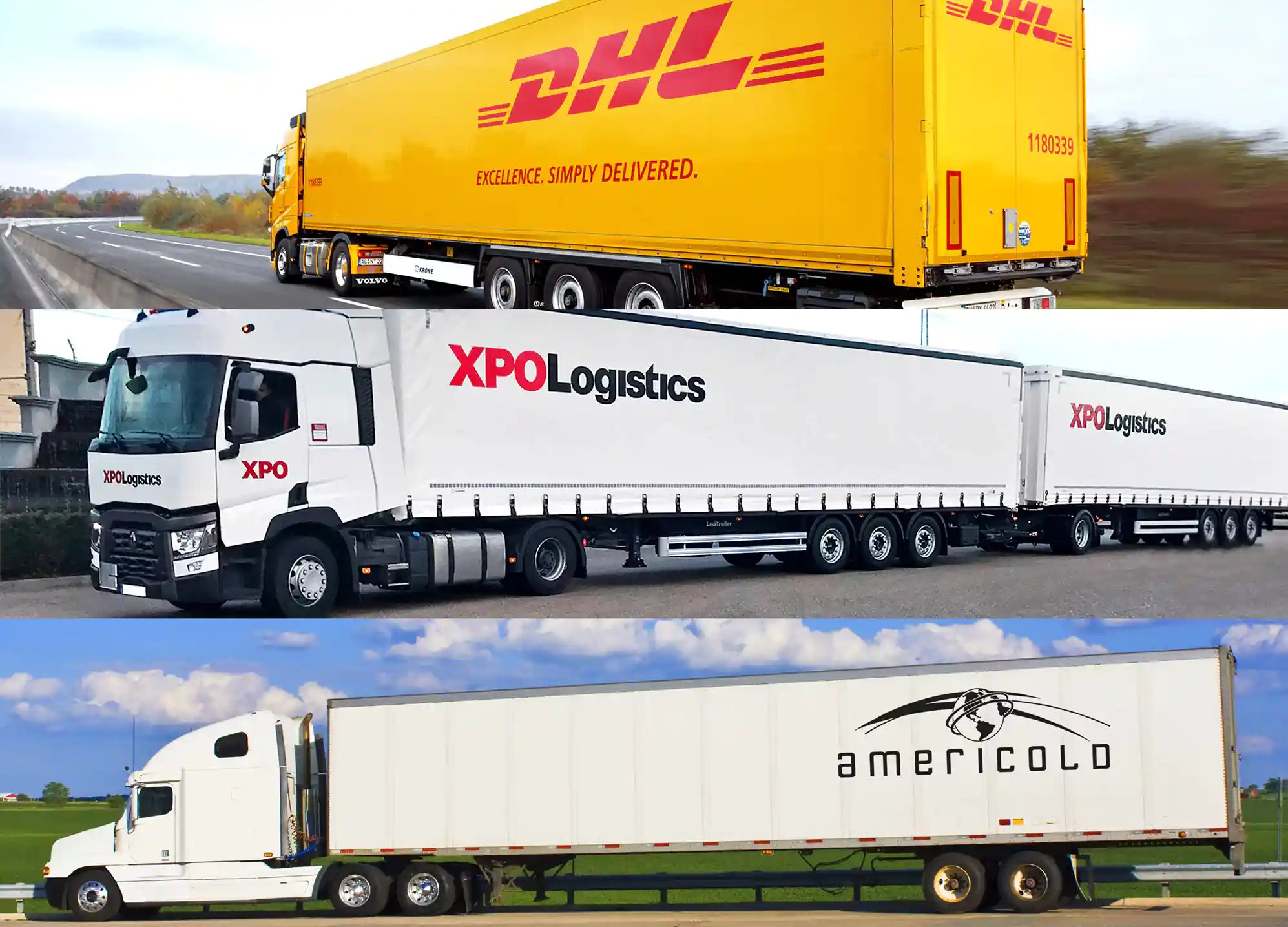 Image source: https://www.dpdhl-brands.com/en/dhl/vehicles, https://www.americold.com/,
http://truckandroad.ru/business/xpo-logistics-ispytaet-svoj-samyj-dlinnyj-avtopoezd.html
Americold, for instance, is a company that oversees the distribution and stroage of perishable goods. So when their branded vehicle is in sight, the viewer instantly connects to its brand promise of ensuring that goods distributed for the consumption of the American populace is fit for consumption at the time of arrival at its destination.
This strategy alone has seen them gain massive recognition as the world's most accomplished owner and operators of temperature-controlled warehouses, and they've been able to do almost 1.6 billion U.S. dollars in net revenue as at 2020.
In this article, we not only take you on a ride into the rabbithole of vehicle branding, but we give you a heap of tips on how to leverage it as an effective branding & marketing tool. First off, let's spill a few questions that will set the tone for better understanding of how the concept works:
What is meant by Vehicle Branding?
Vehicle Branding is the process of installing a digitally printed (wrap) logo or brand message on a car, truck, or any motor vehicle. It may cover a portion of its surface or the entire surface.
Is it Worth Wrapping a Car?
Based on our experience, yes. In fact, an Outdoor Advertising Association of America survey hinted that wrapped vehicles were the second most noticed form of outdoor advertising.
Is Wrap Bad for Your Car?
Car wraps are a preferred alternative to other forms of vehicle branding like painting, because, unlike paint, they protect the surface from scratches, minor dents, and roadside debris.
Vehicle Branding as an Effective Marketing Tool
Research shows that Americans drive about 25 miles and spend an average of one hour behind the wheel each day. And with 222 million licensed drivers on the road each year especially in traffic-heavy areas, the impact of vehicle branding is huge.
Why so? Because branded vehicles are never restricted to a particular geographical location. Wrapped cars or trucks give your brand higher odds of visibility. Whether your car is sitting on the driveway, stuck in traffic, or just walking the highway, you are constantly gaining more traction.
Wells Fargo's disaster relief fleet of vehicles is a good example. Though originally dedicated to helping out with basic financial services during natural disasters when banking systems are unavailable, and citizens are in desperate need of cash, Wells Fargo's super-cool design offers a smartly executed passive kind of branding.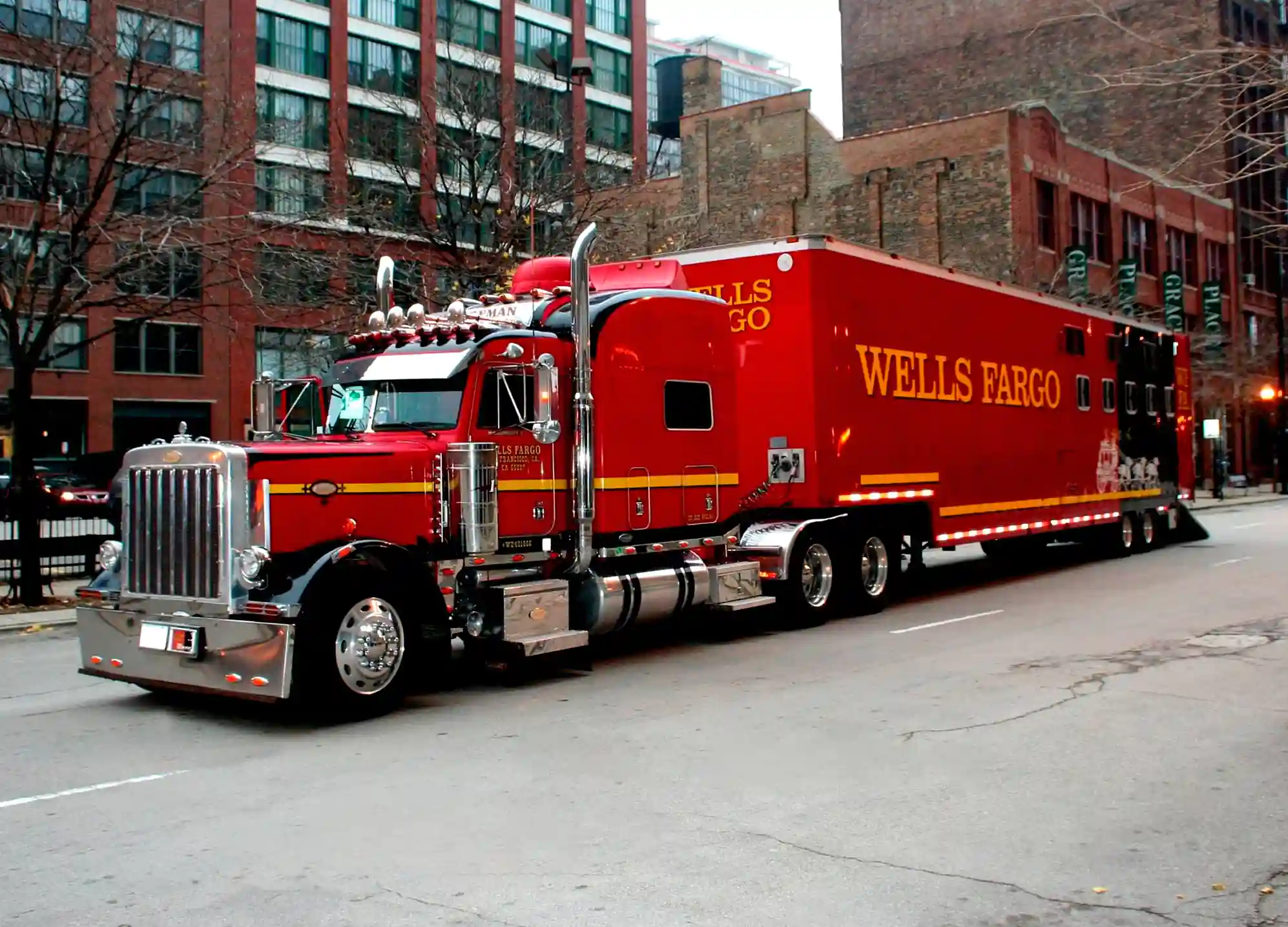 Image source: https://www.pinterest.com/kuenn/wells-fargo-trucks/
During such trying times, with every trip, brand awareness increases, but that's a short-term value for their company. The long-term value is that the sight of their company's vehicles cements the lasting impact they create in the hearts of people, inspiring brand loyalty they need to attract and retain customers.
But that's just scratching the surface. The increased brand awareness, recognition, and loyalty further spiral into improved brand equity for them. That said, you'd be completely correct if you thought of this vehicle branding as a 'billboard on wheels'.
The mobile exposure that Vehicle Branding gives also allows it to expand a marketing strategy beyond a target audience or a particular demographic. Using this channel, your brand is also able to penetrate geolocations and demographies that would have been difficult to reach or would have required a much higher budget.
The fact that vehicle branding has such a broad reach and costs relatively lesser than other brand marketing strategies makes it an absolute brainer.
If you've read up to this point and would like to seek some clarity on a few concepts, we're more than ready to help you. We are very much aware that this is uncharted territory for most business owners as it is not the most talked-about form of branding. As noted by our experts, most of them are often confused about what kind of vehicle branding they should go for.
Should you go for vinyl wraps? Are you unsure of the style to go for and the finishes? Do you need to design fresh brand elements or incorporate photography? What information do you want to put on your vehicle? These concerns and many more usually linger in the minds of company executives looking to execute their vehicle branding.
… All these front-burner questions point towards one direction — you could do with some help!
We have amassed a boatload of projects (over 150+) in this niche for local and international clients, each unique in their execution. Because of this, we're in a vantage position to help you with creative outlines, how-tos, and a winning strategy that is targeted at meeting your commercial needs.
Feel free to contact our experts for professional insights and answers to your inquiries.
Another point scored by vehicle branding is that it 'breaks the ice' by introducing a brand that has not been experienced up until that point to the general public. By making the public see your branded fleets now and then, your target audience takes note, and they are more likely to resonate with your brand when next they see your it pop up, so they are more likely to interact with it.
Anyone who has seen the famous Mini Cooper cars of the MISC. Group has probably taken solid note of the brand. Another reminder that the car you chose to rock your branding with is just as important as the branding itself, their cool, cozy vehicles hardly miss the mark of a truly modern brand that aims to impress their customers.
Finally, fleet advertising also gives a boost to your Search Engine Marketing Campaigns online. How so? A well-branded truck or vehicle bearing a company's logo seen every so often enters into the consciousness or awareness of potential customers.
Thus, when a potential customer puts in a search for a product or service you offer and the search engine pops up your brand name, chances are that your brand is not only top-of-mind for this buyer, but there's also a high chance that they purchase from you.
The stats back this as well: According to Onbuy.com, 71% of buyers claim it's crucial that they recognize brands before bringing out their wallets to buy from them.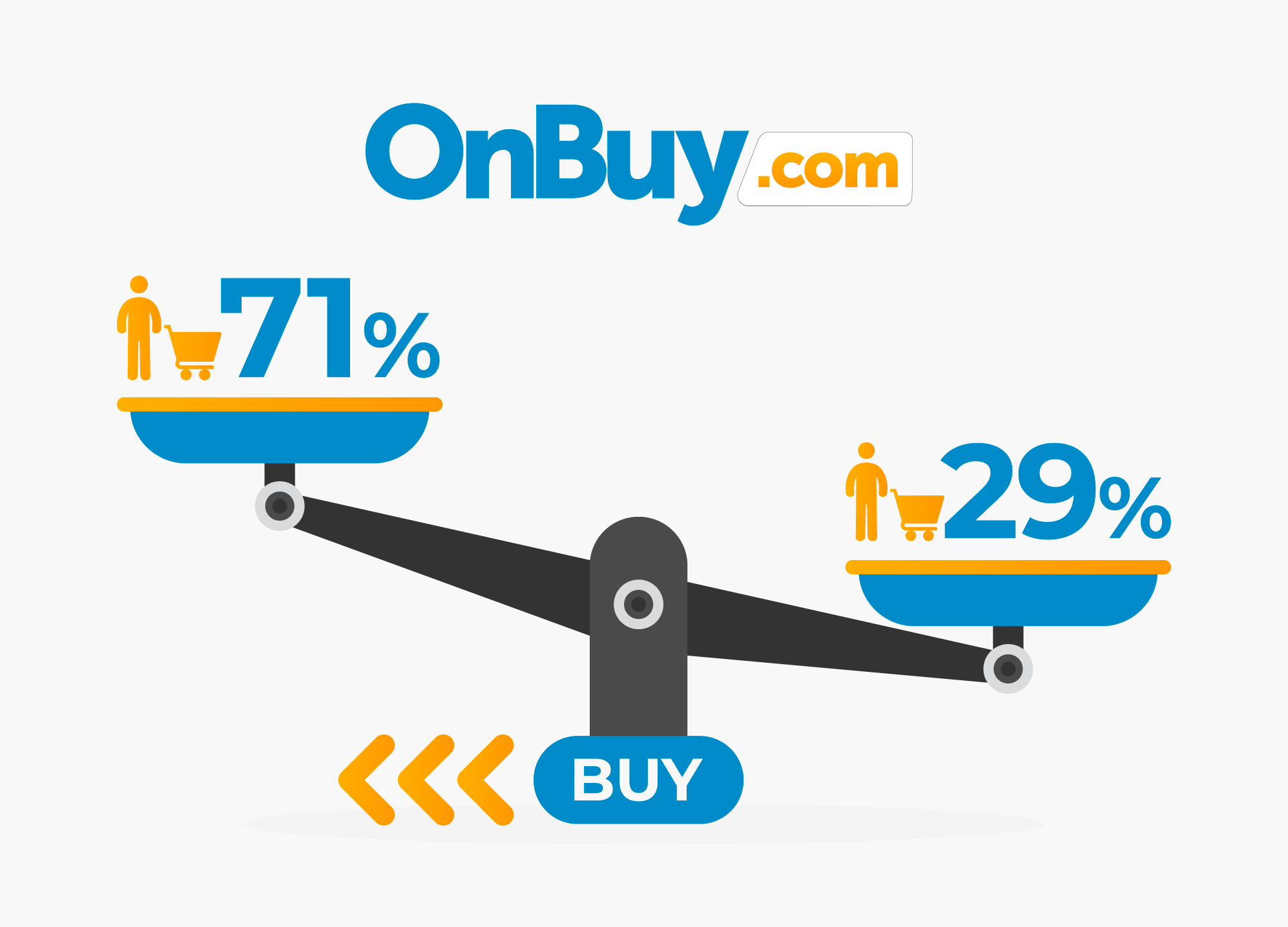 Why Should You Use a Vehicle Business Wrap?
Our experts have observed during collaborations with clients that when it comes to vehicle branding, going for the old-school option of a paint job might seem like a natural thing to do. However, it's not always the best option.
There are also other options, like slapping magnetic signs onto the side of your vehicle, full or partial vinyl, and also individual adhesive lettering. Vinyl wraps are in vogue now. But more importantly, they are the most effective method yet.
Vinyl wraps involve graphics printed on the Vinyl film, which is then wrapped around the vehicle.
Based on our experience with clients, we strongly suggest that vehicle wraps portend a greater amount of benefit for your business in the following ways:
Swift execution:
It's pretty much plug-and-play the way vehicle wrapping works. Considering that time is money, whatever solution you opt for should not leave your vehicle missing in action for too long, especially when all that time should be spent with your car on the road, attracting more eyeballs — and brand awareness.
With vehicle wraps, after the design has been done, it can be applied immediately on your bus, van, truck, or car. It's especially easy for you when you're applying these on a fleet of cars and not just one. It saves time, so you can focus on other more vital aspects of your business operations.
More margin for error & room for improvement:
Imagine not being able to correct errors in your vehicle design because the paint is already dried up. Vehicle wraps give you a mockup of how the design looks on your vehicle, giving you more room for iteration and rounds of creative input that will amount to an impressive final product.
With paint jobs, you never know how it's going to turn out until final application, and by then, it's usually too late.
Easy to Maintain:
Paint jobs are known to be effective for anything but their maintenance as it involves the tedious process of waxing to maintain their appeal. This is not the case with vehicle wraps as they can come alive with cleanliness that pops using just a swipe of a moist cloth.
Easy maintenance means you get more time on your hands.
Vehicle Wraps Branding Benefits
Our 8+ years of experience in this industry has taught us that besides being a very smart, ROI-pulling investment in your overall brand strategy especially when compared against other brand marketing channels, vehicle wraps help your business in the following ways:
Brand Awareness & Recognition
The statistics say that 60% of consumers would rather purchase from companies they've had at least some level of recognition for than those they don't. When it comes to brand awareness, they don't come more popular than Coca-Cola's branded vehicles. How? They've been able to leverage some cool awareness around their brand so much that 94% of the world's population instantly recognizes the Coca-Cola logo.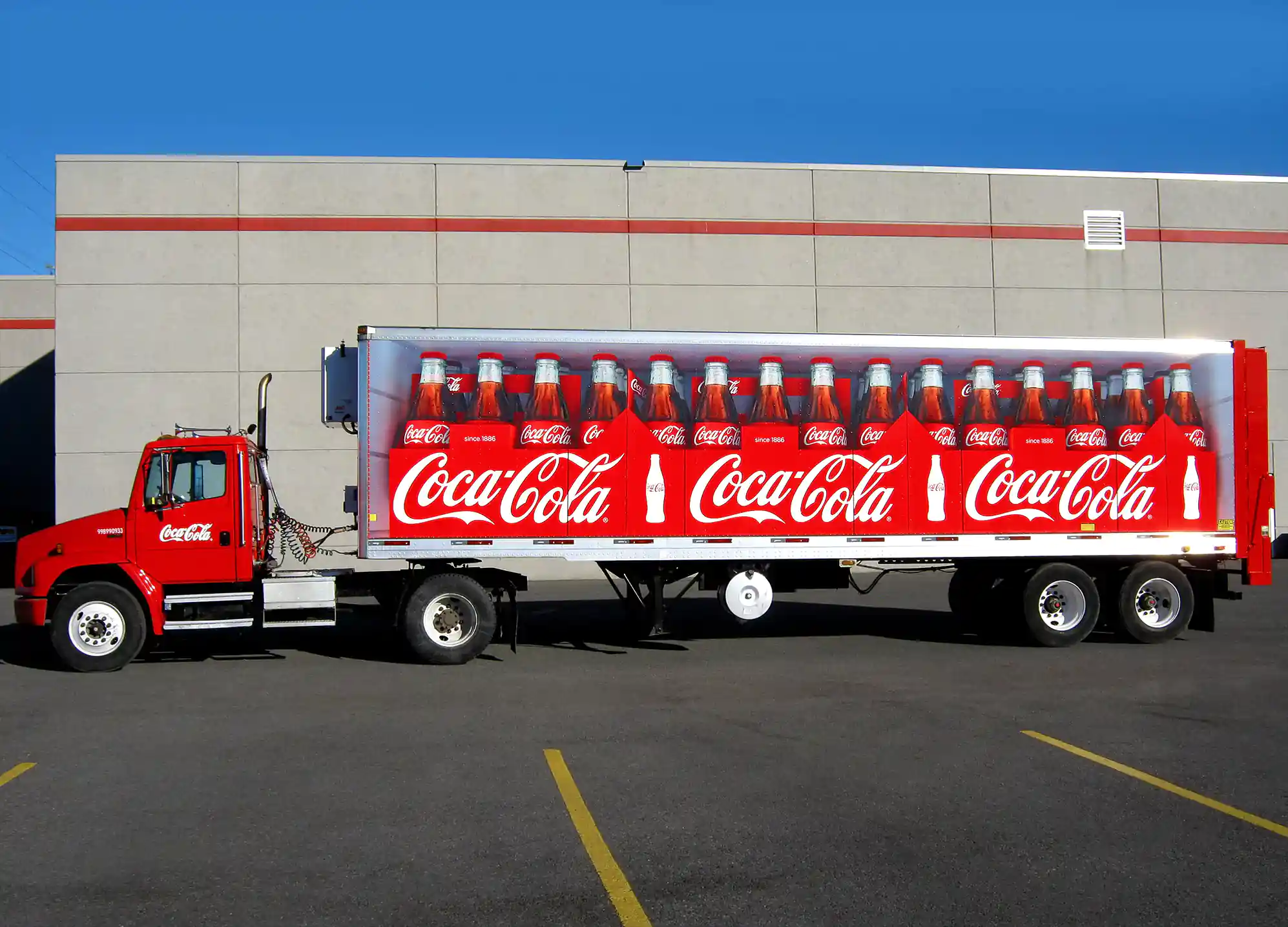 Image source: https://www.trucknews.com/transportation/winners-vehicle-graphics-design-awards-announced-pmtc
This again demonstrates how vehicle wraps are one of the easiest and cheapest ways to let the public know about your brand. Because consumers are constantly visited with a company's graphical representation, the brand sticks, creating recognition.
Picture this: Every day on your morning run, you see a branded truck with a unique brand logo on the vehicle wrap. Every day without fail, the truck passes by. And on your next visit to the convenience store to get some hair ointment, you see some hair ointment from the same brand.
Now, there is a huge chance the product will feel familiar to you, and you make a purchase based on this intimacy — and that's the power of familiarity.
More Brand Visibility
Everyone's on the hunt to be seen these days, and because vehicle wraps are such attention-grabbers, they reinforce the visibility of your brand. Even better, as most of them usually feature some sort of CTA (call-to-action) on the design with contact details prompting viewers to purchase, or communicating its brand message to resonate even more with viewers.
When doing this, you want to use leading phrases that will drive behavior or inspire action from your audience like "Visit our website," "Sign Up," etc. For maximum results, you can also include your website URL, brand hashtags (to raise awareness), or contact details to help you drive engagement.
For instance, by simply inserting their website and contact address on their vehicle wraps, NHC plumbing engages a CTA that isn't aggressively pushing for a sale, like "Call now!".
A vehicle business wrap should daringly take your business to the world, unlike other forms of brand marketing that thrive on the hope that your target audience will see or hear about you on a website, or other forms of digital and physical media.
Brand visibility means more brand awareness leading to direct sales & improved ROI. A good example of this is when Rod and Amy Burkey, the owners of Gopetfriendly.com reported an increase in website visits right from the location where their branded RV vehicles are parked.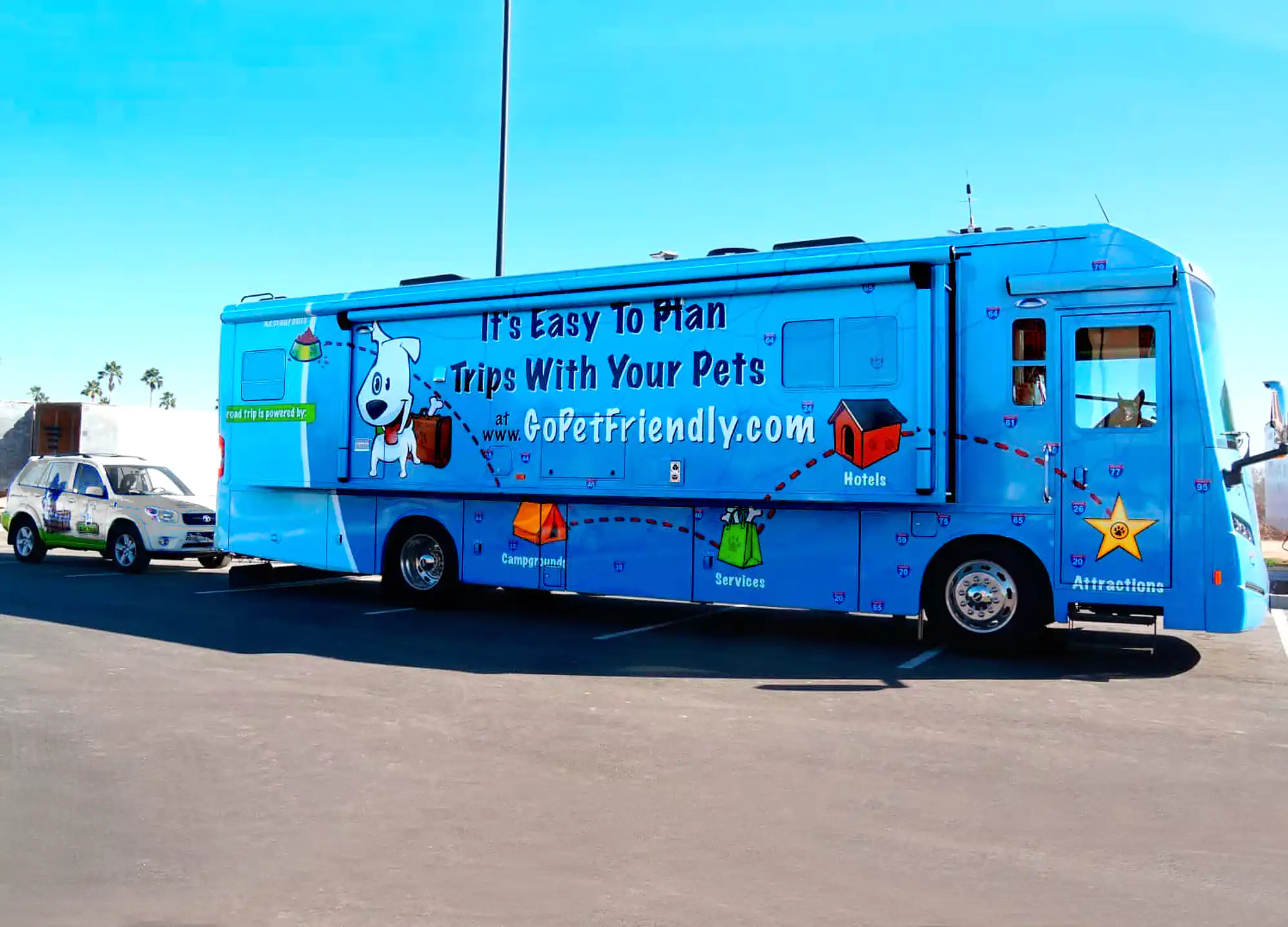 Image source: https://www.gopetfriendly.com/blog/wp-content/uploads/2015/01/DSC06369.jpg
It Covers a Wider Demography
Audiences differ from one to another. While the target audiences of brands are mostly Millennials, radio or television channels are received mainly by the older generation.
Whatever branding strategy is adopted, there seems to be a large group being sidelined. Vehicle Branding is, however, different in this regard, as it is far-reaching in its advertisement. It reaches every group; old and young, and rural and urban areas.
Vehicle Branding is not constrained by time, location, or demographic, which other branding channels have.
The Design Process
Evaluate Your Marketing Needs
When coming up with your design, it's crucial that you first evaluate your commercial needs. While knowing what marketing goal you want to achieve from these vehicle branding services is expected, the implementation leaves you needing the expertise of professionals that have a commercial understanding of how your design should spell out your intended message, and help you achieve this goal.
Seeing that this aspect is usually a technically demanding art that involves a high-level of creativity, knowledge in direct-response copywriting, brand voice, tone, and visual design, it will serve you best to leave it to the hands of a professional to help you achieve your business goals.
We're an award-winning agency with some of the best heads in the design industry (most of the designers on our team have won accolades for their craft), and the technical know-how within our team has shone through the collaborations we have had with clients.
With over 500+ projects to our name — each unique in their execution and with proven results — we can give you helpful advice that will get your big ideas through and make the most of vehicle branding services.
Click here for a free pre-development of your project with our Chief Analyst.
Chose a Vehicle Wrap Design
The next thing to tick off the list is the kind of design you want. If you don't already have a plan in mind, you can get design inspiration online. You also want to keep a few design considerations top of mind when choosing.
For one, the layout. Remember that your vehicle will be in motion, so bolder colors and one focal point are encouraged to get the design to pop, sustain attention, and be easy to remember. You also don't want to flood your design with too much text that makes it so jumbled up and clogged that the viewer cannot come away with anything tangible after viewing it.
Also, ensure you use high-resolution logos. If you're going to show the world your beautiful brand identity, you better "wow" them while at it. Your vehicle's measurements will also determine the design options you are open to, bearing in mind that there are designs for large, small, or fleet vehicles.
Hire a Vehicle Wrap Design Professional
Inform the designer(s) of the model of your vehicle, your marketing goals, and the design(s) you choose. Your designer is charged with ensuring that the design is an accurate reflection of your brand identity, and fits your vehicle's specifications.
Engaging professional vehicle branding services as a means to muster the good kind of attention for your company is not only about installing a vinyl wrap on your car and calling it a day.
Readability is a must-add feature of vehicle branding. Since most branded trucks will be in motion, it's vital that the brand information displayed is legible. This will allow passersby to quickly and easily read it from a distance.
Here are a few other pointers to help you get the best our of vehicle branding services:
• The branded vehicle must not be bombarded with so much graphical content that it looks congested. White space is also key for readability.
• Your audience would have only a few moments to digest the information on the wrap, so keep the info minimal and stick to the basics. The font used must also be easy to read. Avoid using cutesy cursive; a plain font will do.
• Colors are essential; no one wants to read boring inscriptions. However, don't go overboard; light text or design on dark backgrounds and vice versa.
• Don't forget that your vehicle is a three-dimensional object that can be viewed from different angles. So, don't just install a wrap on the part of the vehicle.
• You may choose to entice intended consumers with some special offers like referral bonuses, discounts, gifts, same-day delivery, etc.
In 2015, Amazon used fleet wrap advertisements for its new grocery delivery service. The wraps on each delivery van displayed the company's logo in bold lettering and included refresher ads which enhanced the project's visibility and branding. This expert piece of innovation in their vehicle branding aided the steady rise of the company's revenue since then. Take a look:
Be Aware of Local Car Wrapping Regulations
As every aspect of human endeavor, laws regulate the installation of car wraps. And if you don't want to get caught on the wrong side of the law, (remember — ignorance of the law is not an excuse) then you need to consider basic legal regulations which include non-covering of vehicle lights with car wraps, legibility of registration plates after applying it, etc.
You must be conversant with the provisions of your state's regulations so you don't end up getting a ticket for your car wrap. Some local laws regulate its use, content, and coverage.
Again, this leads us to why you should look to hire a branding agency for your car wraps. Most branding agencies have vast experience in their industry, which means they have a broad network of professionals — in this case, legal professionals. So, they can help you avoid falling into the pit of civil disobedience (Better safe than sorry!).
Regulations vary across geographical locations. So, you don't want to make uninformed guesses as that could prove costly. For instance, in the high-traffic US states like Wisconsin, they're are deemed illegal. Cities like New York and San Francisco also have strict local laws regarding car wraps. On the other hand, Colorado is more relaxed in its policy, as long as road users' vision isn't obstructed.
In what is yet another addition to the never-ending list of why professional vehicle branding services can be a force multiplier for your business, let's talk about one of the unique completed projects by our award-winning branding agency with proven results.
Seamless Choice is a company that works on windows, gutters, and siding. They needed vehicle wraps for their fleet of vans, cars, and trucks to gain more brand exposure, clear delivery of their brand message in an increasingly saturated market, and a fatter market share.
With the commercial understanding that billboard designs are allowed in Washington, there was no need to get the banner design approved. So we commenced work swiftly, engaging in brainstorming sessions involving our marketers and designers to research their target demographic.
We found that their customer profile features homeowners and proprietors who would resonate better with traditional design & graphics. We also researched the vehicles Seamless Choice used extensively and did the vehicle wrap design after several mock-ups based on these specifications.
The company's brand provided most of the color inspiration. We went with the patriotic red, white, and blue coloration from its logo to evoke that 'made in the USA' feel. It also made the final result pop. We also employed geographic elements that blended well with their brand identity.
Within just a few weeks after putting the winning design into production, the company's fleet was sporting the new car wrap designs around the city. Seamless Choice called to inform Stan and the team that the company had received more calls since the implementation than ever before.
Should You Hire a Branding Agency?
To be fair, there are select services that are better left to the hands of experts, branding ranks top among this category. Oftentimes, we have found from our collaboration with clients that there is a clear-cut difference between professional service and an amateurish attempt that leaves you correcting errors after errors with precious, unrecoverable time and resources gone to waste.
It's not just enough to slap your brand logo on your vehicle and call it a day. There is a bunch of industry research to be carried out, strategies to be planned, a carefully woven story needing a high-level of creativity to be told.
You need to reach your audience in the most commercially effective way possible, which requires a deep commercial understanding of your business needs. Also, commercially proven methods to meet them within the existing framework of the touchpoint that is your vehicle branding. And because time is money, you'll also need a professional partner that can ensure your project delivery is on time and on budget.
We are an award-winning agency with a lot of projects involving countless brands where we help them properly gain traction and local recognition whilst their vehicle is out and about.
It means one thing — vehicle branding services are our cup of tea. Plus, the technical skill we have acquired or demonstrated in this field for years means we can help! Our expert team is willing and able to offer all the creative outlines and tailor-made solutions we can help you with. Don't get caught out in the cold.
Request a free pre-development consultation for your project with our CEO (Stan) here.