When differentiating your brand, your best bet to claiming and maintaining top spot is your professional service branding. But how? Get insights from the pros.
The US professional services industry comprises 900,000 entities and a combined yearly revenue of around $1.7 trillion. And while the industry is growing at a compound annual rate of almost 3%, the average growth rate for professional services firms is only about one percent.
Clearly, then, branding has become an increasingly important differentiator in this space. And giants in the professional services industry like McKensie & Company, Boston Consulting Group, the "big 4" accounting firms, namely: PriceWaterhouseCoopers, KPMG, Deloitte, Ernst & Young, and companies in the IT industry, Logistics industry, Marketing industry, and other professional service fields have all had to leverage branding to gain market share, create a loyal clientele base, and increase profits.
And it's not just financial institutions. Professional services include a wide array of firms in the consultancy sector, law firms, architectural firms, and engineering companies. One major promise of brand building for professional firms is business growth which derives from two factors:
1. What everyone thinks about your firm. (+ or – brand image?)
2. What your firm is particularly known for within your industry. (What niche have you carved for your business within your industry?)
While the first is essential — you wouldn't be in business if your brand image is negative — the second factor demands more intentionality regarding your expertise and how you provide this expertise to clients. For instance, every management enthusiast and their dog knows that when Fortune 500 CEOs require some top-tier management consulting services, Bain & Company is their go-to.
You may be thinking. "Why does it matter?" Well, about 90% of our clients in the professional service market claim that firms known for a certain level or expertise get an overwhelming amount of referrals, especially in a competitive professional landscape.
In this post, we'll be exploring professional service branding, why you need to brand your professional services, and unraveling best branding strategies for your professional service branding.
What are Professional Services Branding?
Professional services branding is the process of creating a brand identity for a professional service company. It's the brand building process that differentiates the company from its competitors and makes it more recognizable and trustworthy to potential clients.
What is a Professional Services Brand?
It's a representation of your company to potential and existing clients. It's how you differentiate your company from others in your industry and communicate the unique value your company offers. It's more than just a logo or tagline – it's a communication of your company's core values & identity.
What is the meaning of branding services?
Branding services is the application of branding (and sometimes marketing) techniques to promote a service company. Creating one for your professional service company is important to create recognition and trust with potential clients.
Professional services branding vs. product branding?
This is a question we get asked a lot by our clients in the professional service industry, and it does not have a straight answer. While both concepts both talk about branding, their suitability depends on what you're trying to achieve.
The focal point differentiates product branding from branding for professional services. Product branding places a high focus on visual and audio stimuli — using a name, term, design, symbol, catch slogans, or other features to identify and distinguish a product from others. It's all about creating a solid emotional connection with clients.
Your professional service brand, on the other hand, is the way you distinguish your company and its services from others in your industry. So, there is a need to focus more on emotions of trust that you aim to inspire in the minds of your potential clients. Creating a trust relationship is the key here.
So, if you're wondering which one suits your company? It all depends on your goals. If you're not sure where to start, we've got some advice from the pros with the commercial understanding to help you make the right decision.
8 world awards for unique professional services branding decisions back up our experience in this field. As such, rest assured in our capacity to discuss your project. Whether simple asks or more complex queries, we're open to fielding questions from you regarding concepts discussed in this post and how they affect your professional service company. Click here to get a free predevelopment pitch deck for your project.
Why Professional Services Branding is Important
For the longest time, the bland, undifferentiated messaging companies in the professional services industry went with was still enough to earn clients due to the vibrant economy. More profits meant more room for expansion and business growth, which almost always translated to more jobs for consultants, lawyers, accountants, and auditors.
The financial crises of 2008 changed all of this, as weak profits would mean companies became more frugal and wary of not taking on too many services. In no time, law firms, accounting firms, consultancy firms, engineering firms, IT service providers, distributors & manufacturers offering post-sale services, and most of the major professional service firms were asked to either settle for lesser fees or face stiff competition to engage in or retain relationships.
There was also the issue of fraud in the financial industry, which cast doubts on the credibility of professionals in the professional service industry. These concerns linger till today among CEOs, COOs, and CFOs, which is why you need a professional service brand that is strong and credible enough to weather whatever negative occurrences.
A Deloitte report found that professional service firms whose brand's growth stagnated saw a sharp 13% drop in revenue. Given this finding, we might add that little wonder Delloite, a professional service company, constantly seeks new and improved ways to showcase its brand as always ahead of the pack in its industry.
Whether it's their "Deloitte Do" brand campaign in 2017 to showcase the firm's proactive solutions, 'Many Voices, One Song' to showcase their inclusion and diversity values, or their company-wide rebrand to reflect their new positioning as a company that offers creative and digital services in addition to its already-existing portfolio. These efforts have yielded them US$50.2 billion in revenue as of 2021.
Here are a few pointers for when you need to brand your professional service to create or reinforce your brand differentiation:
— The launch of your new firm.
— When undergoing a major change in strategy or positioning.
— After you have gained a new competitive advantage in your industry.
— After a merger or major acquisition
— When you're rolling out a new service offering or commoditizing already-existing services.
Our experts, having about 10 years of experience in this industry, have noted that an overwhelming majority of professional service companies make some common claims that lump them under a certain category of a "me too" brand. Some of these claims are:
"We are client-focused," "We value trust, integrity, and transparency," "We are results-driven," "We have experience," "We're committed to giving quality outcomes."
Generally speaking, while these claims are far from dubious, if you were to closely examine these phrases as a CEO looking for competent hands to meet your needs, will all these companies chanting the same chorus not strike you as one and the same?
There's hardly any differentiator in the above-listed claims, making it regrettably hard to pull in clients seeking a good, clear-cut reason to not only work with you, but also remain loyal.
Key strategies for professional services branding
We are often asked by our clients, "How can we stand out from the competition and develop brand integrity so our clients can trust us better?" and we often realize that they obsess over the fluff or the complicated stuff — think pulling six-figure campaigns out of their hats, or chasing insanely unrealistic metrics in their marketing.
In most cases, the answer is always rooted in basic brand-led strategies. As the world of work continues to change, we too must change the way we brand professional services companies. The traditional model where a company's name, logo, and tagline are the main means of identification is no longer enough to differentiate brands.
Your brand must be much more than that. It must be an extension of your company's unique value proposition, culture, and personality. To ensure it resonates with the right clients and prospects, you need a commercial understanding of your positioning. As part of our brand strategy services, our experts constantly ask clients these 5 questions to provide the workbench for further brainstorming sessions:
— What is our company's purpose?
— What do we stand for?
— What makes us different?
— How do we want to be perceived?
— Who is our ideal client?
Answering these questions will help you develop a clear strategy that can be applied across all brand touchpoints.
• Brand story
• Corporate mission and values
• Logo(s) and appropriate uses
• Color palette
• Typography
• Imagery
• Brand Voice
• Packaging Design
To succeed in the years ahead, professional services firms need to adopt a more holistic approach to the development of a new brand that reflects the ever-evolving landscape of work. Here're five tips for branding professional services in 2022:
Define your target audience
Researching and defining your target audience should be your first step as you can never go wrong with decisions that are made with the right target audience in mind.
Your target audience will help you determine the colors, fonts, and overall design. You can use online tools like Google AdWords and Facebook Ads to find out more about who your target audience is and what they're interested in.
Besides your current skillset and the category of individuals most likely to benefit from them, there are other considerations, like the demographics & psychographics of your current clients and your competitors.
For instance, Latham and Watkins LLP are known for helping financial institutions and market participants navigate regulatory matters in the EU and the UK. Naturally, their target market comprises a commercial clientele of startups, oil & gas companies, retail companies, and even big pharmaceutical companies.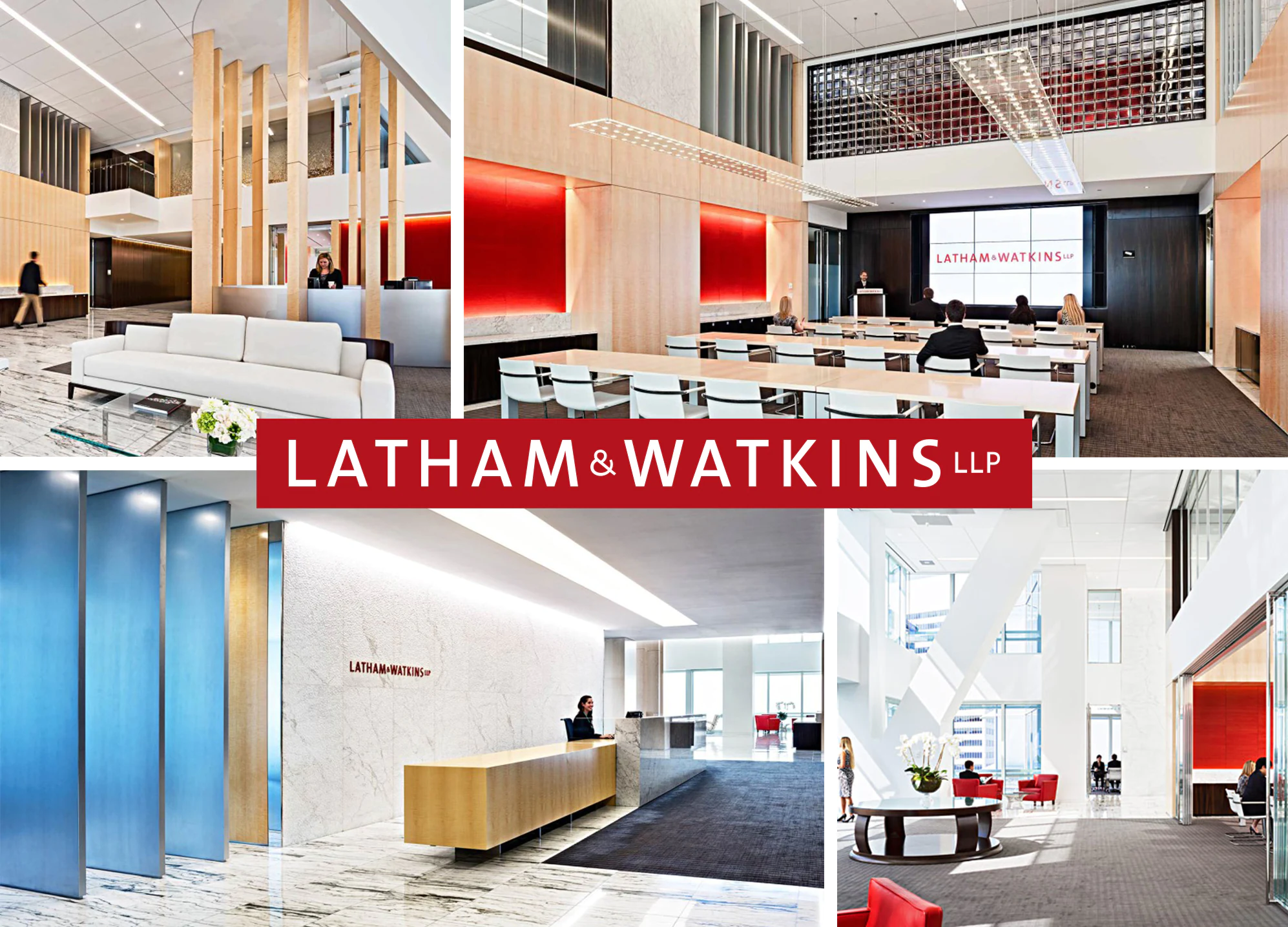 Image source: https://www.gensler.com/projects/latham-watkins-llp-houston
Competitor analyses usually reveal a goldmine of opportunities. You can gain insight into business strategy from their web traffic, their effective social media strategy, and ads. And who knows? You might just find a competitive edge to explore or a fresh market gap to fill.
Develop a Unique Value Proposition
Focus on what makes you unique. Your Unique Value proposition is not another attempt to sell your services, telling clients what you do. Rather, you want to tell them how you add value — in a way your competitors cannot. Think of it as a promise of value to be delivered to your clients.
From our experience, most professional service firms find it hard to nail a Unique Value proposition when considering their target market. For example, a mid-market industry professional is less likely to be impressed by a Fortune 500™ clientele.
We've seen clients who promote values like 'we embrace technology' when it's the bare minimum expected from businesses — and doesn't differentiate their expertise within their industry. The best companies know their value and to whom they provide the same.
FedEx courier service understands the importance of their clients getting their shipments not only quickly and reliably, but also overnight if necessary — a situation where they also promise to deliver — and they state this in their unique value proposition: "When it absolutely, positively has to be there overnight."
Develop thought leadership
As a professional services company, one of the best ways to set yourself apart from the competition is to establish your company as a thought leader. This can be done by producing high-quality content that showcases your company's expertise and thought leadership in your industry. There are many different ways to do this, such as writing blog posts, whitepapers, eBooks, or even producing video content.
Besides content marketing, speaking at industry events and conferences is another great way to establish your brand as a thought leader. It's a great way to get your company's name in front of potential clients. This way, you also leverage the 'Halo effect' — a scenario where being seen as a thought leader in your industry can dramatically increase the positive perception around your company.
An example of thought leadership marketing, sales, and customer service professionals are quick to spin up is Hubspot. The world of online marketing is full of transitions into new trends, strategies, and updates (plus their workarounds) in Google algorithms, and in recognition of the role continuing education plays for their target audience, Hubspot launched the Hubspot Academy.
The Hubspot Academy is a training resource of how-to tutorials, narrated videos, and hands-on exercises for sales, marketing, and service professionals globally looking to gain foundational and continuing education in marketing. They also offer courses and certifications.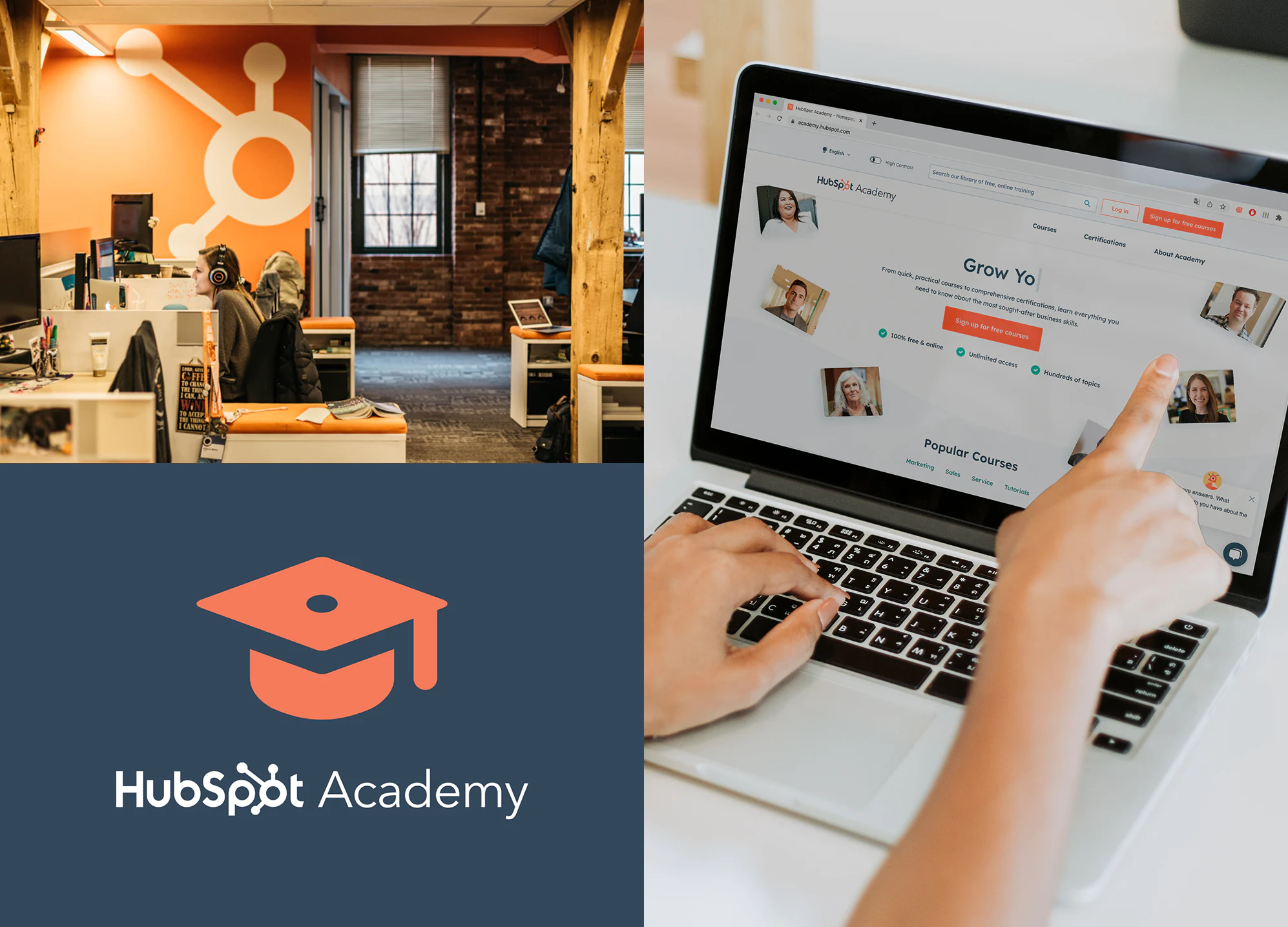 Image source: https://customercarecontacts.com/using-hubspot-academy-here-is-how-to-receive-support/, 

https://www.hubspot.com/resources/courses
INVEST in a compelling visual identity
Perhaps the most important aspect of professional services branding, your visual identity should be unique, memorable, and convey the essence of your company in a compelling manner.
Investing in high-quality design resources to create a professional look for your brand, just like we did for Shroom — an emerging manufacturer of skincare products vying for a spot in the cosmetic industry.
As is usually our approach to projects, we breezed through several brainstorming sessions involving our marketers and designers, where we found that in a saturated cosmetic industry where hundreds offered the same products (and as such, are competing for the same customers) many are considered a 'beauty mainstay', and did not offer much to stand apart from the pack.
Harnessing deep commercial understanding, we understood that getting customers to take such bets on a cosmetic company can be tricky. More so when the company — like the trend driving the product itself — is new on the market. Shroom skincare, a new beauty trend, derives from Mushrooms, a powerful skincare product that can help brighten and hydrate the skin.
With an artistically-driven aesthetic brand identity, we planned to go big, letting consumers ask questions. The logo took on a stylish meld of the Mushroom and the letter S, ("Skincare") such that it'll immediately alert the consciousness of our target audiences to the fact that this was skincare — brought to you, courtesy of your fungi friend. (Mushrooms). The color palettes were also Mushroom-ey, with shades of different human skin tone colors to show its applicability across races.
Our efforts helped the brand piggyback off the credibility of the Mushroom Skincare trend and cement its market leadership in that category. Finally, the campaign, fueled by digital branding services, multiplied awareness in desired demographics.
From this, it's easy to see why a brand is much more than just a name or logo. A strong brand gives clients a sense of comfort and reliability. And when it comes to professional services, potential clients are looking for companies they can trust, companies that've established themselves as experts and reflect a certain level of expertise.
Here are a few tips to help you brand your professional service company:
– Keep it simple:
A complex logo or visual element can be off-putting to potential clients. Stick to a simple, clean design that reflects the professionalism of your business.
– Be consistent:
Use the same colors, fonts, and logos across your marketing materials. A guide'll help a great deal in maintaining consistency across all branding touchpoints. That way, potential clients recognize your company with a huge chance of recalling it in the future.
– Be unique:
There are a lot of professional service companies out there. To stand out from the crowd, you need to have a unique brand that sets you apart from the competition.
Are you uncertain of when you need to kick-start your professional service branding? Not sure whether you need a partial or full branding exercise? An award-winning design agency with 300+ projects with proven results, our experience in crafting powerful visual identities for many local and globally recognized companies positions us as experts.
We'll partner with you for professional brand building services that serve as a springboard for industry-wide success and recognition. Need help? It's never a bad time to snap up a free predevelopment pitch deck for your project — click here to get it.
Recognizing the need for a dedicated employer brand
Want to compete with the 'super cool kids' of your industry? You need to position yourself as one, and there's hardly any effective positioning without one critical element that is at the heart of your company — people. Who you are as an employer matters just as much as the value you provide to clients.
Remember, if you want to offer the best services, you need not only the best talent but employees with the right values — who have chosen to work in your firm. The perception that comes with having an exceptional team adds to your brand equity.
An active commitment to CSR (Corporate Social Responsibility) Initiatives or ESOP (Employee Stock Ownership Plans) that give employees a stake in your brand are ways to achieve this. You can also optimize your recruiting and onboarding experience to be more seamless, inclusive, immersive, and consistent with your promise.
Bank of America is a worthy example of a professional service firm that nails the delicate art of a dedicated employer brand. Besides their fantastic product offerings and thought leadership, their support for working women is widely documented.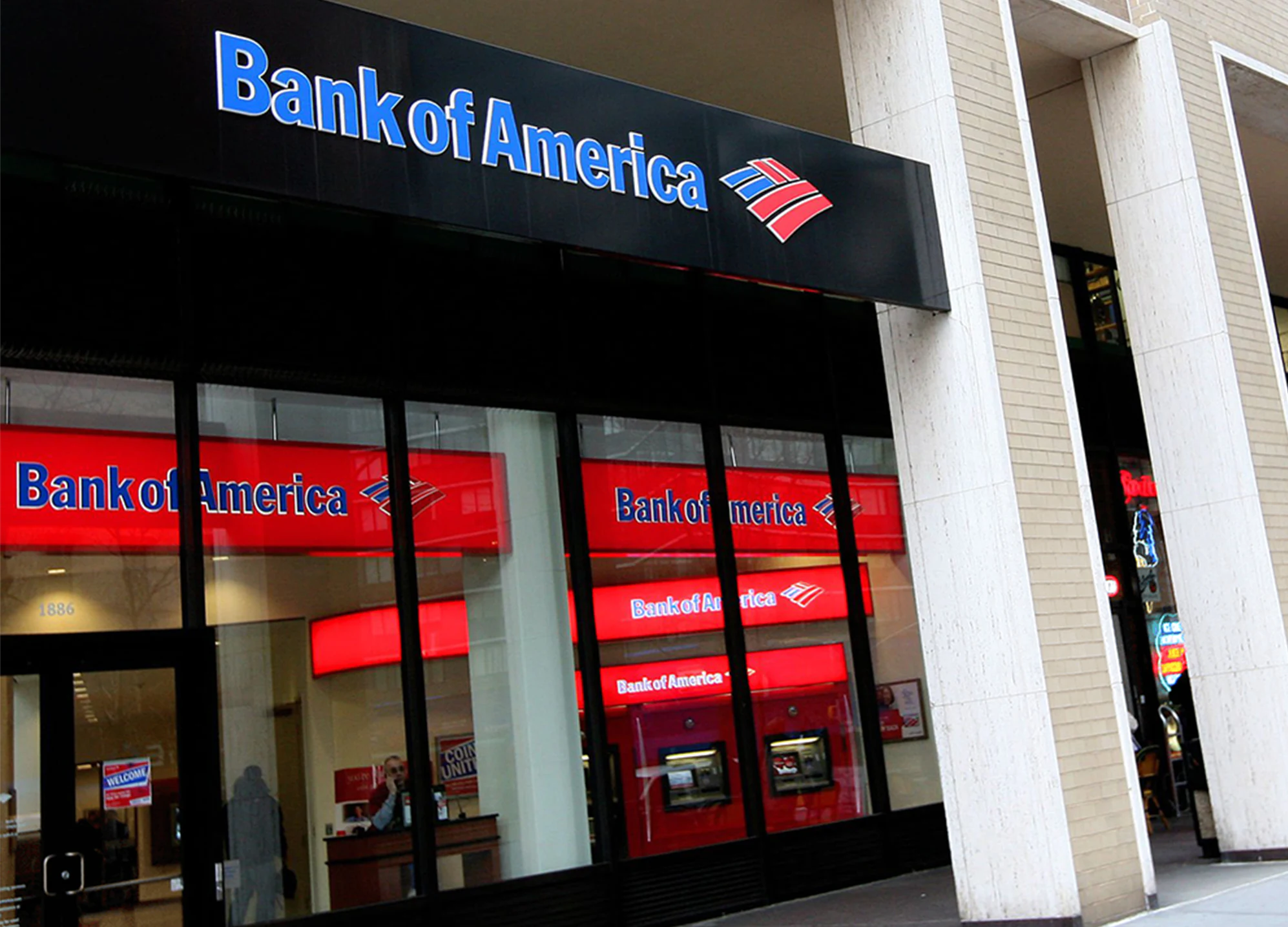 Image source: https://cryptoslate.com/bank-of-america-is-treating-bitcoin-ether-as-cash-will-let-you-purchase-crypto-with-credit-cards/
As a result, they've ranked third in Best Workplaces for Women, building further recognition and loyalty.
Wrap Up
Though you might have the skill, expertise, and network to service your clients, you're potentially robbing your business of the opportunity to unlock professional services branding potential.
Remember, for professional services companies looking to become the one in a million in the minds of prospects or clients, three things need to be present at every brand touchpoint: It must resonate with clients, differentiate from the competition, and substantiate their expertise across digital branding and offline touchpoints.
Ticking these three boxes all at once can be tough for professional services to handle themselves, and this is where our team of marketers, designers, and brand consultants can unlock new horizons for your business.
Stan Branding is an award-winning agency with 5 Professional Services Branding international awards between 2018-2022. Applying a high level of creativity reminiscent of a brand building firm, we'll take a deep dive into your brand's story, value system, and relationship with clients to reflect these details in the visual and non-visual aspects.
A free project pre-development, consultation from our CEO, Stan, is all you need to get your brand distinguished from the noise. We're ready when you are!