A hyper-competitive landscape means innovation alone hardly brings success. Learn how firms resort to manufacturing branding to reinforce their relevance to customers.
Let's talk stocks. The ongoing talks around Russia's potential invasion of Ukraine is bound to usher in high forms of volatility in a best-case scenario, or a risk of a market crash in a worst-case  scenario — both of which will ultimately affect investors' sentiment.
Gas prices have already seen an 8-year high at $6 in California, and there is set to be more activity. As the 'war' talks intensify, speculative investors would only place their bets on manufacturing firms who have the 'goods' to weather tough times such as this.
And it goes with saying that one of, if not the most deciding factors of where investors will put their money in a bearish market like this will be the branding of these manufacturing firms — or the lack of it.
Manufacturing is accurately pinned down to be the 'soul of industry.' It's where ideas, research, development, and design all come together. These bits and pieces of innovation then come together to become machines, appliances, or essential products that feature across every inch of our daily lives. With such a wide range of brands, it's increasingly crucial to differentiate them and communicate their unique selling point as clearly as possible.
Manufacturing branding is about being seen to contribute something tangible — the perception of expertise, capacity, and credibility in your innovation. This is the ideal that has created the best manufacturing brands — think the Toyota, Volkswagen, Apple, and most recently, the Tesla of this world.
A 'household' example — when we say Cameras, you think Canon. Speaking about Canon, though the markets for Cameras have shrunk due to the emergence of phone cameras and whatnot, they've still maintained the largest product line and are the current leader within the camera industry. This is all due to its excellent application of manufacturing branding.
Besides highlighting a company's excellence in terms of design and image, manufacturing branding has become somewhat of a necessity for suppliers operating a D2C (Direct-to-customer) model.
Nowadays, companies don't have to rely on retailers or wholesalers to distribute their products. Anyone can start selling their products directly to consumers through eCommerce platforms.
This sounds great, but there is one catch — these businesses, due to their direct customer-facing relationship now need to focus on manufacturing branding (which wasn't always so important).
Let's tackle a few questions on the topic for context before digging deeper:
What is manufacturing branding?
It's a range of brand differentiation efforts carried out by manufacturing firms to create and project a distinct identity for their products to present & future customers.
Why is branding important for manufacturers?
In essence, a strong brand identity not only decides whether customers decide to be loyal to a manufacturer but also informs their expectations regarding the product offerings.
How do you make your brand unique?
By crafting and skillfully implementing a manufacturing branding strategy, you can engineer an identity for your brand that stands out to potential customers.
Branding & modern manufacturing — a nexus
Generally speaking, manufacturers are responsible for all activities relating to product development, including designing objects that meet certain criteria, creating molds for casting, molding materials to produce a commercial volume of product units.
Amidst all of this activity, modern Manufacturers seek to achieve these three things:
First off, is to highlight their expertise, know-how, and innovation. To achieve this, they build on the manufacturing process and skills needed to make a product. They also look to highlight their ability to combine materials or design new products by using certain technologies that their competitors might not necessarily boast of.
90% of our clients in the manufacturing industry have also openly reported that they want to demonstrate their understanding of customers' needs and desires, as well as things that matter in today's society (quality of life, ecology, etc.). They give priority to these factors during the product development phase as well as during manufacturing itself.
Finally, they want their brands to serve as a point of reference for consumers. Manufacturers must communicate distinctive features so that customers feel reassured about the values behind those features and will therefore buy their brand rather than another one (competition brands).
To achieve these aims across board, companies operating in markets where there are significant economies of scale must resort to branding, particularly manufacturing companies.
A strong brand for manufacturing companies also helps increase a product's perceived value. How? Branding is a process that requires a careful analysis of the customer experience by taking stock of the creative process, and how it is presented to the target audience.
Let us explain better using Minnetonka moccasins, a legacy footwear production company. Surely, a lot has changed in the markets since 1946, when this brand first began producing American-style footwear. And even though globalization has flooded the markets with cheaper alternatives for customers, they have held strong.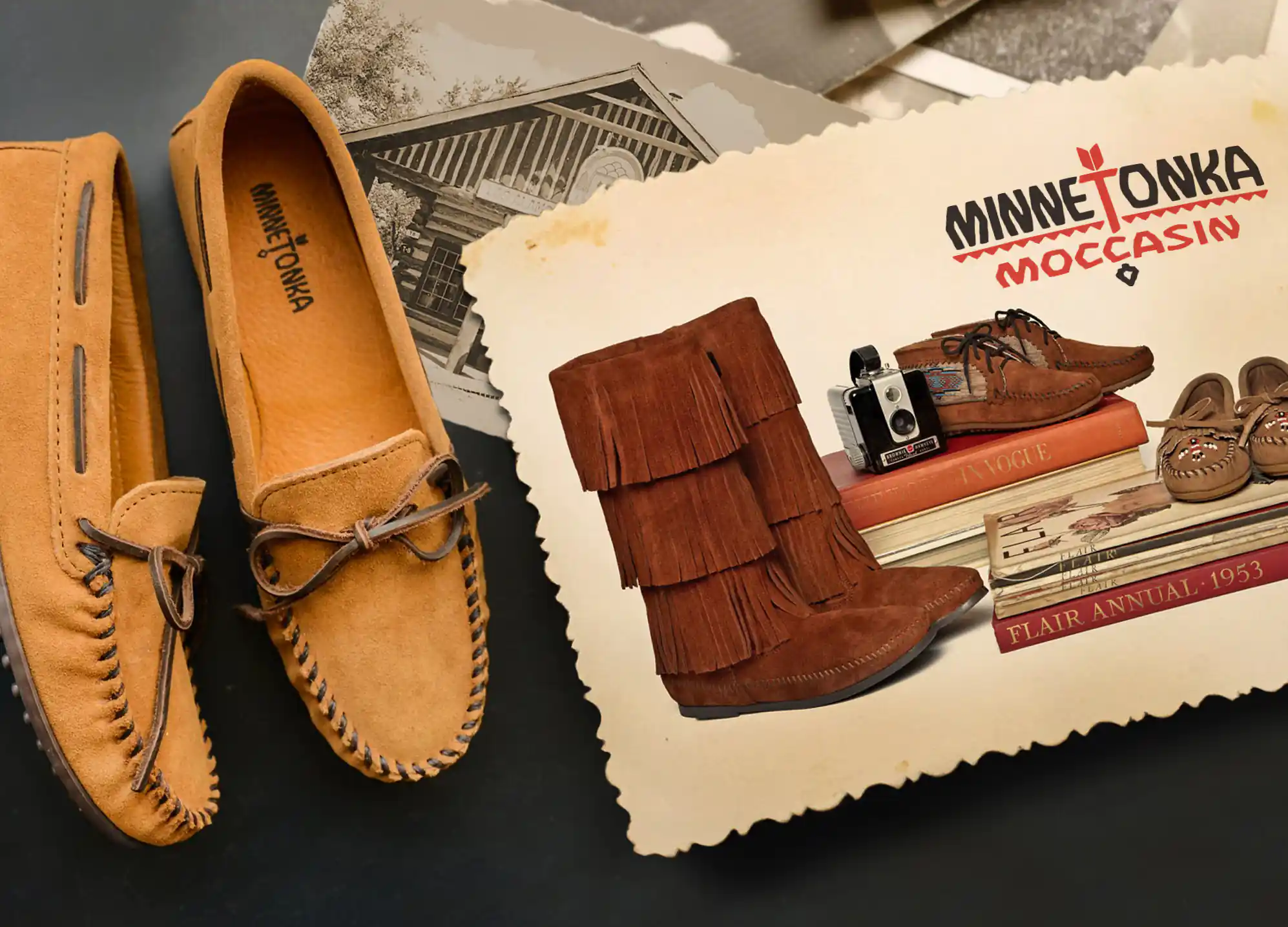 Image source: https://www.instagram.com/p/CXrcKRfOOvE/,
https://wink-mpls.com/2015/wp-content/uploads/2015/03/MM_Nostalgia.jpg
How? By implementing manufacturing branding strategies. By first understanding that buyers will pay higher prices as long as they know they're getting premium products, they've harped on the consistent quality of their source materials and end products over their 76 years of existence through their branding.
The sum total of these strategic activities portrays a timeless, reliable brand that evokes all memories of America's golden age. All of these strategies have paid off greatly. They're still rocking the scene after many years, despite the unforgiving competition. They've also reached peak revenues of $37.5 million, which is huge, considering they only have 25 employees — resulting in a tidy revenue-per-employee ratio of $1.5 Million. To give a clearer context, when compared, that is the same as Facebook, and higher than the Goldman Sachs Group and CVS.
Need assistance? Stan Branding has a proprietary process for helping manufacturing firms assess their situation and brainstorm groundbreaking opportunities through branding. Click here to get a made-for-you pitch deck detailing action points for your manufacturing brand as part of our free project pre-development offer.
Benefits of manufacturing branding
Based on our experience with most of our previous clients, we understand that you might be thinking right now, "Isn't it enough to just have a great product?" Consider this: Apple and Toyota are the world's largest manufacturing companies by revenue.
We all know how they both investment goes into their spectacular product development, but Apple still forks out more than $1.8 Billion annually on branding activities, while Toyota spends $1.39 Billion in the US alone (by Statista). What justifies these huge branding budgets?
Below, in just a few points, we will outline why manufacturers should do branding, using lessons from these manufacturing giants.
Brand Recognition
The very first importance of manufacturing branding is brand recognition. Consumers mostly make purchase decisions based on trust, and trust is built on brand recognition or reputation. In other words, the more identifiable your brand is, the higher your sales numbers.
What product first comes to your mind when you see the color red? First launched in 1892, Coca-Cola first began to paint its barrels red so that tax agents could tell the difference between theirs and barrels containing alcohol.
Then, over the years, as the brand grew, the iconic color began to, together with its unusual letter font, take center stage on all their packaging and marketing material. The result is that Coca-Cola has since become the world's most recognizable soda brand. And although it is hardly the world's first soda brand, they might as well be, thanks to the company's clever branding choices.
Gear IT's story also comes to mind here. They operate in what is probably the most exciting industry in modern times — IT, hosting an ecosystem of both service & manufacturing companies all working together to meet tech needs.
Gear IT manufactures and supplies consumer electronics accessories, cables, etc., and what they wanted was simple — for their brand identity to immediately announce their business. An ideal client from the outset, their marketing execs booked a free project pre-development with Stan where they provided us with a clear direction on industry norms and customer feedback to aid our design development process.
Award-winning designers and marketers on our team held a few general brainstorming sessions, after which we reverted back to them with a pre-development pitch-deck that was easy to secure total management buy-in and support.
Designing their logo using the company's name in equally-sized upper-case letters, we went with an outline of one end of a phone cable etched into the "A" and "R", to unmistakably portray Gear IT as a consumer cables supplier. And to ensure it wasn't misconceived by the audience as "Gearit", (a commercial concern that emerged from a thorough peer review system ideated by our marketers designer) we inserted two spaces between both words.
Finally, we retained their old green and black color scheme to preserve a connection between the company's old and new brand identities. At the time of writing this, Gear IT has yet to go public with its new brand identity. Regardless, it has already begun to ripple through their staff, who have begun reporting increased excitement about the possibilities of the future.
Distribution
Prospective customers are not the only parties in the audience, watching your branding efforts and marketing campaigns. All manufacturers rely on distribution chains to get their merchandise to the end-users.
From a handful of discussions with many of our clients in the manufacturing sector, we have found that quality is always the top priority for the production of physical goods. So, ensuring that this level never drops when it comes to maintaining brand consistency will require an experienced team of designers, marketers, and managers who can synergise to produce exceptional results.
These distributors are also keenly watching, to find out which brands will be easiest for them to sell. So, the stronger your brand, the more likely they will be to take up distribution of your product.
This is how Toyota has been able to consistently record blockbuster sales and maintain its place as the holder of the highest share of the automotive market. Their reputation as a result of their branding efforts has enabled them to lock in a very extensive network of dealerships, authorized showrooms, and service centers that have made them the top choice for millions of customers across the globe.
Manufacturing branding is a 'high-stakes' niche given that the manufacturing industry in unforgiving, highly saturated, and ultra-competitive. A lot could go awfully wrong if there's a lack of proper planning or execution. A profound example would be Gap Inc.'s huge mistake of 2010 when they launched a new logo that attracted backlash from customers.
Moreover, there is always a need for a fresh perspective. One recurring theme that we have discovered during our collaborations with clients in the manufacturing industry is this: As a business owner or insider, your view is limited. And when you are attached to your company, you can't always see what is wrong or needs to be changed.
The right branding agency through general brainstorming of a branding agency with an expert team (including marketers and designers) will deliver manufacturing branding solutions and creative input that will pave your path towards business success.
Pricing
More than sales numbers, product pricing determines how much profit manufacturers can actually earn on your revenue numbers. If at only a 10% markup, you record $1 Million in sales, that's just a gross profit of $100,000 which is guaranteed to be even less due to operational losses and taxes. So, the higher markups you can charge, the better.
However, considering stiff competition, manufacturers are often constrained to charge prices that are within range of their competitors' prices. This is why branding is important; with a stellar reputation built by relentless branding efforts, you can convince the consumers to pay higher prices for your products. They wouldn't really mind paying a few extra bucks as long as they continue to trust your brand.
Consider Apple's iPhone X, for instance. Despite the global average selling price of smartphones in 2017 being $324, the iPhone X cost $999, against a production cost of $357, netting Apple gross profits of 64%. And they reportedly sold 63 million units. Do the maths on that, and you'll see why they continue to spend such vast amounts on their branding and marketing efforts.
Loyalty
For businesses in the manufacturing and other sectors, returning customers are the jackpot. In todays' fiercely competitive business atmosphere, trends are constantly phasing out, and new products and brands are continually being introduced.
However, with proper branding, you can lock in the loyalty of your customers. You see, nothing moves people better than emotional connections. You can create a captivating brand story that leaves them enthralled and wanting more. This is yet another benefit of branding that Apple and Toyota continue to earn from their huge branding and marketing budgets.
This report revealed that Toyota has one of the highest customer loyalty percentages in the USA (despite not being an American brand) at 59.5%.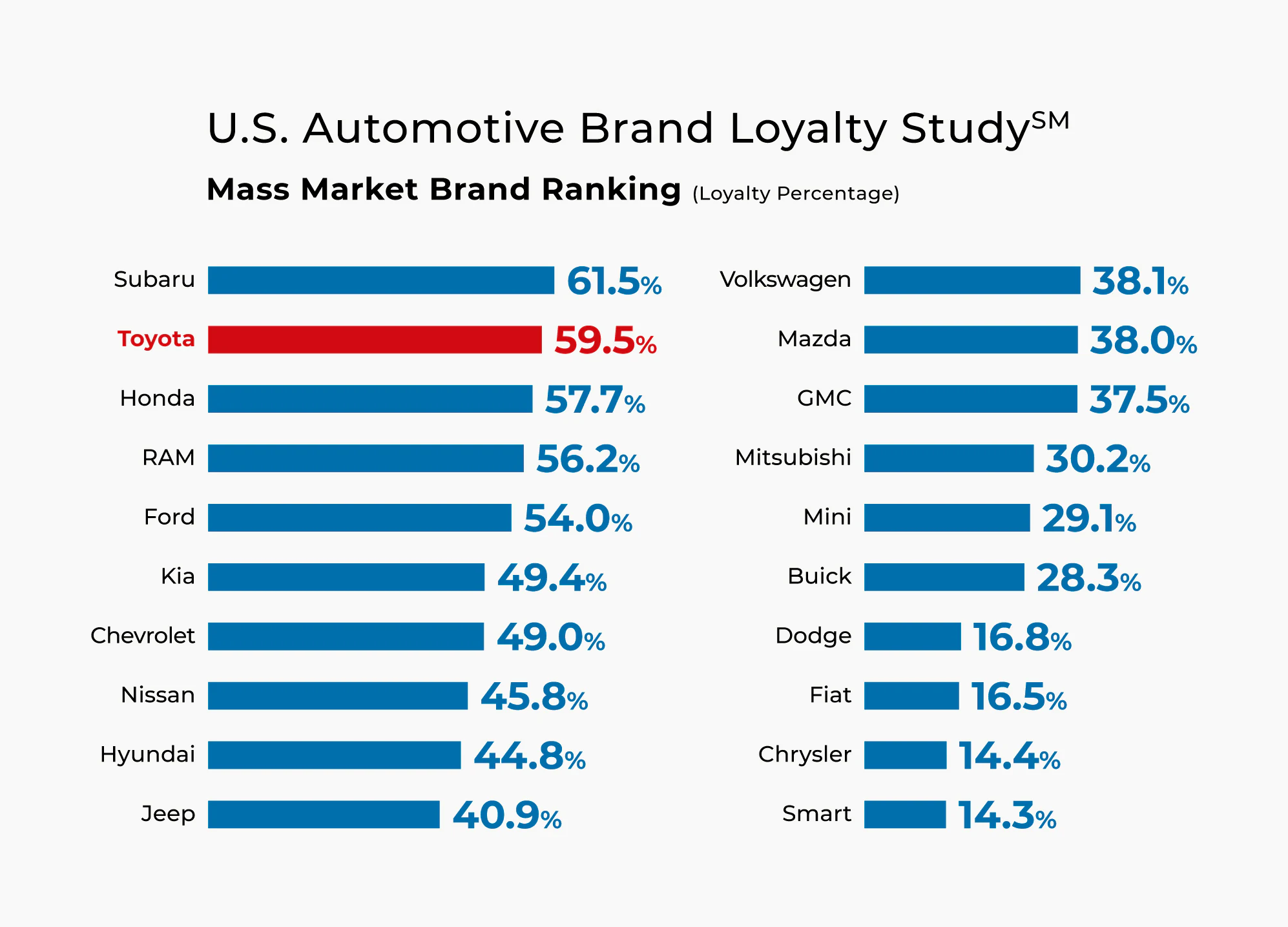 Image source: https://www.jdpower.com/business/press-releases/2019-us-automotive-brand-loyalty-study
Another example is Miele's washing machines. Their appliances unmistakably convey an image of solid German engineering, which has helped them gain a foothold in markets where they used to be unknown, such as the UK and Poland.
Simply put, the better your brand identity, the bigger loyalty your customers will feel, which then translates into more sales and higher revenues. Your concerns run slightly deeper and you think you might be needing creative outlines or a tailor-made branding solution? No problem. Get expert tips and game-changing insights from an award-winning agency with over 100+ projects in the manufacturing industry with proven results here.
Steps to Build Your Manufacturing Brand
There is no formula set in stone for building a manufacturing brand. Different rules apply to different brands in various industries. However, below we outline a few steps that you can use as a guide in building a branding strategy specific to your brand and industry.
Research your target market & competition
The importance of research cannot be overemphasized. You have to research both your competitors and your target audience, to discover hard data about the industry.
Among other things, you need to know:
Who your biggest competitors are
The demographics of your target audience
What the top-selling existing products are (your products and your competitors too!)
What features customers would like to see introduced
With this data, you can adequately identify market deficits and your existing products and strategies.
Let's also consider Dove as a case-in-point. Times were changing, and to get with it, the team at the personal care giant had an excellent idea for revamping their brand. They conducted market surveys into women's (their largest customer demographic) self-esteem issues stemming from traditional beauty standards.
From the data, they spotted an opportunity and then began to rejig their brand messaging to promote the notion that all women's bodies are beautiful, which in 2004 was a novel idea. And voila! It worked. Ever since, Dove has successfully built a much-coveted brand identity as a socially-conscious brand, which has earned them continued success in the cosmetics industry.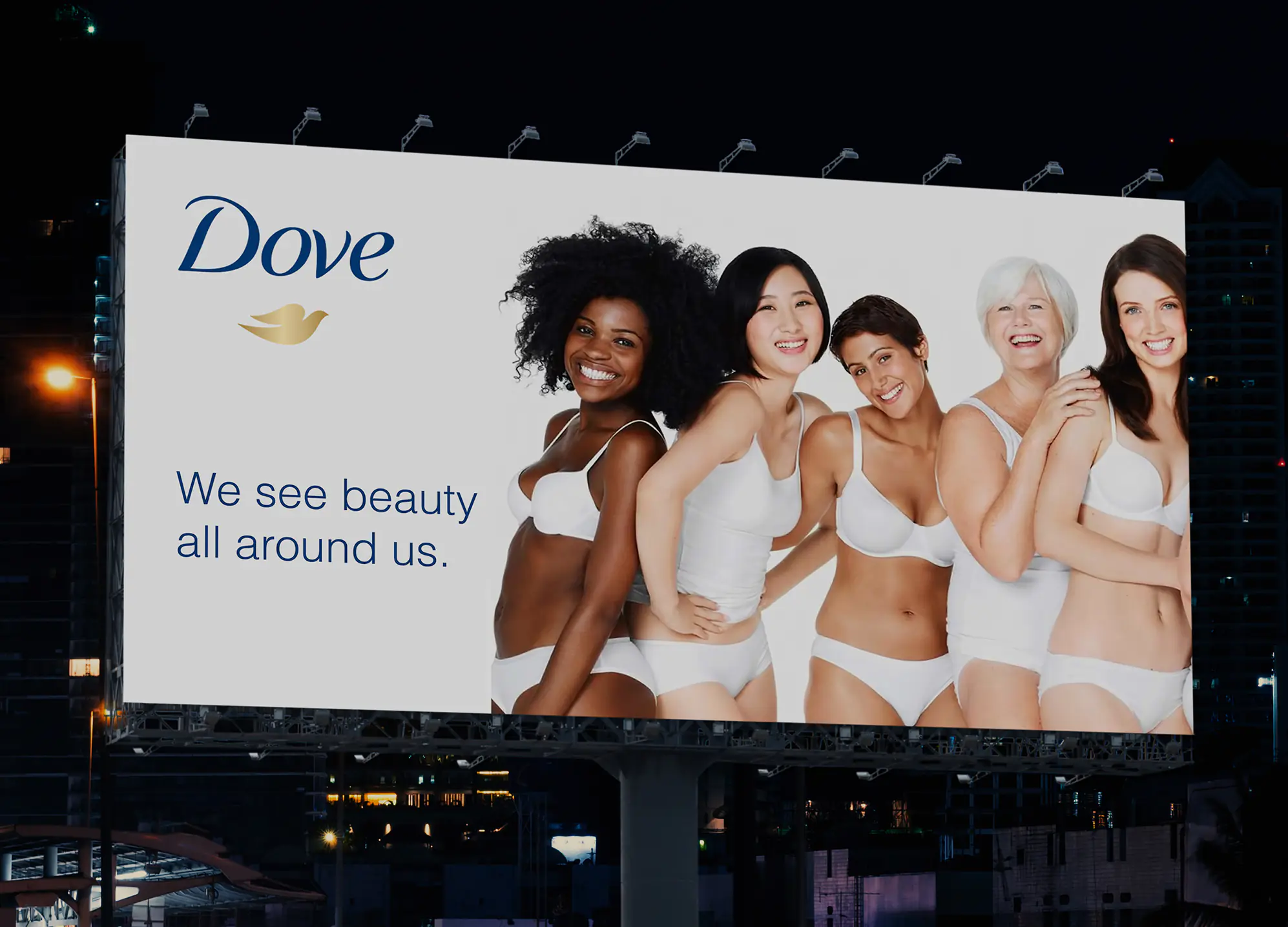 Image source: https://www.dove.com/uk/home.html
You also should research your competitors to catch a glimpse of how they brand their company and what benefits they offer. Understanding how to stand out from the competition while emphasizing better products and services will position your brand for more appeal to your customers.
Brand Positioning
There is no room for Jacks of all trades in the jostle for market share, at least when starting. Even if you may be offering an entire catalog of products, you must harmonize them into a single brand promise.
It might help to follow this line of questioning:
What products exactly do you manufacture?
Are there similar products from competitors?
How is your product better than theirs?
Our experts have observed that quite often, these questions form the basis for not only brand strategy but also the trajectory of your brand equity. Given that most business owners fall short of the commercial understanding needed to dispassionately and comprehensively analyze these details, marketing and branding strategy might be weak.
This is where branding agencies come in. Our award-winning team have shown their competence in over 100 branding exercises for global & local-level manufacturers and are well-groomed in analyzing commercial variables & their implications within your industry.
Your company's brand position is communicated largely through your branded advertising material; this includes all visual aspects such as product design, packaging design, copywriting techniques (words used on labels or in advertisements), photos used for ads or other promotional material (e.g., catalogs), and your visual identity.
It is with visual brand assets like your logo, tagline, and website that you can inspire a distinct perception around your brand. But ultimately, your brand positioning should incorporate three types of brand differentiators namely:
Product benefits: For example, T-Mobile is a service provider that makes customers commit less with more flexible options using its easy-to-switch line.
Cost-related factors. The Dollar Shave Club is a very good example of an affordable shaving solution pegged at a subscription fee of $1 a month.
Non-product-related differences: Build-a-bear shows how a brand can curate an experience without the product itself as they enable customers (often Children) to custom-design their stuffed toys.
The result will be a basis for generating ideas to develop compelling advertising that motivates customers and consumers to purchase and consume your products and services.
Understanding what benefits you can offer your customers will help you ensure that your brand positioning emphasizes what sets your brand apart from others. To do this successfully, look beyond the tangible characteristics of your products (features) and focus on the intangible aspects (benefits).
Your goal should be to make it easy for consumers or target audiences to understand how they will benefit by using your products and services over those of competitors.
Clothing companies are everywhere these days, but Allegheny Apparel — a clothing company operating out of Jenkintown in Pennsylvania — isn't just another clothing company, it's a sublimation printing company that provides the highest standard of clothing customization. To conquer their market, a brand identity that would stand them aloof from most other clothing companies was key.
So, when Eva, one of our in-house experts, got the brief, she already had the commercial understanding to know what was required. She immediately got on the next plane to PHL to meet with Bonnie, the head of Allegheny Apparel's marketing department, in order to begin brainstorming on the direction that the branding project would take.
After a few coffees, and a late afternoon visit to the Anne d'Harnoncourt Sculpture Garden at the Philadelphia Museum of Art, they had a lightbulb moment. Relaying the events of the trip to our team, including the marketers and award-winning designers among us in a few brainstorming sessions of our own, Stan Branding got to work. First, the logo, a sporty, intertwined version of their initials – AA.
Inspired by the Giant Three-Way Plug installation that Eva saw on her evening out in Philadelphia's Art Museum, the logo is an artfully drawn two-way "A" that fully brings on display the sophistication of the Allegheny Apparel brand. It really showcases the high level of creativity that is the standard here at Stan Branding. All hands were on deck to ensure the project delivery was on time and on budget.
After a reported 76% increase in conversion rate, and increased brand awareness, this branding exercise was the workbench to make the clothing store at the top of everyone's bucket lists in Pennsylvania and beyond.
Create a brand story for emotional connection
According to Forbes, storytelling is the new strategic imperative of business. Telling stories is very vital to building a brand. In fact, it is one of the fastest routes to building a viral brand identity today. Nothing moves the buyer audience as much as a brand story that they can relate to emotionally.
A globally-renowned manufacturer of a line of eyewear products — eye glasses, sunglasses, contact lens, and other eye wears — Warby Parker, embodies this perfectly. Despite the likelihood for buyers to go for well-established named brands, by crafting their brand story around being the revolutionary rebel brand introducing new practices into the industry, they have achieved commercial success.
Their source materials are not only 100% plant-based and their frames put together by hand, but they also donate one pair of glasses for every pair sold. For an increasingly socially conscious world, this was an instant hit. Today, the company is worth over $3 Billion.
However, this all works best when your marketing media is properly designed. If poorly designed, that might seriously undermine your efforts. We advise that you entrust this to a professional branding agency to avoid that.
Create valuable branded content
The bulk of business branding today occurs through digital platforms in the form of content marketing. To build that stellar brand that you want, it's best to dedicate efforts to creating content that will actually be valuable for your audience.
Too many businesses handle this aspect of marketing flippantly, and the customers can always tell. Dedicating the right attention to this will easily set you apart from your competitors.
One company that easily embodies this is the Dollar Shave Club, a B2C grooming products company. By creating humorous, cheeky and storied content targeted at men's personal grooming and how your grandpa's didn't have to spend excessively on blades, they were able to grow the business from $4 Million in revenues in 2012 to $240 Million in 2016. Later that year, they were acquired by Unilever for $1 Billion.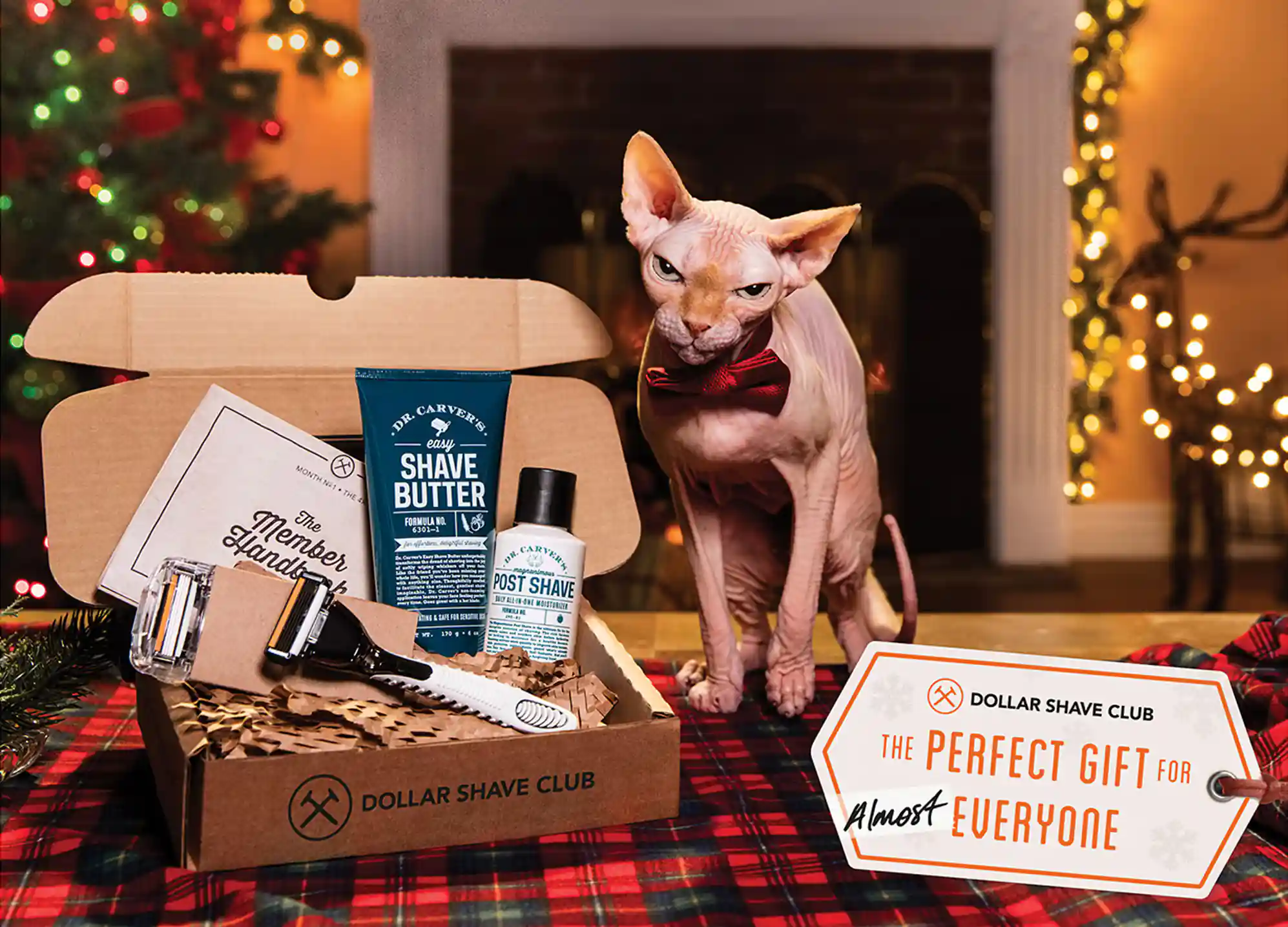 Image source: https://www.adweek.com/files/2015_Dec/dollar-shave-club-holiday-5.jpg
Big budgets are involved where manufacturing branding is concerned, which is why you want to lean on years of expertise from a branding agency to get it from the start, and avoid the costly mistake of being penny-wise, pound foolish as that costs you money and time.
You need a professional branding agency that can leverage commercial understanding and high-level creativity to help you strategically steer the wheels of your company well into the future.
From our inception to date, we have executed 300+ unique, completed projects by our award-winning branding agency. If you need some consultations on how to approach your branding for your manufacturing firm, look no further than here for creative outlines and tailor-made solutions from our Chief Analyst.
Wrap-Up
For a manufacturing company to be a success, it needs an identity. This is the role of branding in a business. Though it may seem simple enough, branding can take up a large portion of resources when starting a new product or running an established one.
But it's usually a net positive in the long run because in the case of manufacturing companies, brand recognition and identification matter — they involve tangible, physical goods, not services.
The fact that these products are tangible makes the product branding process more complex because it is not enough to simply design a quality logo. You need to factor in how this look will be applied across every single aspect of the product. This ranges from what materials are used, the colors, textures, and even printing processes involved in the design.
However hard you try, it's impossible to have full control over the public perception of your brand. Sometimes, people just have their minds made up. In any case, the best service you can do for your manufacturing firm is to approach branding with a comprehensive strategy that marries high-level creativity with a deep commercial understanding of your industry.
With 8+ years of providing professional branding services to our numerous clients, our experts are in the best position to partner you with creative solutions that position your business firmly as an industry leader.