In the high-stakes, high-performance world of legal practice, branding is competitive edge. These law firm branding tips will place your law firmly among the high flyers.
In one installment of the popular TV show – Power, hotshot defense attorney Davis Maclean can be seen taking a newly recruited associate attorney to fittings for tailored suits and telling him, "Client or jury, you have to impress them both. And it's not just about winning cases. You also have to look every inch successful and smart while at it.".
Every year, tens of new law firms are incorporated, joining the many already in the market. But, ever wondered how the biggest law firms like Kirkland & Ellis have continued to impress, win clients and grow over a hundred years of their existence? Two words – branding services!
Way too many law firms get hung up on the line that all they need to get by is to produce excellent results. While it's not entirely untrue, it doesn't solely account for the existence of thousands of law firms out there who're performing brilliantly.
We already know how every business (yes, and law firms too) has to embark on some sort of marketing campaign. However, it's not just enough to go on TV to announce your services; incorporating a unique legal brand identity is that differentiating factor that separates the elite firms from the pool.
Take a seat on your lawyerly high horse, as in this article, we'll delve into the topic of law firm branding, what it means, how to create a strong one, and how to harness it for that bland-to-brand transformation that's so often the envy of tier-1 law firms.
On a preliminary note, (donning our Attorney's robe) let us state our case for Law Firm Branding by first distilling these few concepts:
What is a law firm brand?
Simply put, it's the overall blend of your firm's perception in the eyes of your clients (which is mostly shaped through your promise to them and how you deliver same) and its personality.
What is a law firm logo?
A law firm logo design is a visual identity mark curated to represent your brand. It's a tell-tale symbol of your values. So, create with care. Imaginative elements in its design are also welcome.
Do law firms have logos?
Yes. When logo designs are displayed consistently across different touchpoints, it exudes professionalism, which inspires trust from clients.
How do you make your law firm unique?
You want to create your unique brand identity alongside your Unique Value Proposition, which is, your practice areas, how you deliver these services, and your unique differentiator.
What is law firm branding?
Save for a few 'industry specifics', there're a lot in common between branding services for law firms and for other industries.
In essence, branding is the process of molding how clients, potential clients, and the general public view, perceive, and interact with your brand. So, law firm branding encompasses all of these – logo, ads, mission & vision statements, and whatever else goes into building and nurturing this image.
For example, the Howard Kennedy LLP brand (a full-service law firm based in London) is not solely made up of their visual elements (i.e. logo and visual identity) but also their positioning and messaging as a personable law firm that issues "straightforward' advice for ambitious clients".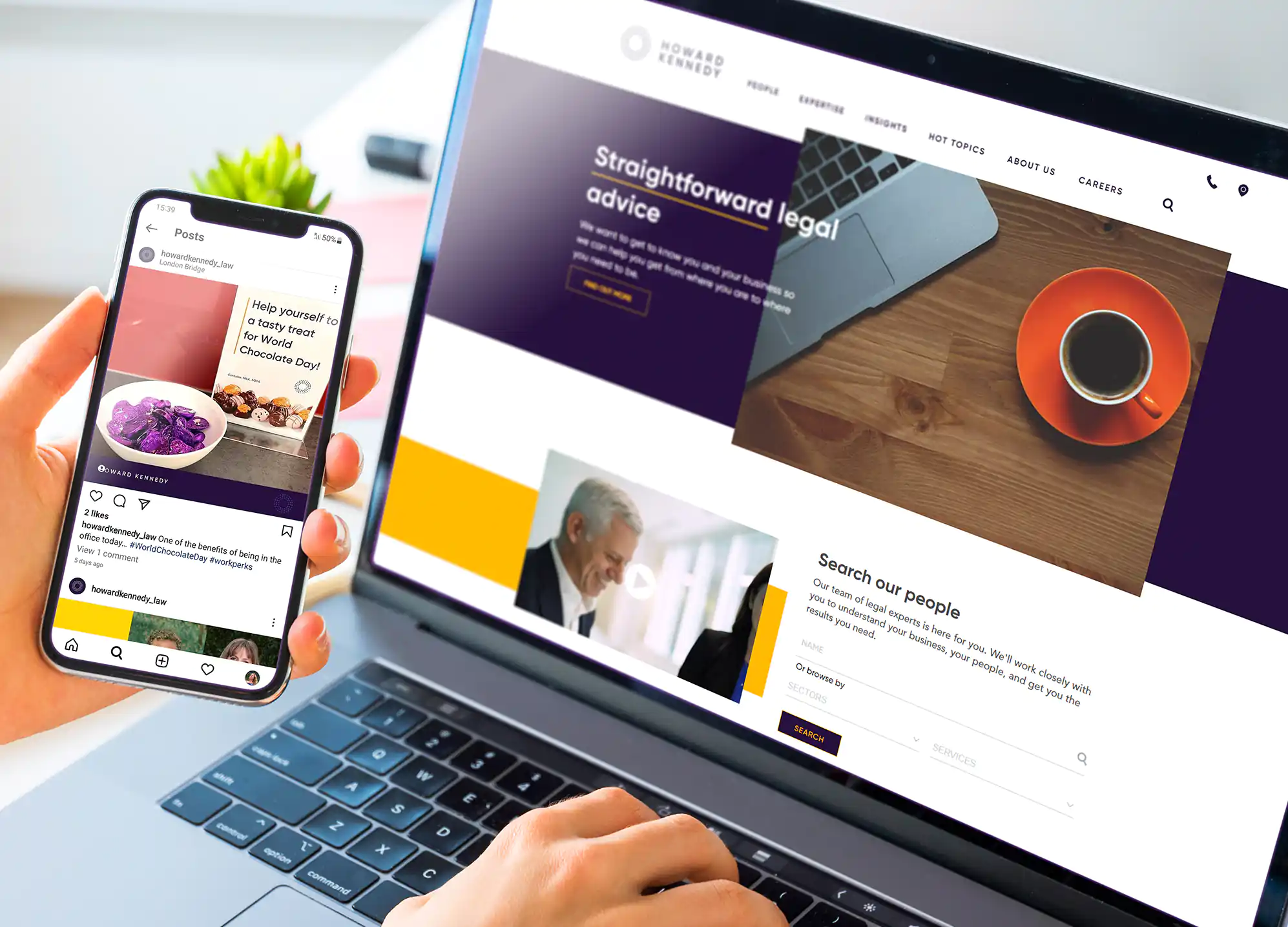 Image source: https://www.howardkennedy.com/, https://www.instagram.com/howardkennedy_law/
What makes a strong law firm brand?
You need more than a cookie-cutter approach to your branding to create a strong brand. Which means, while telling us that you're "a middle-tier criminal law firm based in Charlotte with over 40 years of expertise in helping clients launch their defense to absolve them of any criminal wrongdoing, prosecution or any related work," there are usually more burning questions in the mind of your clients like:
How're you different from any other criminal defense attorney on the block? Why should I call YOU? What's your brand story (a scoop on why advocating their cause is what gets you up in the mornings, alive and 'legal battle-ready'!)?
A respectable brand name
Not only is the name of your firm always the first contact that clients make with your brand, but it's also its biggest identifier. Seeing that it creates the first impression, it becomes vital that it can uniquely identify and inspire the prestige you want for your firm and its management.
Below, we crack the code on best practices and guidelines for naming law firms:
1. Pick something unique
A unique brand name sticks in your audience's ears, like a big fat earworm. For law firms, most people resort to using their last names. Clifford Chance LLP, Kirkland & Ellis LLP, and Latham & Watkins LLP all embody this rule.
You also want to make sure the name is trademarkable, not misleading, and compliant with the state bar rules of your jurisdiction. The ABA (American Bar Association's Model Rule of Professional Conduct in Rule 7.5 set out the model naming rules for different states to enact.
2. Make it short
Names have to be easily remembered. The longer your brand name, the more difficult for people to commit it to memory. The rule of thumb is to limit it to 3 or 4 syllables.
Of all the examples, DLA Piper has the most syllables – 5. Still, the name is short enough to be memorable.
3. Use abbreviations
From our vast experience in Law firm branding, one sure-fire way to create a simple yet easy-to-memorize brand name is through abbreviations, especially if your firm's name comprises the last names of 2 or more partners.
Besides DLA Piper, another case-in-point will be KKR & Co, an American investment firm. Anyone would agree that 'KKR' is easily much more memorable than their former name – Kohlberg Kravis Roberts & Co.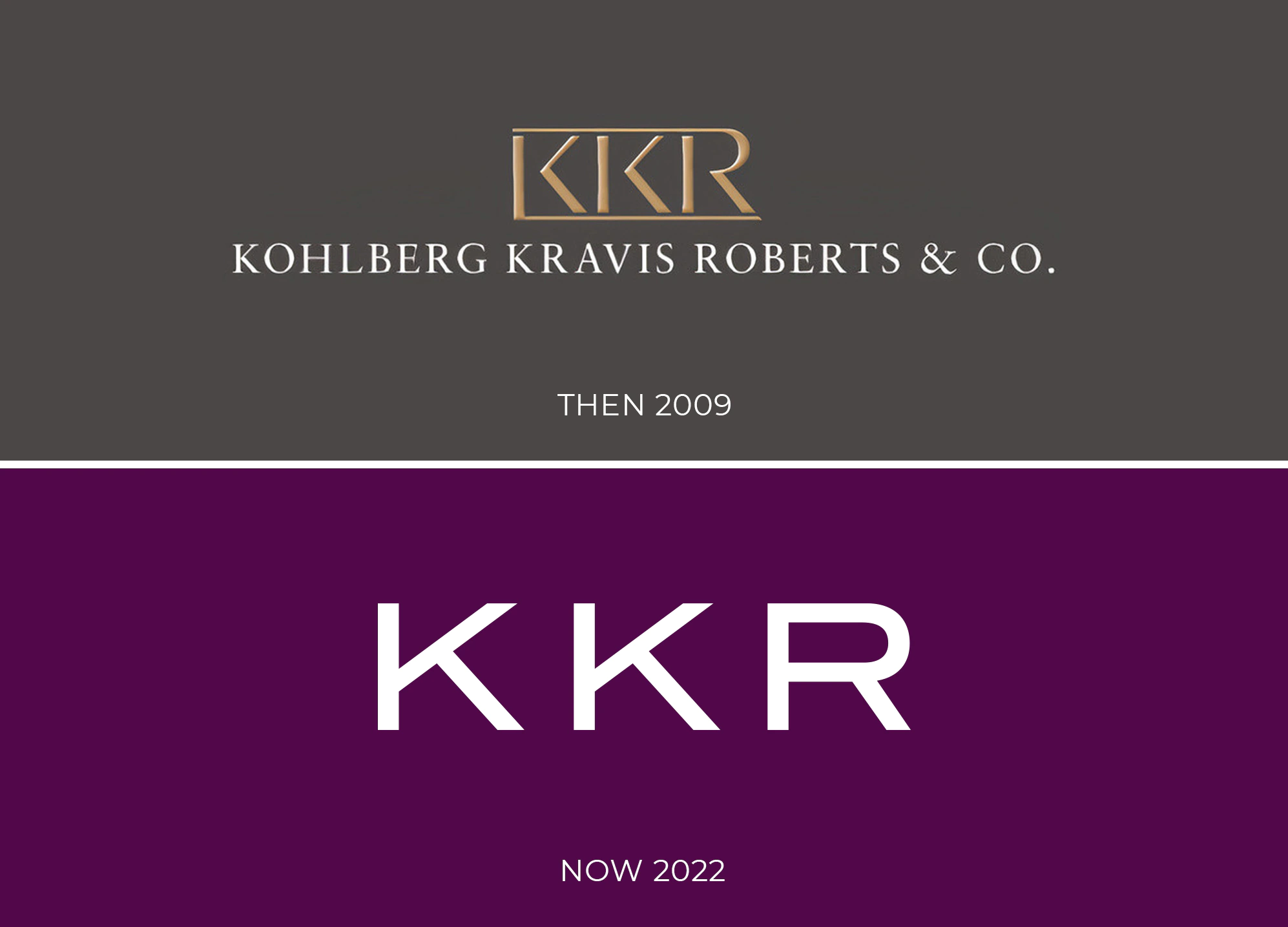 Image source: https://www.kkr.com/
Pro-tip: Avoid funny, unprofessional-sounding acronyms. For instance, the name Braxton Brooks & Quintero LLP sounds much more professional than BBQ (Uhmm… Barbecue?!).
Brand Logo
Your brand logo is a crucial piece of the branding jigsaw. You don't want to come across as a 'me too' brand with the thoroughly clichéd gavel and mallet or scales of justice in your brand logo design.
Before we get blacklisted (LOL), we know how lawyers love following precedents, whether in case law (judicial precedents) or branding! We're not saying the traditional logo designs are a pile of cow dung or a 'shameless plate of copy-pasta'. We mean, you want clients to recognize, remember, and reconcile your brand with your logo better.
Besides ditching traditional logo designs, a sneak peek at some of the logos we've designed for our clients reveal some common traits:
• Wisely chosen fonts to highlight their brand name, and build appeal.
• Use of simple, yet strong symbols.
• Skillful color combination / use of color schemes to purvey the right personality.
• Their year of establishment to inspire credibility.
• We showcase their area of specialization.
The branding of the Herbert Smith Freehills (a multinational Law firm with its headquarters in London) is a perfect example. They employ a simplified, vibrant icon of an iris (yeap, located in the human eye.) This immediately plants the image of a trustable partner with a keen eye on all the details in our heads.
Excellent services
Lawyers and law firms are a dime a dozen anywhere (sorry, but it's true); providing stellar services following the best practices of the business is how strong law firms' brands stand out to clients.
Word of mouth and person-to-person referrals contribute significantly to shaping a firm's brand identity. Remember, you're only as good as your past clients say you are! A study conducted by Thomson Reuters revealed that when clients rate a law firm a 9 or 10 in value delivery, on average, they simultaneously report spending 28% of their external budget with that firm. When you deliver, clients spend more.
Our legal branding experts have also observed the trend of some Law Firms in the legal industry going after clients who issue bad feedback from poor customer service.
Besides bad management, this is also not a good sign. We understand that there's always the odd extreme case where clients abuse their privilege to leave undeservingly bad reviews (in which case, we think law firms should, of course, exercise their prerogative to protect their brand reputation).
However, clients observe and reward brands who suck it up and implement this feedback to improve their practice rather than pursue legal action.
Niche focus
The biggest law firm brands are best known for their niche in a particular / particular legal fields. Mid-size to Boutique law firms are characteristically targeted at a particular niche. For instance, Susman Godfrey LLP is renowned for some of the industry's finest in litigation.
Bigger law firms (commonly dubbed "Biglaw"), however, are able to serve clients in a multiplicity of practice areas. For instance, Kirkland & Ellis LLP offers expertise in Litigation, Taxation, Corporate / Commercial, Intellectual property, and Corporate restructuring niches.
You have to decide what aspect of the practice you want to focus on – whether it is accidents and personal injury, family law, or criminal defense. There are so many areas. Pick one (or more) and then appropriately build your branding strategy around it.
More storytelling, less hard selling
Weaving intricate, exciting stories full of intrigue is how history's most popular figures were able to capture attention long enough to create impact worthy of the history books; and strong law form brands have been able to hone this skill to great results.
With stories both well-written and well-told, you can not only capture attention and win new clients, but you can also easily mold the general public's perception of your firm, which is the entire goal of law firm branding. It works like magic. Why? It pre-sells your business compellingly without you having to do much.
These stories begin from your mission & vision statements. They're not just random fancy texts you see on websites. It relay's your brand purpose, personality, and what it's like behind the scenes at your law firm.
You also have in-house stories where you can tell outsiders what your internal corporate culture is like and past wins that serve up your success story. The more these stories can convey a powerful sense of purpose to prospective clients, the better for your brand identity, and your bottom line.
Newly established, a civil defense Law firm, Trent came to us with a clear, strong vision for what would be a freshly minted branding throughout Switzerland with their headquarters in Geneva.
Though not lacking in the sense of direction, it was pretty much a blank slate in terms of branding. They wanted branding that was true to who they are. One that positioned them as a litigation giant in the Swedish legal industry.
Swinging into action, our team of marketing & design professionals innovated a winning strategy to prepare the partners at the firm for the scale of work involved and created a corporate brand story that segued into all of their marketing assets, web designs, and visual identity.
A combination of a green and orange color palette. The logo featured three components — a shield, a torch, and a pillar — all effectively housed in an emblem-shaped, yellow border.
With the deep commercial understanding that international commercial law cases are always fraught with complications, especially when you lack access to the right persons outside your jurisdiction, so we went on to implement (real) case studies on their website about success stories that inspire confidence in their vast legal network within and outside Switzerland.
Thanks to the creative expertise of our expert team, 8 months on, they've built quite the reputation as the go-to commercial Law Firm within Switzerland. They've been able to grow their practice from mid-tier to upper mid-tier. Our last correspondence shows that they are well on course to clinch their top-tier ambitions.
How to Identify & Create a Law Firm Brand?
There's a vast number of players in the legal field, nearly half a million firms in the US alone. Hence, there're hardly any one-size-fits-all strategies guaranteed to help any firm stand out from the crowd. By and large, these tips are a good starting point:
Define your brand's mission & vision
This part of your brand's identity should not just be viewed as a routine, unimportant component of your website; it's the window through which prospective clients see what the mindset, purpose, and culture are like at your firm.
However long it takes, you have to write statements that, though brief, fully convey your firm's values, goals, and reasons for existence.
Define your target clientele (aka Customer Avatar, aka Buyer Persona)
Much ink has been spilled on why law firms need to embrace niche-based identities. Research the realities of your location. What kinds of lawyers are in demand? This client persona helps clearly define how your marketing will take shape.
To demonstrate, while tech lawyers may be the most sought for in areas like Silicon Valley, they fall behind entertainment lawyers when it comes to areas like Los Angeles, and then maybe constitutional lawyers in places like Washington D.C.
Then, research your competition and their approach to cases, and evaluate your qualifications and capacity to compete formidably. If you decide that you can't, there is nothing with settling for the next best niche, as it most likely also experiences significant demand. Remember, the goal is to find a niche to establish a sustainable competitive advantage and maintain relevance for years.
With this, you can now develop a marketing strategy to target them precisely. Latham and Watkins' target market comprises a rich range of commercial clientele of startups, oil & gas companies, retail companies, and even big pharmaceutical companies.
Create your visual identity (Design)
Visual identity through design is one of the most core aspects of law firm branding. The average person finds it much easier to remember visuals than, say, a mission & vision statement.
Your visual identity encompasses a range of material – from your logo design to ads, color scheme, and web design. Your visual identity should run through all of your branding, even your brand mascot like Bordas & Bordas Attorneys PLLC of West Virginia (if you've got one).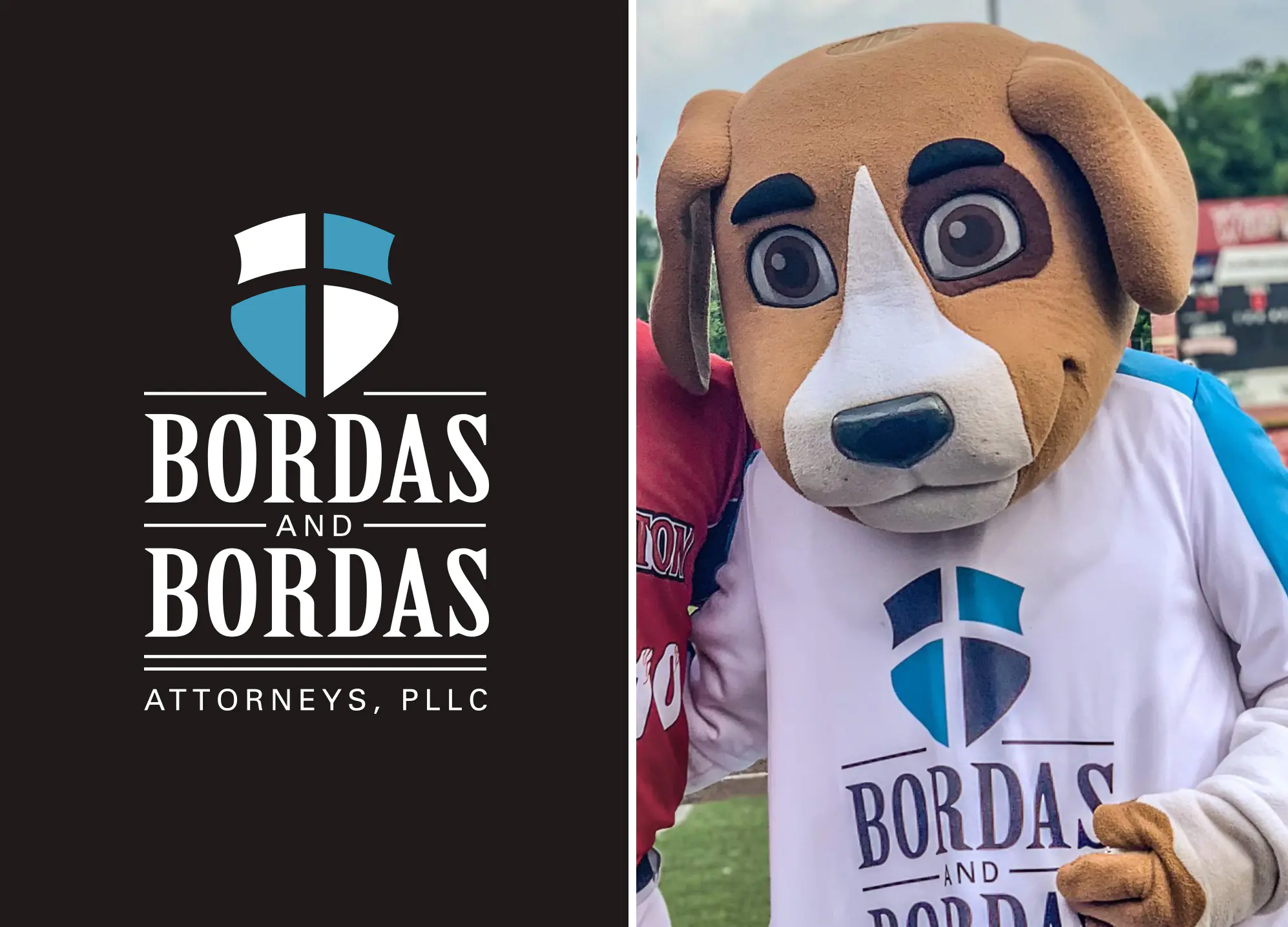 Image source: https://www.facebook.com/BordasandBordas/?ref=page_internal
Create an effective marketing strategy
The end goal of your branding is to market your services, after all. With the law firm brand you have built, you can now design your marketing strategies and tools.
However, your logo design, mission & vision statements, websites, and all would be for naught if you fail to nail your strategy when it comes to reaching your desired audience. Here're a few tips:
Identify the best channels
Once you've identified your preferred clientele, begin to research the best channels to reach them. What media channels do they frequent? So, if you operate a personal injury firm, paying for air time on the evening news at your local TV station may suffice; but for an entertainment-focused firm, not quite.
Create content and leverage social media
When you find that lawyers are generally perceived to be thoroughly bred experts, content creation works an absolute treat with Law Firm audiences.
It can range from blog posts to vlogs to infographics or any other class of media classified as online content. Unlike TV ads, it costs next to nothing to post them online. And what's even better? There is no limit to its reach.
Pushor Mitchell LLP's wholesome strategy spotlights particular areas of law for their audience's understanding with snackable bits of content having real-word application. They stick to a consistent cadence whilst offering a chock full of informational value (not legal advice, though), pulling in more visitors (and google search engine).
Depending on how much the audience enjoys your content, it can be spread further across the internet than you can imagine using traditional advertising methods. Lawyers leveraging this knowledge to nurture relationships with their audiences becomes a breeze as the trust in their expertise is already existent.
We already see many lawyers / law firm brands harnessing this tactic to build audiences on TikTok, Twitter, Instagram, and YouTube, offering guidance and explaining knotty issues of the law to laypeople, (for free) all while nudging them to reach out to them for paid services.
It's pretty much like how you're reading this post right now, so you know which professionals to call when you require Law Firm Branding Services.
Show up (Be consistent)
Consistency does not just concern only the frequency with which your messaging appears but also the tone of the messaging.
Usually, potential clients do not get converted on their first contact with your brand. In fact, the marketing rule of 7 indicates that the average potential clients have to hear your message about 7 times before they can finally decide whether or not to pitch their tent with you (In some cases, not up to 7. But you get the drift.).
Keep up with your methods of advertising. If you've ever chosen to employ content creation and social media, create a content calendar that ensures that you consistently remain in your audience's minds.
Engender trust
Trust is the currency of business. The more you can get people to trust your brand, the better your brand identity and the more clients. In one way or another, strive to incorporate trust messaging into your marketing.
If you're no misfit in legally-dominated circles, you must have heard of Mike Mandell, Tiktok's most famous (and followed) Lawyer and owner of Mandell Law. Inc who's been able to inspire trust from his large following through shared expertise and testimonials.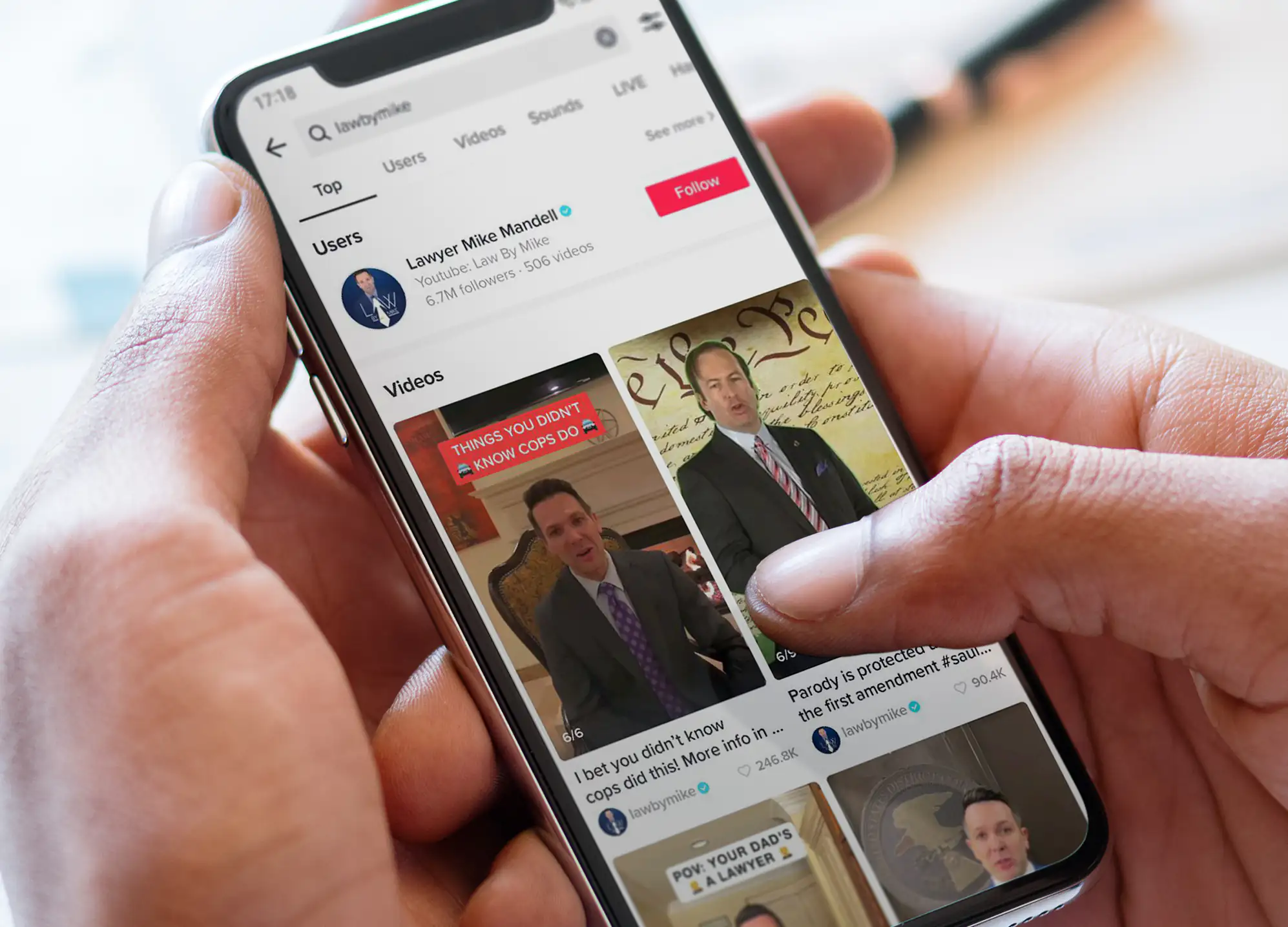 Image source: https://www.tiktok.com/@lawbymike/
This part also perfectly resonates with a social media advertising strategy. One of the fastest ways to build trust with your clientele these days is to give out helpful information to tips. Over time, as they benefit from the knowledge-sharing bond, they will come to trust your brand and engage meaningfully.
Sell a story
Humans are highly emotional animals, and these emotions play considerable roles in determining our choices. So, the most successful brands are the ones that have found ways to connect emotionally with their target audience.
And, what better way to initiate this emotional connection than by selling stories? Audiences are tired of seeing commercials advertising every other business as the best thing after sliced bread.
Want to get their attention? Try telling them a story about how you were able to impact someone through your services meaningfully. You can even use stories about the corporate culture from your firm's management and insider happenings to get the audience buzzing to be a part.
Test and refine
Finally, test, refine, and retest your strategies repeatedly. It's not enough to execute the most sophisticated marketing strategy. You also have to constantly test them to gauge market response and refine your approach to increase your chances of conversion.
If we're being honest, lawyers fuss so much about being so superb at what they do, and this inescapably leaves gaps (Full confession: Most lawyers suck at branding).
A globally recognized commercial / corporate law firm, Norum, with twelve locations in a top-tier market, contacted us after they observed that despite their marketing efforts, about 93.7% of their clientele was acquired through other referring attorneys who often demanded a cut / commission (attorney referral fees).
For a top-tier firm, they simply weren't doing enough to attract clients other than by delivering quality service. Our findings revealed that they already had an effective marketing strategy, with their branding threatening to undo their good work. So, following a free project pre-development, we advised a branding exercise to create a solid brand identity to activate brand promise and awareness.
We started by collaborating with the firm's stakeholders & management to understand their vision and core values, glean their USP, craft their positioning, and the applicable brand guidelines. We then carved out a brand identity to highlight their credibility and expertise.
Doing away with clichéd logos featuring "gavels", "wigs & gowns", and other commonly used elements of a law firm brand logo, we wanted to capture the true essence of Norum.
The first letter of Norum (N) was the first element of the logo, but to show credibility that is a product of their long-standing experience and expertise, we fused the letter "N" with geometric distortions of a column (an upright pillar) A column is a piece of ancient architecture known to be durable, solid, and supportive. The same can be said of Norum's legal services.
The hard work of our creative team paid off as within 5 months after the exercise, the firm's marketing department witnessed an increase in industry recognition, especially outside their location. They also reported a 7.89% increase in organic traffic with a conversion rate of 4.6%. In marketing terms, this means whopping 67 qualified leads every month.
Branding & Visuals
Visuals are at the heart of branding. The most successful companies are the ones that have hacked the art of using visuals to influence consumer psychology to reach positive purchase decisions. Why else do you think product photography has become a big deal in today's global markets?
And it's not only in retail. It's everywhere — including legal practice. Your law firm's brand, from its name to logo, personnel, and everything else, must be meticulously designed to impress and convey the message that yours is a successful, savvy law firm highly motivated to deliver the best results to your clientele.
Continue to maintain consistency in messaging, backed up by continuous delivery of stellar results, and in a few years, your firm will be up there with the greats.
Skillfully portraying your law firm's unique differentiators clearly, consistently, and across multiple touchpoints requires equal parts strategy & execution.
An award-winning agency, Stan Branding has dedicated years to helping our numerous clients build (from the ground up) and revamp their law firm branding where necessary, helping them stand out in a sea of sameness.
We've painstakingly built our reputation on best-in-class services for our clients, designing highly iterative, creative branding services for our numerous clients. To boot, over the years, we've developed an unrivaled, deep commercial understanding of the market which means quality management of your branding project. Unless you were a 'brandtender' in your previous life, implementing an expert law firm branding can be an overreach — it requires, well, an EXPERT.
Our expert team is willing and able to offer all the help we can in this area. All you need to do is give us a shout-out, or go all in to request a free pre-development consultation from our CEO! We'll help your law firm come out tops with unique branding.