Looking to make your hospitality business the next talk of the town? Our experts show you how to drive loyalty from guests with hospitality branding.
The Federal Reserve Bank of Minneapolis' latest survey comes off the back of the coronavirus pandemic. And to a large extent, it reveals why impactful hospitality branding should be your cup of tea, especially if you operate within this industry.
Beyond the immediately obvious negative outcome of the survey — that the Pandemic severely impacted businesses in the hospitality industry — there's good news along the lines of potential for recovery. The positive impact of hospitality branding will, no doubt, have a huge part to play in this economic recovery.
Now, when a guest spends several long hours — sometimes days — traveling across continents just to enjoy the warmth of a pool and have a cocktail, what drives their decision? Certainly not that there's none of that elsewhere in their neighborhood. The answer is almost always something around the pursuit of an experience.
Or, if you've ever wondered, "what is so special about a hotel that drives guests to willingly suffer jet lag?" A guest at the Baglioni Resort Maldives once answered, "It's like a gentle voice whispering to you, come, we'll take care of you the way no one else can.''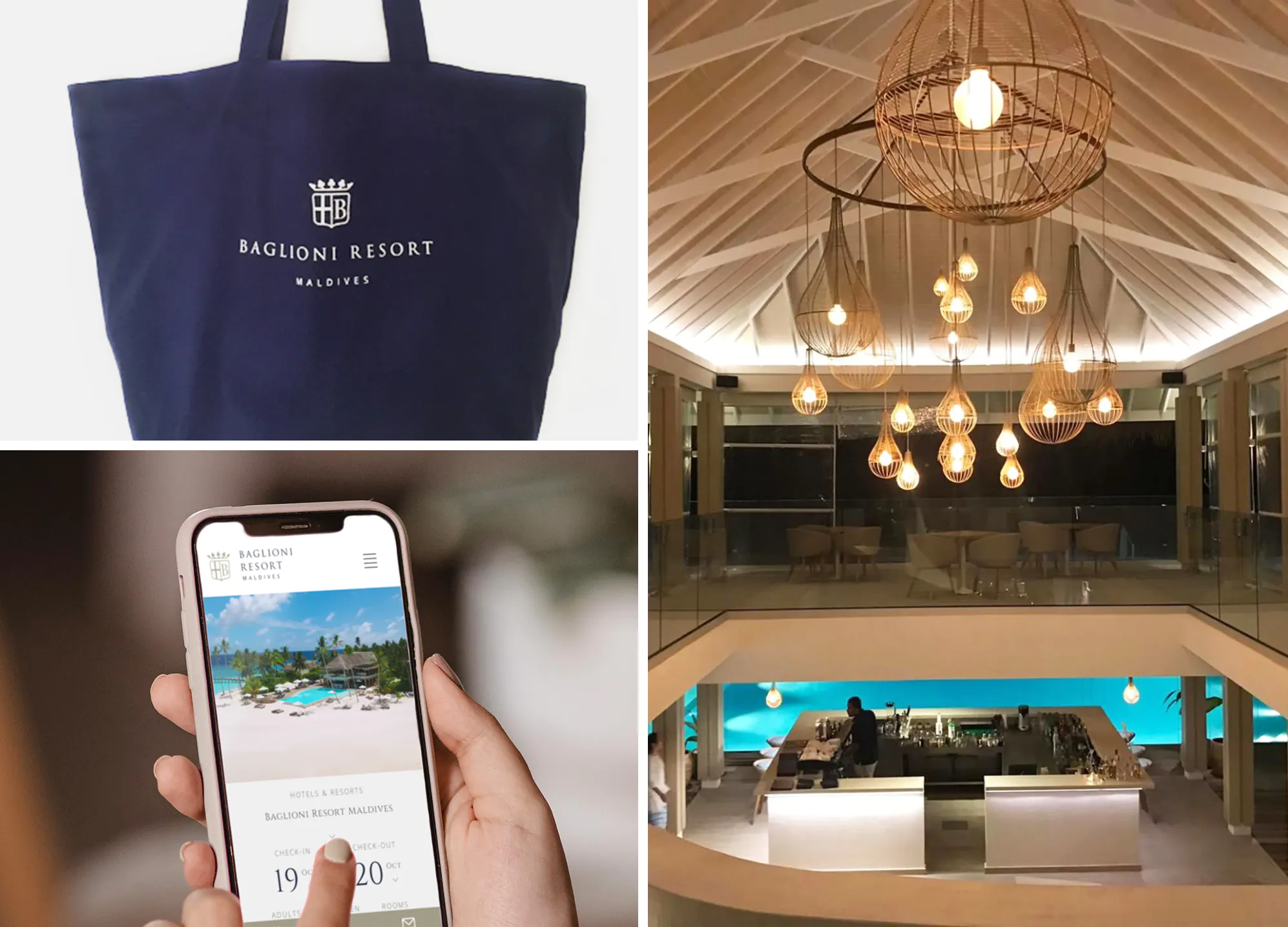 Image source: https://technostylec.com/techo-y-revestimientos-de-madera/, https://www.baglionihotels.com 
And that is exactly what hospitality branding is all about — the ability to create an impressive image that attracts clients worldwide (besides marketing.) The likes of Mercure, Shangri-La Hotels, and Sheraton have all leveraged this aspect of business to stay on top of the hospitality industry.
Your hotel branding comprises all the elements that display the unique experience you're proposing to your clients. It includes visual cues like logo designs, color schemes, values, and experience-based services that meet clients' expectations.
Whether small-scale or large, once your hotel gets solid branding, it takes on a luxurious persona that guests would want to identify with. You don't need the patronage of movie-star guests or the prestige spanning decades. Through effective hospitality branding, every hotel in this industry can build its distinctive presence and leverage it to set them apart and push them towards desired business outcomes.
Over 10+ years of our agency navigating this type of branding has revealed that while most owners of hospitality businesses only want to cover their bases (just because consumer sentiment and research hints that customers will pick organizations with a credible, recognizable branding over others) with branding when starting out, it helps them stretch their marketing advantage even further.
How? Remember that every branding exercise aims to improve brand recall and delight customers in the overall experience while leaving good impressions that leave them coming back. Your branding needs to be deeply customer-oriented, consistent, and centered on growing a fruitful bond with guests by giving them experiences they will hardly get elsewhere.
So, if you're looking for modern ways to implement your company's hospitality branding, or simply fascinated by the concept, let this post be your guide!
What is branding in the hospitality industry?
Hospitality branding is the process of creating a unique and differentiated brand identity for a hospitality business using elements like logo design, color schemes, and the customer experience in your service.
Is hospitality branding important?
Yes. Hospitality branding is necessary to distinguish your business from other competitors in the hospitality industry. It is also important if you're looking to maintain customer loyalty.
What are the branding strategies?
The strategies for hospitality branding include a definitive brand narrative, consistent theme, top-notch service delivery, and the ability to meet the expectations of existing & potential guests.
Why is Hospitality Branding Important?
Besides giving your hospitality business a face, or instantly recognizable identity that people can associate with you, there is more to branding. Customers need to feel a connection to your brand identity and the service you offer before they can decide if to keep coming back or not.
And because poor branding could mean your business suffers a huge blow — both socially and financially. You don't want to leave it to half-baked brand strategists or pseudo-professionals who hardly realize how crucial assets like your brand's visuals affect the customer appeal of your hospitality business!
Note that the hospital business is big on what 'meets the eye' — quality visuals, aesthetic appeal, and other sight-soothing amenities that serve up the overall experience. You need an agency having an expert team of trustable professionals with deep commercial understanding to partner with you, strategize the best formula to appeal to your audience, delight, and influence how they remember you.
Unsure of how to go about it? Simple. Click here. Our chief analyst will distill creative outlines and action points on your branding project. It's free.
Hospitality branding helps your business remain on the top of every client's go-to list for an exquisite vacation, staycation, or even a baecation! But there's more. You should be looking to brand your hospitality business if you're looking to:
— Blow your competition out of the water
So, if you want to stand out from the crowd, take the bold step by transforming it into a hospitality brand.
To spark an evolution from a brand that catered to a U.S-based market to one that became globally recognized, Wyndham Garden Hotels unified their family of hotel brands under the hallmark "by Wyndham." The existing research reported this Wyndham endorsement to add value throughout their brand portfolio as it communicated their commitment to quality and customer service.
Today, Wyndham is easily the world's biggest hotel brand for luxury and business travelers from different parts of the world. Like Wyhndamn, a research-backed strategy, when ideated and executed expertly, can be a force multiplier for your brand's equity. Such strategy also meets at the crossroads of high-level creativity and a deep commercial understanding of your hospitality business that a brand agency guarantees.
Having cultivated a hospitality business that is built around inspiring guests to enjoy the total hotel experience to the fullest, Austria-based Dome Hotel & Spa needed a brand identity to match what was an expanded brand positioning.
When their CEO, Rudolf approached us, they had just launched. And with the ever-changing, now-competitive landscape of upscale/luxury hospitality in Austria, there is still a growing demand for recreation.
With marketing already in place, positioning their brand to thrive in this landscape required a strong identity — one that magnifies the brand's unique selling proposition: luxurious retreats in unique, ultra-modern, dome-styled rooms.
After conducting several brainstorming sessions involving our team of marketing professionals and designers, with the commercial understanding that hundreds of thousands of tourists and locals are constantly seeking unconventional, 'weird' ways to make their vacations memorable. The creative inspiration for the logo drew a lot from the symbology of a Dome — whereas in the logo, the letter "O" is replaced by dome elements to reflect the compelling theme of their customer experience.
Within Q3 of their marketing calendar, they reported high referral traffic and brand mentions (which are healthy markers of brand awareness), and a fast-growing popularity among local guests and international travelers. Now, they're looking to leverage this traction to attain 5-star rates as they have now leapfrogged ahead of other hotels and even experiential destinations in the city.
— Increases your bottom line
Effective hospitality branding opens up your business to new avenues for generating revenue. Every company has to generate sales to grow. Making huge profits is a clear indication that your brand is gaining exposure and commanding the hospitality business.
As a hotel owner, your best bet at keeping the big bucks rolling in is investing in transforming your hotel, whether local or multi-national, into a top-tier hospitality brand that amplifies your marketing efforts.
Since the InterContinental Hotels Group channeled its focus to providing guests with 'true hospitality,' it became one of the most admired hotel brands worldwide. It now owns over 5,200 hotels across nearly 100 countries, with a revenue of $1.39 billion reported for the year 2021 alone.
— Fosters Trust & Customer Loyalty
Frankly speaking, the goal for your business in this industry is for any customer who walks in or merely glances through your website to immediately believe that they're in for an exciting experience. With hospitality branding, your customers are safe in the knowledge that they're in the best hands.
Ever walked into The Ritz London? Although one of the most advanced in the business, it still has unwavering guest patronage because the company has maintained an iconic hospitality brand persona for decades.
Whether it's their luxurious suites, afternoon tea, or their mandatory formal dress code for their customers (a jacket and tie. No tank tops, flip flops, short pants, or even jeans) There's also an element of exclusivity in their service — in terms of limited benefits for a select few elite members.
Luxury is what the Ritz London offers, so they make sure to spin up a luxurious feel. But they don't stop there. They ensure the outfits, music, attitude, and overall demeanor of their staff also carry the same measure of sophistication.
— Harnesses the Power of Emotions and Storytelling
Marriott has been super successful in being a priority destination for customers from all over the world. And it's all down to a powerful narrative — humans are drawn to things that make them feel the existence of a bond. Through hospitality branding, you create a channel through which you communicate your hotel's purpose, mission, and vision. Once they align with these values, you gain their trust, and a mutually rewarding relationship with them.
How Can You Create a Great Hotel Brand?
Building a distinctive hotel brand is a thorough process, which is why the importance of consulting with professional experts cannot be overstated. Much like every other kind of inside-out branding exercise, you will need to give obsessive attention to detail — whether it's in your service, or in different touchpoints of your brand. Here are a few suggestions on how to do it right:
Cross-channel Consistency
Nothing distinguishes one hotel brand from the other like the level of consistency across all brand channels. To be seen as truly exceptional, the image of your hotel brand has to project all concepts, emotions, and messaging consistently.
For instance, the Swiss-headquartered multinational hospitality organization, Aman. Their sleek, minimalist design across all touchpoints and locations, whether in their luxury resorts, hotels, or residencies, mirrors the kind of tranquility and reliability they have come to be known for.
The Hilton chain of hotels is yet another instance of consistency across channels. All the images on their website depict nature in one form or the other, giving off an aura of deep nature-induced relaxation. That's the kind of consistency that leaves a lasting impression in the minds of current and potential guests.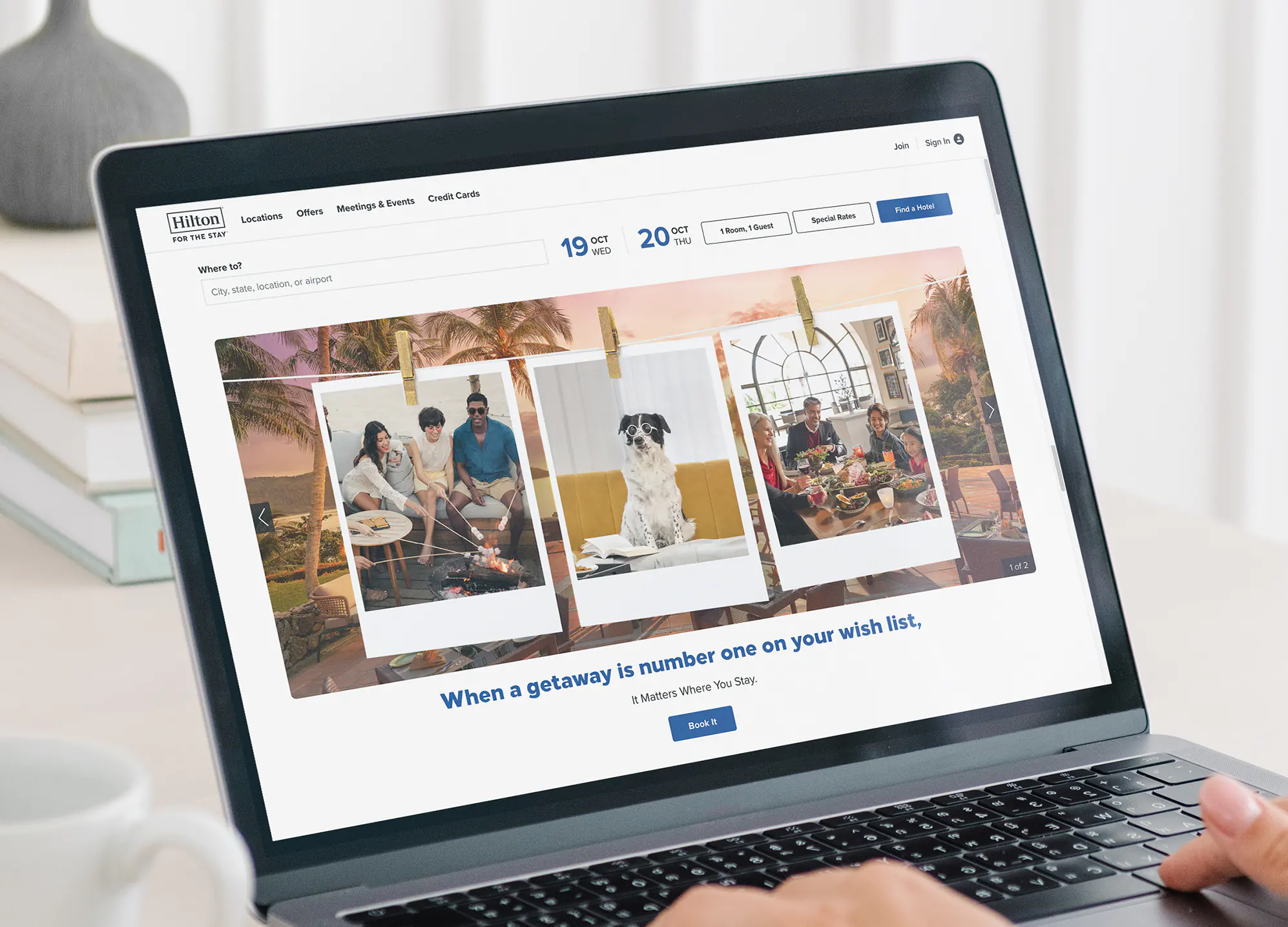 Image source: https://www.hilton.com/en/ 
From our experience, hotel owners tend to make a mess of cross-channel consistency as they look to cut costs — and corners — which sometimes means different professionals with:
a. Not enough understanding or application of concepts. Brand elements are not responsive across channels because they don't get it right the first time, leaving clients with no other option than to spend double the budget. Oh, and that's not even mentioning their precious, valuable time.
b. No communication, and zero continuity plans. As a result, there is a clear lack of synergy in how design and marketing considerations are carried out, compromising project quality.
We're an award-winning design agency having 300+ projects with proven results, our team of designers & marketing professionals will brainstorm creative ideas and provide the professional insight you need to level up your branding and brand marketing, reinforcing your value to customers.
Need professional help? Hit us up for a tailor-made pitch deck detailing analysis and a comprehensive strategy to accelerate your brand.
Authenticity
Create a relatable theme for your hotel brand, then employ a strategy to visualize it. If your brand promises to showcase arts and crafts as a way to provide guests with a welcoming atmosphere, stay true to that promise.
For example, the exterior and interior structure of Rosewood Hong Kong is a fine blend of modern architecture and lovingly crafted art pieces. Any art-lover would feel connected to the sculptures on display, and even guests who don't fancy art would surely be impressed with the fabulously curated pieces.
Your hotel's ability to meet the public's expectations makes your hospitality brand appear authentic.
Focus on Targeted Audience
Don't be a brand without a purpose. Define your niche and stand by it. Identify your ideal guests and work towards providing them with the best experiences. If your hotel's vision is to provide customers with a rustic countryside feeling, align all your branding elements to actualize this vision.
Owning your niche sets you apart from the rest of the competition. The Jumeirah Beach Hotel is famed for being most suited to families, making it an ideal resort and relaxation spot for travelers and their children to get 'group' services and its customary access to places like the Burj Al Arab within the UAE.
Professional help also comes to mind here, as you will need deep commercial understanding to gain insight into your customers and competitors through research, benchmarking, and the professional know-how needed to communicate these brand traits at first instance.
You may need help with this process. At Stan Branding agency, our experience throughout the ideation to implementation stage for local and globally recognized hotels positions us as experts. Simply click here to request a free pre-development pitch deck from our experts!
How to Build a Winning Hotel Brand Strategy?
To start with, you need good heads who can help you expertly marry effective market research and business intelligence. These are usually very complicated aspects requiring the intervention of an expert team of marketing professionals and designers who examine your brand in light of your positioning within your industry.
On the whole, the end result — a winning strategy — should cater to all stages of the buyers' journey, before, during, and after exposure to your brand in order to attract, connect, and delight them with never-before-seen experiences that turn them from one-time customers to loyal customers.
We've highlighted some useful tips:
Create a matching look & feel (Consistent brand identity)
Here's the time to select a logo design and brand name that matches the philosophy of your hotel business. You need to create a look and feel that boldly describes your brand's kind of hospitality.
Is it rustic? Classy? Countryside with a hint of city life? Do you sell a luxury experience? In this case, you would probably want to go with clean fonts and high-end-oriented visuals — kind of like how St. Regis Hotel handled theirs. Staying true to their tagline ("where indulgence meets sophistication"), they've been able to wow their customers with specular interior design.
They also have a heap load of history that precedes their reputation — they've been in business for almost 200 years. And you can find this iconic 'retro' touch in their logo design.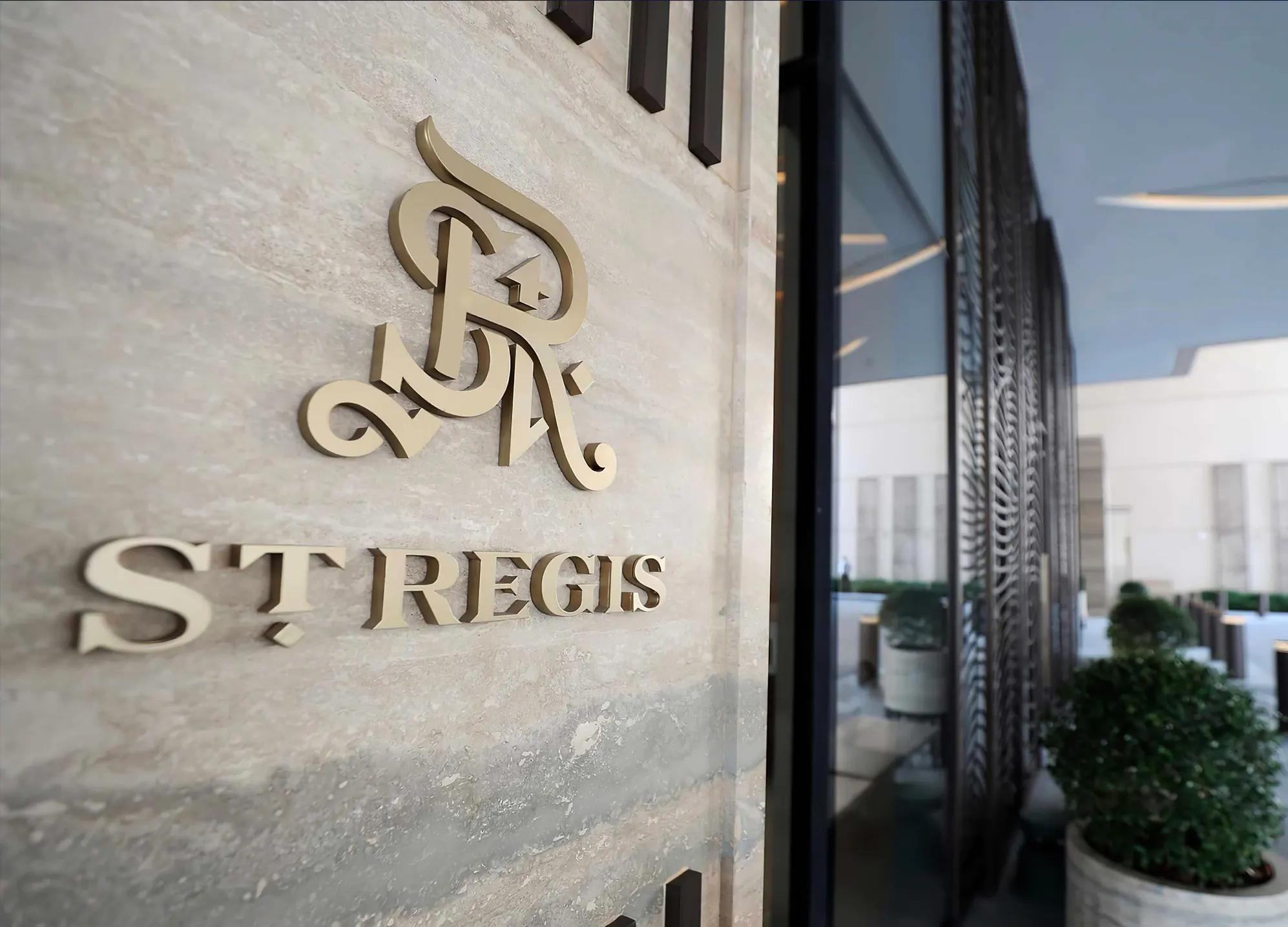 Image source: https://www.thenationalnews.com/travel/hotels/2021/05/20/first-look-the-st-regis-dubai-the-palm-opens-on-palm-jumeirah/ 
If this teaches us anything, it's that customers can tell a lot about your business just from your hotel brand logo. If you can give them clues, which can be gotten from symbols and color schemes that define the "what," "who," and "why" of your business.
Location
The location of a business is always an important factor for brand development, but it matters even more for hospitality businesses. Location influences your hospitality brand's visual identity sometimes. For example, a hotel by the beach should inspire a different font and logo design than one situated in the countryside.
Our experts advise that if you're located by the beach, colors associated with relaxation like white, soft nudes, and beiges with touches of the dark Mediterranean blue to represent the sea will be a perfect choice. A wave as part of your hotel's symbol may also be ideal for capturing the oceanside mood.
If you're one for some eco-friendliness, then you can take a cue from Minamo, a modular hotel with a flexible, modular hotel concept located in Sweden. We had a request for a branding exercise to shape their branding identity from their marketing department based on the referral of a past client.
Now, modular hotels are portable, which means they can be customized to fit guests' preferences. It also provides a luxury experience — that air of relief, relaxation, and escape from the outside world that cannot be replicated in traditional hotels.
Following a Zoom call where a project pre-development consultation was made with our CEO, our team of designers and marketing professionals embarked on an iterative and multi-step process that involves research, brainstorming, sketches, and several design concepts.
Just recently, the staff at Mino reported that the brand got nominated for the prestigious Hotel Brand of The Year Awards: a huge achievement considering that the brand is new. Having delivered the consistency of excellence — including through winning design — that luxury-minded guests expect, it is now a bucket-list destination for guests looking to get a one-of-a-kind modular hotel experience.
Memorable experiences
Satisfying your customers should always be top of your priority list. When deciding on what services to provide, consider your target audience, and design your packages to match their needs remarkably. But that's not all. It's one thing to offer something, and it's another thing to deliver.
Service delivery is the end-game when it comes to leaving a memorable mark for guests. Seize every available opportunity to impress them, especially at specific moments that are key to their overall experience, such as check-in, room service, or hiring any additional services (such as side trips or guided tours).
What Matters for Hospitality Brands?
Given that the world is now digital, hospitality brands are more fragile than ever. A single bad review or a negative comment from a guest post on social media could blow away years of hard work and dedicated customer service. So to stay in your customer's good books — or even earn a referral — here's a list of suggestions to help you:
— Nail your 'why.' Know your brand and define it.
— Cater to your customers exceptionally by curating immersive experiences.
— Build a strong physical and digital presence — use symbols, logos, and visual brand assets that train their brains to associate your brand with certain values.
Once your brand checks all these boxes, your customers will always be excited to spread the word about your hospitality business and rave about it.
Wrap Up
At face value, hospitality branding might seem like a task you can pull off on your own, considering that we've laid out useful nuggets for you throughout this article.
Choosing to fly solo or hiring the wrong professional could spell a terrible disaster your business may not quickly recover from. You may end up going with a logo that doesn't quite capture your brand's essence, or, worst still, customers might find your brand name, tagline, or messaging unappealing.
What then happens? You're back to square one, and are left to pick the pieces. While branding and brand marketing projects in this niche can be tricky to navigate, we're no green horns! 7 world awards for unique strategic design decisions prove our experience in providing value to local & global businesses within this industry.
With an able team comprising a team of marketing professionals and designers with many successful hospitality branding projects in their portfolios, we at Stan Branding agency want to help you get it right the first time!
Are you wondering, "what do I need to do to get started?" Book a session to kickstart your brand's transformation with a free project pre-development consultation with our CEO.