Ever wondered why some gyms have such pulling power despite lacking world-class equipment or affordable pricing? Learn how to leverage Gym Branding starting today.
The world we live in today is possibly the most health-conscious it has ever been. Typically, gym memberships in America now range from $10 – $2,500 every month.
The broad gap makes for more customers (gym members), and this boom in the fitness industry creates a huge opportunity for Gym owners. And it's worth mentioning that this is an opportunity that branding services can help them fully exploit.
Fitness journeys are tough enough, and the business of getting fit could do with some ease. Customers now desire to have an impactful and memorable experience.
… And that's whether they're starters, veteran gymers, or even occasional gym-goers who spend 80% of their time taking Instagram gym photos. #instafitness #fitfam.
This makes establishing a personal connection with your clients top of your checklist as a gym owner. There's so much pleasing variety out there in the world of fitness. With there being almost more fitness brands than unfit people who need them, how do you avoid getting lost in the mass appeal of giants like Planet Fitness, CrossFit, Youfit, and other super-cool fitness giants?
One of the sleekest ways you can pave your path is through effective gym branding. To demonstrate, let's have a look at 24 Hour Fitness — the second-largest gym chain in the United States. It is a private-owned gym that has managed to stay relevant for over three decades.
The gym's vision was to serve as a 24-hour facility with the aim of turning fitness dreams into a reality. From top-notch fitness classes to premium gym amenities, the gym center has made a name for itself in the fitness industry.
Another shiny example we're always quick to make for our clients who are gym owners is the almighty Gold's Gym owned by American Businessman and bodybuilder, Joe Gold. He was able to brand his gym at the time to attract clients of his kind — a move that earned they gym serious fame thanks to its rich profile of celebrity clients and athletes like Arnold Schwarzenegger and Michael Jordan.
Debbed the "Mecca for bodybuilders." Gold's Gym offers a variety of cardio and strength training equipment as well as group exercise programs. But today, it's not just a gym. It's a multi-agency machine that has diversified into several successful ventures over the years.
Though the initial branding earned it a reputation to be the gym for the 'big, built, and burly' bodybuilders and celebrity clients, they have now been able to attract a different class of clients over the years through micro and macro tweaks made in their branding.
With this, it remains clear that branding is a sure way to communicate the kind of gym you operate, keeping in mind that there are multiple types of gyms like CrossFit gyms, weight/powerlifting gyms, boxing gyms, Olympic gyms, etc and attract your class of clients, whether high-end clients like celebrities, brawny bodybuilders, the everyday gym goer, or beginner.
Let's take a look at Girls Just Wanna Box, the females-only boxing gym in Toronto. The founders, Kristina Ejem and Helene Jafine, did a good job identifying their niche and standing out from the others.
They set out to unite women through boxing, and you can feel their passion and zest for fitness throughout the gym's touchpoints. Over time, they built a strong, reliable brand personality that drew in their exact target audience.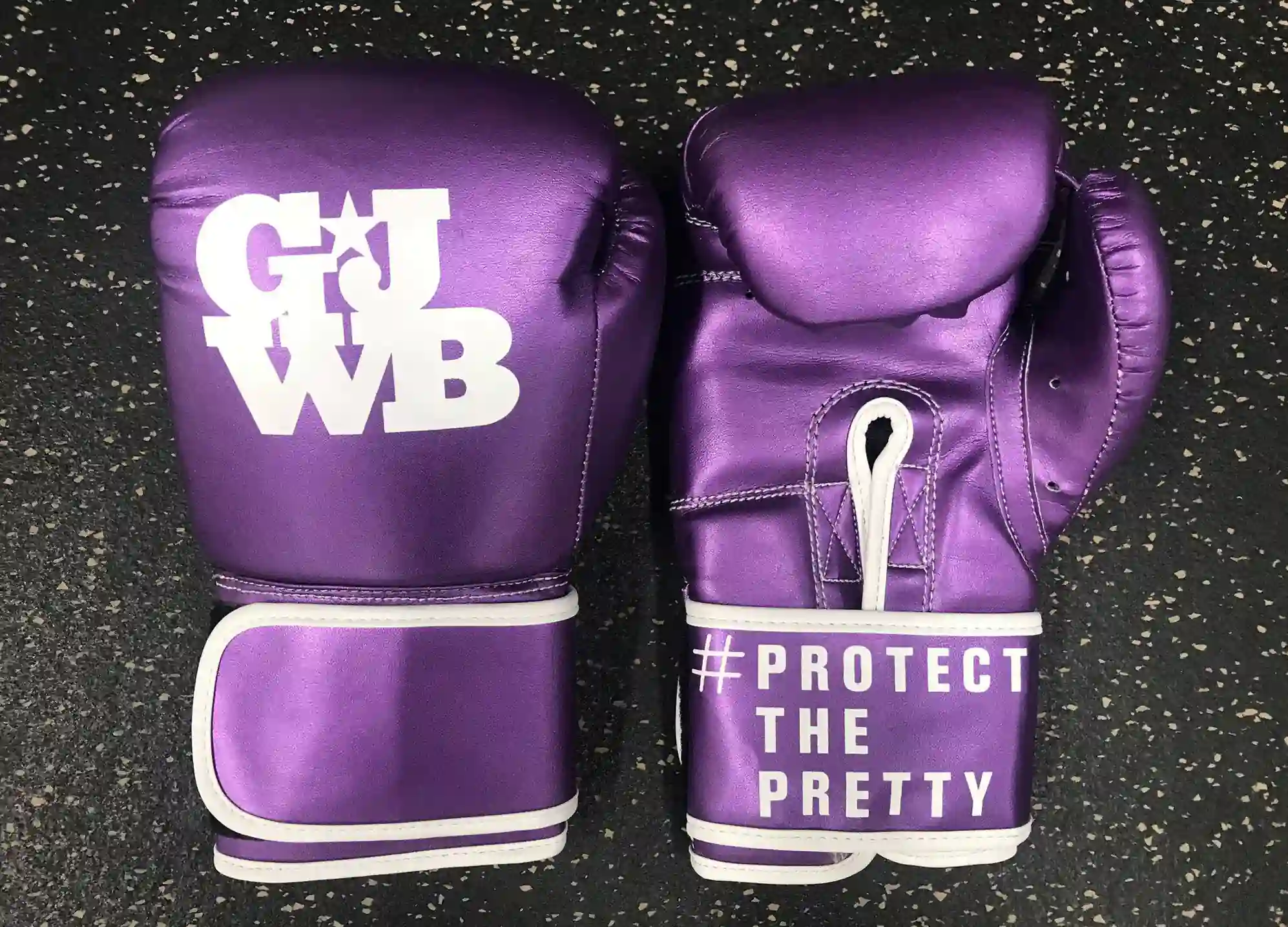 Image source: https://www.facebook.com/girlsjustwannabox/
Here, we're going to show you just how, but before we get right to it, let's answer these few questions:
What is fitness branding?
It's a blend of branding strategy, identity, and marketing that shapes how your brand is viewed by your partners, customers, and employees.
How do you brand a gym?
Know your target market and understand your member personas. Discover your goals and purpose, do your marketing research, and subsequently design your brand visuals. Establish and embody your brand.
What makes a good fitness brand?
A good fitness brand embodies strategic thinking and planning. It stays consistent across numerous touchpoints — through your social media, company website, and both your physical and online workouts.
Why is branding important for gyms?
The gym and fitness studio business are highly competitive. To stand out from the competition and pull in customers, you need to prove to your target audience that your gym is the perfect fit for them. Building a strong, catchy brand identity entails a lot of things ranging from studio structure, to specific color themes and even the general feel of your social media posts.
Branding is also important because it doesn't just give an impression of who you are and what you're about as a brand, but it also gives your audience a sneak peek into what your rates are.
For instance, budget-friendly gyms like Planet Fitness peg their rates at $10-$20 monthly. Their branding will be slightly different from the average-cost (say $29.99 – $49.99 monthly) kind of gym with multiple locations like LA Fitness which will, in turn, differ from luxury gyms like Lifetime Gym.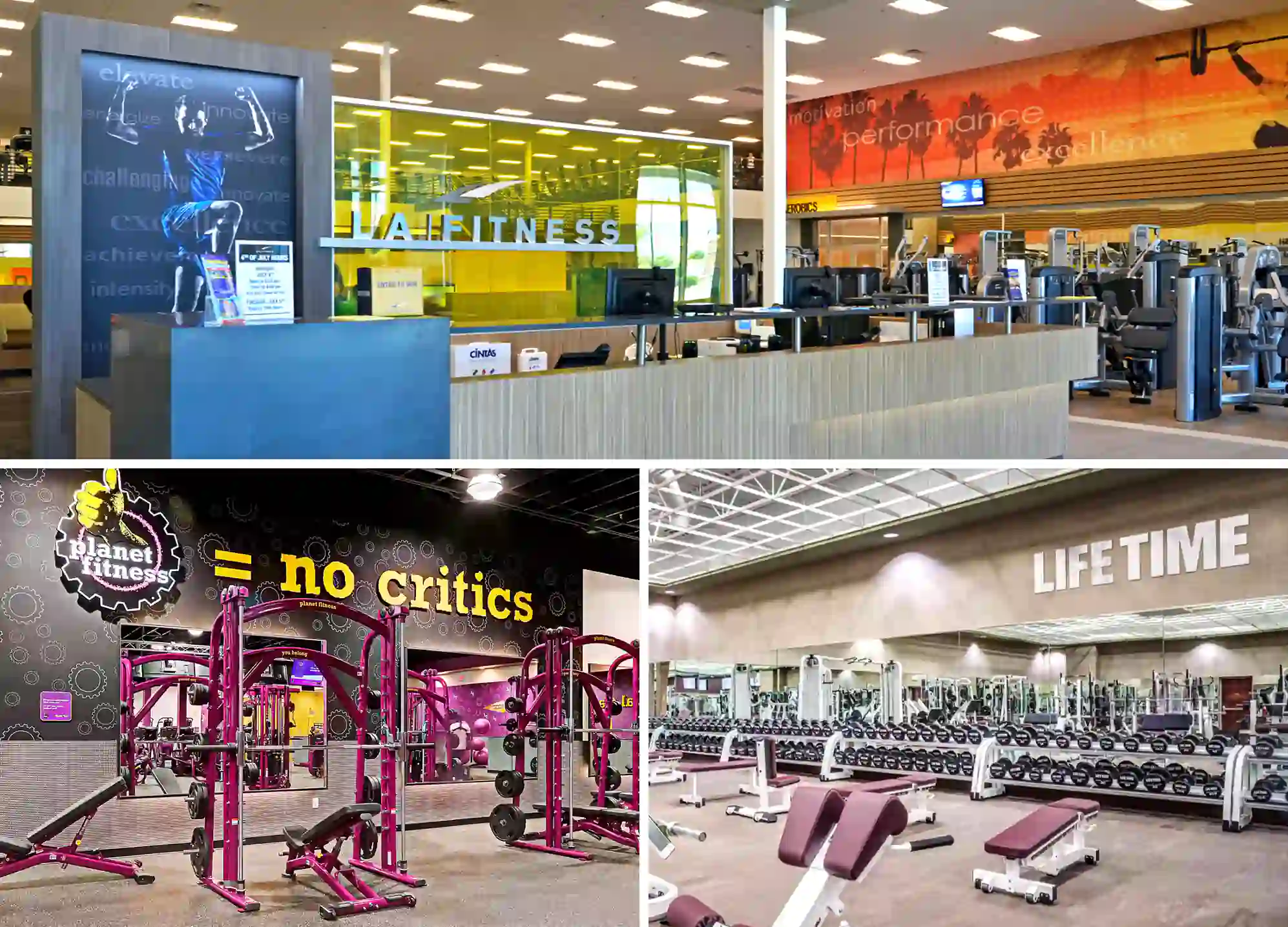 Image source: https://www.ridgemont.com/fitness-center-photos/i4u4n215g4e6owrg2twuosw7t7b3z1, 
https://www.planetfitness.com/gyms/houston-garden-oaks-tx, https://www.lifetime.life/spaces/luxury-spaces.html
In a similar manner, specialized gyms like Crossfit with their signature workouts and gym philosophies or Orangetheory Fitness helping clients with their proprietary heart-rate based HIIT total-body group workout which combines science, tech, and the right coaching should have different branding from general gyms.
When you're publicizing your gym, you no doubt want cohesion and a perfect representation of your identity and core values. However, it might be near impossible if you have nothing close to a strong gym branding exercise. This show's one thing — your gym's advertisement as branding is the launchpad with which your entire advertisement efforts will take off.
In conversations with most of our clients in the fitness industry, we often note that they don't have a full glimpse of how branding affects their bottom line. So, we're always quick to drive this point home, that their brands being showcased across different touchpoints — website, social media, emails, billboards, customer care, etc — also means an opportunity for increased brand awareness.
More people knowing about their brand is, in a way, free advertisement. The only difference is that they're not nudging customers to make a purchasing decision. But given that people are largely driven by what they see in order to make a sales decision, they might not even need to dangle gym membership offers in their faces.
So, if you're advertising all the time and doing nothing about your gym's brand, you're probably missing out on a huge advertisement channel that is 100% free! Integrating branding into your business advertising strategy boosts brand recognition, and recall.
Gym branding also gives your audience a glimpse into your gym's story. For instance, 24 Hour Fitness started out as being super-intentional about client retention. For years, this has always been their message, and to this end, they've built their brand around 24-hour access to the gym and rewards for consistent gym goers. This move earned them about $1.44 billion in revenue.
Branding builds trust and loyalty in your customers. It gives your business a more human side that makes it easier for clients to emotionally connect with your gym's philosophy and build a lasting relationship. A lasting relationship means an increase in customer retention rate and a decrease in the cost of acquiring new ones!
If you're looking to drive value internally within your team, you should also consider branding your gym. It boosts employee buy-in and the communal spirit that makes them feel every inch a part of a good cause. Companies with professional branding have an easier time getting their workers to share the vision that they're involved in something more than just working a job at the local gym.
To boost workspace motivation, you can invest in different aspects of branding such as branded apparel and merchandise like the world reknowned Crossfit apparel (Nobull brand).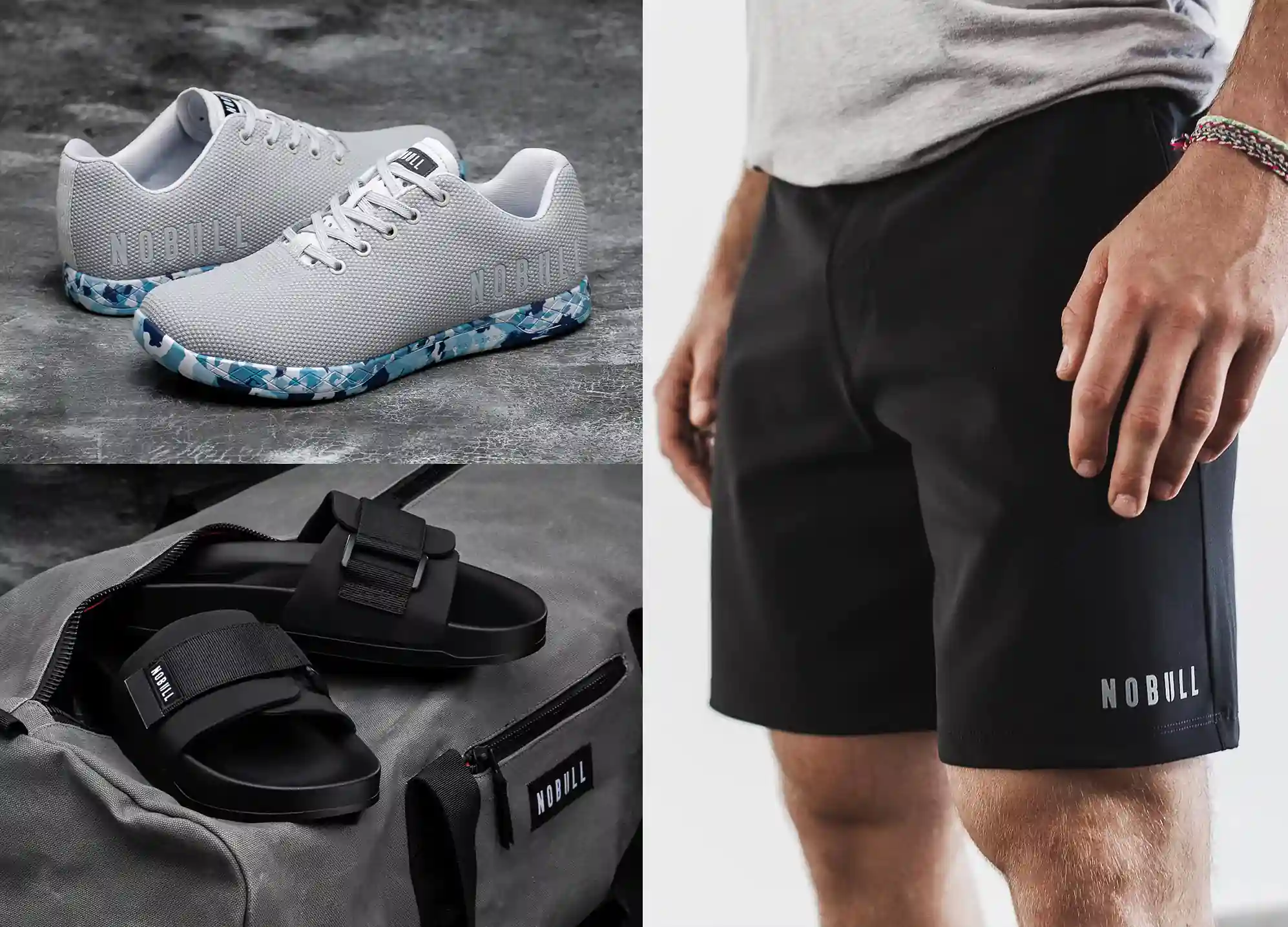 Image source: https://www.nobullproject.com/
Switch up the look of your workspace, making it more conducive and homely for your employees. If you can motivate your workers by building a feeling of unity, you could end up with increased productivity levels, and a happier workforce all-round!
The idea of a gym is to create a community where people can challenge themselve to new fitness goals and care for their physical & mental health. Owing to this, majority of our work has been based on helping our clients exactly communicate these values. Expert considerations like these are why you want to work with a branding agency to help you communicate these values in the most professional way possible.
With over 100 unique projects executed by us in this industry, you couldn't be in more competent hands when it comes to effectively communication what you're all about as a fitness establishment. Need help? Reach out to our chief analyst for a creative outlines and tailormade solutions for your fitness brand here.
How to define your gym's brand?
The more clearly you can define your brand's personality, the easier it is to distill it into a few colors, images, and elements. However, there are a number of things you should consider as you go down that route.
First, start with your unique selling proposition. Examine what makes your gym different from others around you. Find out what your main selling points are and how it helps you stay unique. Also, what would your gym look like if it were a person? Can you successfully distill your gym's personality into a word or phrase?
Elixia, the Nordic fitness and health gym did a great job doing that with their catchy slogan: "Keep Members for Life." The tagline completely embodies the vision, goal, and objective of the company and this has paid off in spades as they now have over 185,000 members with 50 centers across Scandinavia.
Consider the general feel you're looking to give your consumers. Is it something casual or formal? Something earthly or sophisticated? Or something grounded or artistic? These questions go a long way in defining who you are and what you're putting out for your customers to perceive about your business.
If you want a fitness center tailored mostly for women in the upper echelon, you might want to create a brand image that depicts sophistication and ease for the elites who desire to take on gyming and healthy living. Additionally, you can consider going for designs more appealing to the female demographic just as brands like The Strength Code have shown.
For a brand image tailored to serious, professional athletes and bodybuilders, you might want opt for a logo with more intense, masculine, steely visual effect like that of Gold's Gym showcasing sweaty athlete pumping a barbell, as this will draw in people interested in the same intensity of fitness lifestyle.
If you're more about achieving fitness by living a holistic lifestyle of full-body wellness, you can pop up with visuals that portray a more soothing, calmer image of your gym — say, a lady performing a yoga exercise. Ultimately, you cannot tell the story of the kind of gym you run except through your branding, which leads us the following story.
A gym that reminds us quite about ourselves, Prime's team of seasoned coaches wanted to create a strong brand out of the powerful community of fitness-oriented individuals they had as clients.
Having received a new brief from Stan as part of the free pre-development of their project, our expert team of designers and marketers held several brainstorming sessions to get a glimpse into this purposeful gym and their highly customized workout plans. We found that the targeted demographic of clients were motivated millennials that were striving to achieve fitness in an ever-increasing convenience culture, hence the need to integrate them into the fitness lifestyle while in their prime.
Upono identifying and analyzing their ideal customer profile and competitors, we applied commercial understanding to portray Prime's brand identity to give a sense of individuality and high-end performance, helping them appeal to their target audience better.
Very much unlike the chest-beating or do-or-die imagery that most other gyms tend to leave on their onlookers, we made use of real people sporting happy faces rather than stock photography to highlight the mental wellbeing that comes with their workout plans. In our bid to draw up a large-than-life image of the gym, we whipped up a bold "M" inscription with a swoosh sign fittingly positioned right above it, sporting a color palette of red, black, and gray.
All the brand marketing communications were on budget and on delivery, namely: logo, print, website design, message, and visual identity. These attracted prospects to their social media channel. Now, they are nationally recognized and beginning to rack up local community partnerships with bigger fitness brands and charity organizations.
What are the elements of gym branding?
Your brand is a compendium of different elements pieced together to form a whole. These elements can be used throughout all media and in all interactions with your audience. They include:
Brand Messaging
Be super-meticulous in your choice of phrases and taglines. Use language that reflects what your brand is all about in every social media post, your emails, and your marketing.
Also, educate your employees to use branded language in their communications with customers. A very good reference will be Planet Fitness' use of its playful catchphrase "Judgment Free Zone" to unnerve clients and make them feel more relaxed about their gym insecurities, thereby increasing trust.
Colors
Pay attention to your color choices. Some colors, such as gray and blue are masculine and traditional, while others like yellow and orange are innovative, vibrant, full of life and energy.
Red signals power, and white stands for purity. Green, on the other hand, often symbolizes money or nature. The common denominator? Colors tell a story. They pass across a message and add personality to your business's outlook.
For instance, Orangetheory fitness center stands out nicely with its orange-themed website landing page layout, and overall studio color palette. The company's love for orange even reflects in their name choice.
Logo
Your logo is not just another graphic element — it's the customer-facing aspect of your brand's visual identity. It's the perfect way to bring your color, font, and tagline choices together.
It serves as a foundation for all your design choices. Logos are one of the ways to set apart a brand in a competitive market, full of graphic elements that try to draw attention on a daily basis.
Gold's Gym's logo perfectly captures the essence of the company with its bold font and the illustration of a bodybuilder lifting a pair of dumbbells.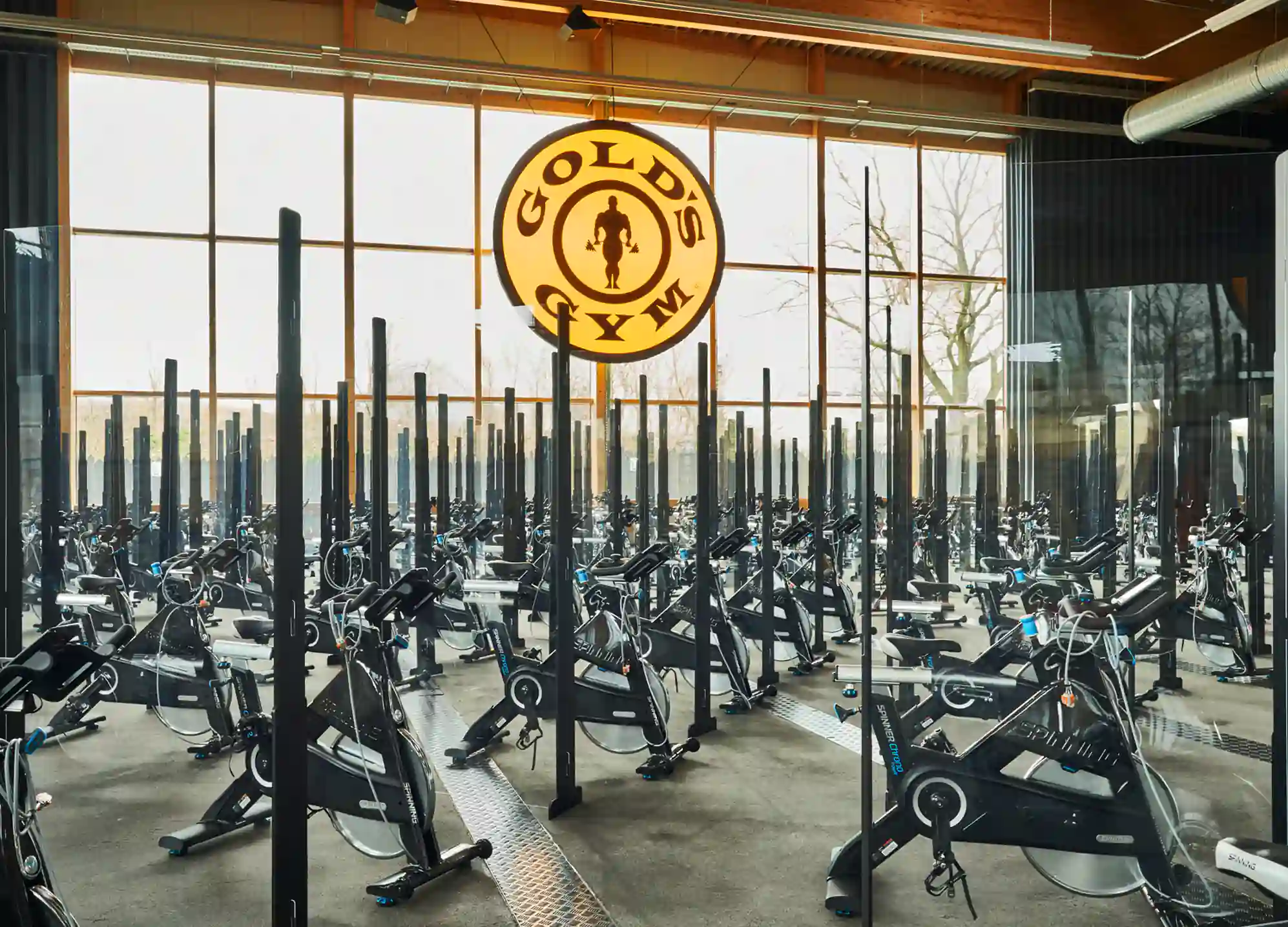 Image source: https://golds-gym.de/
Typography / font
Bear in mind that the basis for choosing a font pivots around the kind of fitness center you're setting up.
If your gym is tailored towards serious bodybuilders and athletes, heavy, bold fonts are the way to go as they give off a more intense vibe.
Design elements
Though optional, design elements like doodle sketches and geometric shapes can add another visually appealing and modern twist to your brand.
You can always wear your creative hat and mash up exciting geometric shapes — circles, rectangles, spirals, patterns, and heavy lines can aid in representing values, adding a smooth, sharp, and sleek twist to your aesthetics.
Umbro, the sports brand, has consistently used a diamond-shaped logo over the years while brands like Reebok are known for their use of symbols — three red trapezoids to signify mental, physical, and social wellbeing.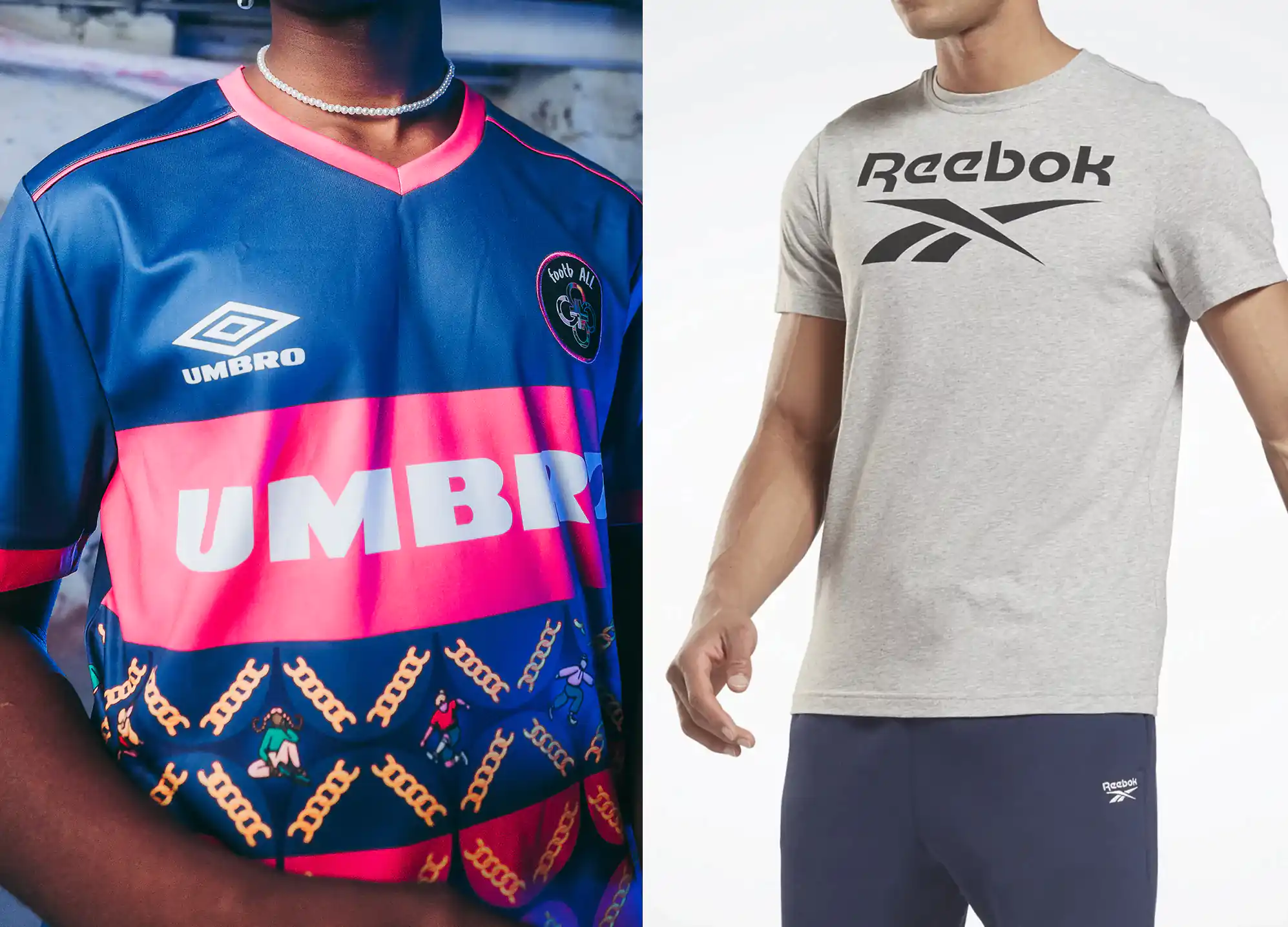 Image source: https://www.umbro.com/en/, https://www.reebok.com/us
Imagery
Use strong, emotion-packed images your target audience can find relatable and inspirational like Crunch Fitness have shown with their branding. Also, ensure that you stay consistent with the types of photos you use in your advertisements, social media posts, posters, etc., to help people easily identify your brand.
Across a handful of branding projects with clients across different sides of the gym branding spectrum — small gyms, big gyms, or even a chain of gyms, our experts have found that gym brands should seek to achieve these three things:
1. Motivate
2. Inspire
3. Excite / Delight
When it comes to keeping up with your health, every bit of these emotions count. They make all the difference, as they all combine intricately to push clients mentally, whether it's a five-minutes post-office workout, or a body detox that heavily restricts their diet. Winning design elements, when expertly executed, can give them that push they need to tip the scales in their favor.
Well over 100 projects in this niche has made our experts well-rounded in delivering comprehensive branding solutions for your fitness establishment. Whether you're looking to give off an international gym vibe, reflect old gym standards, or a bridge between both.
Or, if, like few of our past clients, you're not even sure where to start from, we can help! Get all the expert insight you need to take your gym from an 'also-ran' to a no-nonsense, results-oriented fitness brand using free project pre-development & consultation here.
The Right Brand Development Strategy
Brand development is not a walk in the park. It requires planning and organization for optimum results. That said, hiring a good branding agency comprising professional designers and seasoned marketers leaves you with not much to worry about. A good-to-honest branding agency doesn't operate with you like an employee, or an external support team, but a trustable partner that helps you in the following ways:
— Engage professional brand campaign management to create powerful campaigns concentrated on your brand message.
— View, analyse, and follow up on real-time brand marketing campaign performance and progress.
— Take over the management of all your gym brand development tasks and work hand-in-hand with your work crew without a glitch.
— Taps into a ton of experience to help you with the expert analysis, and professional insight needed to problem-solve & identify new opportunities for brand acceleration.
— Recommend and follow up with competent assignees to ensure your brand launch or brand campaign stays on the right track.
If you've read up this point and you have any need for clarification? Kindly ask away! Our award-winning team of experts are readily available to answer your questions in detail.
We have served many clients in the fitness industry, and we understand that Gym branding is an iterative and multi-step process that involves tons of research, several brainstorming sessions, sketches, and several design concepts — both fundamental & technical.
So, asking a professional for expert insights on foggy areas may be just the hack you never thought your brand needed.
Must-Know Brand Development Tips
Great branding tells potential clients who your gym is for and how it can benefit them. It creates tight bonds with customers. If your brand has a solid identity, it arouses powerful feelings of identification, loyalty, and a bond close to friendship or family.
That said, here are six tips to keep your branding in peak condition:
1. Have a Solid brand Identity
For effective gym branding, stay consistent with the same message on all your marketing material.
Repeat the message on your social media channels, your emails, and even when you are face-to-face with your clients. For instance, think of Equinox gym using "It's not fitness…it's life" as a slogan throughout all their marketing campaigns.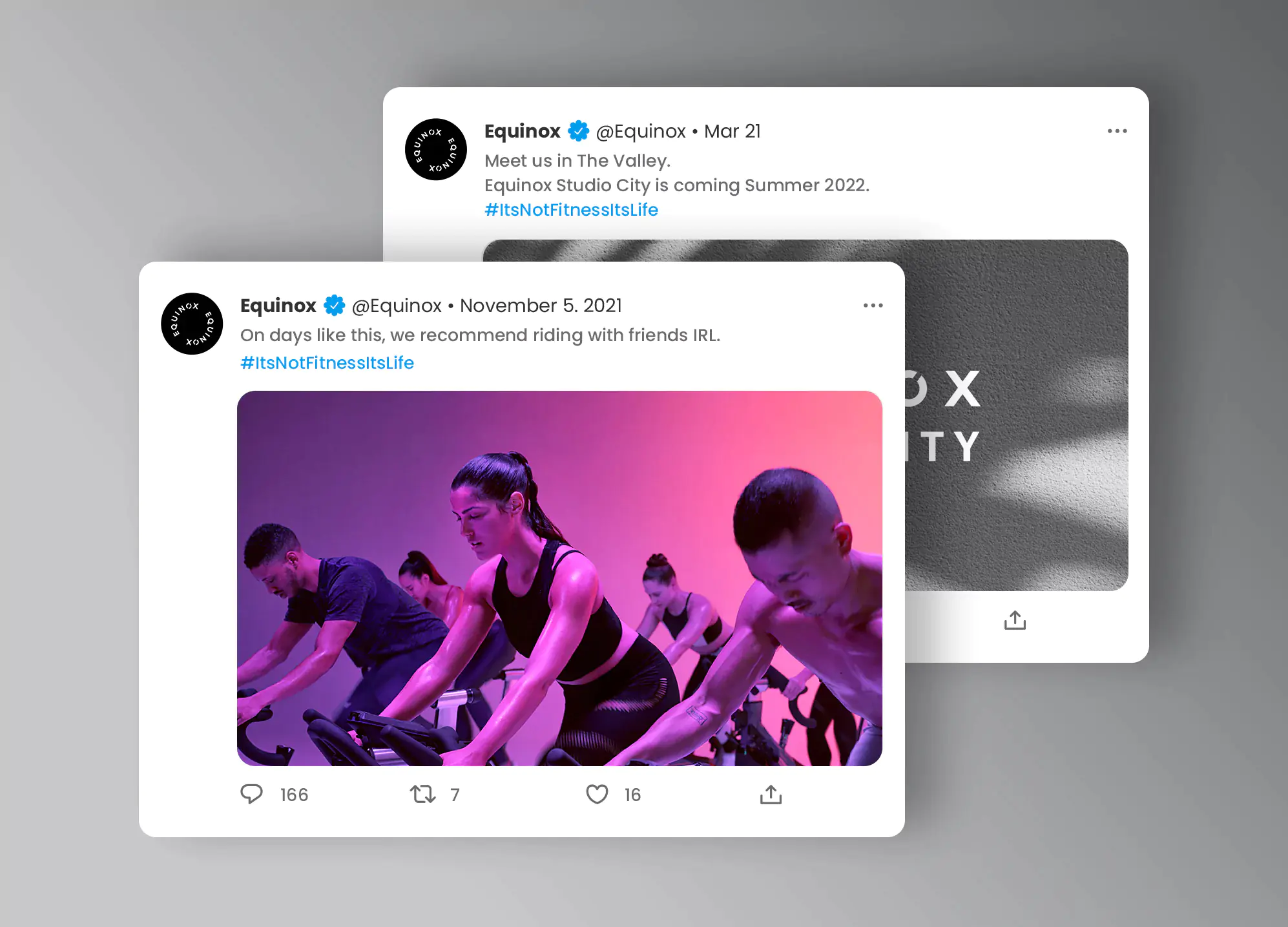 Image source: https://twitter.com/Equinox
Also, have a distinctive value proposition. This is what will make you stand out from the competition. It is a combination of statements or an effective statement that describes your business to clients, in such a way that will make them desire to engage with you and sign up at your fitness center.
2. Have a target market
Avoid trying to be that 'one size fits all' kind of gym. If you try to be for everybody, you'll only end up being for nobody. Excellent results are gotten from targeting a particular demographic of clients and creating a relevant brand and an image that resonates with them.
To understand your clients better, a good step is to collate feedback using surveys, interviews, social media, customer reviews, and testimonials. With this effort, you then get to define your current target market. This helps you build strong, personal relationships with them and boosts overall brand value.
Additionally, make sure you pay attention to their fitness goals and pain points, for some insight on how your services can be beneficial to them.
3. Be Consistent
Gyms rise or fall with their branding. So, it should go without saying that your visual identity, marketing communications, and overall brand messaging must be consistent across all branding touchpoints.
When sifting between your website, social media, and digital fitness platform, there should be no dissimilarities that can breed client confusion. There should be a clear understanding of the services you offer.
So, after creating your brand, speak with one voice and visual identity, implement your brand and stick with it. A branding style guide created by an expert will help you achieve this. Not just that, it must also give a clear explanation of how your brand's visual identity must be applied across touchpoints.
When working for our clients, a lot of brainstorming sessions go into the creation of style guides as our team of designers and marketers contemplate how the brand visual consistently fits into multiple mediums.
4. Request customer feedback
Getting customer feedback is always a great way to keep track of your brand's progress. It's an important aspect of your brand management which is called active brand listening.
For starters, a brand image helps you create an expectation from your customers. In meeting such expectations, it remains possible that you may lag in potential areas.
Finding out what your clients think and feel about your brand, and what would make them more invested can help you know potential areas of improvement to help take your studio branding to the next level. This way, you get to tailor your fitness center to their very needs.
6. Think long-term
Advertising that your brand is cutting-edge or top-of-the-line in today's world may drive you up the trendy ladder, with winning designs and whatnot.
However, you may want to consider how to bring life to that message in a way that won't look outdated in the next couple of years. Evaluate how your branding elements will hold up as time goes by. Build something that embodies the integrity and credibility of your gym when it comes to snapping up fitness results for your clients.
However, also ensure it's flexible enough to survive the changes that will definitely come over the years. The cool, spunky look might be the rave today, but if you plan to stick around for a while, think again before you implement it.
To get that balance, you need an agency with a deep commercial understanding of your needs, and the branding innovations that can meet theses commercial needs within a set target period. From competitor analysis, to consumer choices and other market externalities. It goes beyond running a SWOT analysis and calling it a day.
How does a leading supplier of resistance bands, in the fitness marketplace (Willpower) drive growth in brand awareness and increased sales? Stan Branding developed branding solutions that took stock of in-depth research analysis and engaged creative expertise to leverage these insights, inviting more brand appeal.
At the initial stages, our internal team of marketers and designers held brainstorming sessions that revealed Willpower needed a fresh, more strategic look. We presented a pitch deck containing an outline for a new brand that better reflected the flexibility of the resistance bands they sell — strength training for both light & heavyweight trainers. We ultimately secured the buy-in of the management.
Our expert team took a no-nonsense, purely value-based approach. Red and Black color palletes did well to reinforce the agility & toughness of these resistance bands. The logo featured an italicized wordmark with an image of a trainer outstretched with the help of the resistant bands, so it was clear that the company sold resistant bands.
Our enterprise-level, multi-channel rebranding explored all mediums to gain a tangible increase in brand awareness including online, physical media, and social. We delivered marketing communications alongside branded vehicle wraps with striking on-brand visuals that delivered an impression of the brand that was sure to linger in the minds of onlookers.
The high-level creative spark the team put in proved to yield results as they saw a 67% growth in their sales leads and got swamped with 4.12 million earned media impressions. Their marketing department also reported a 7.9% increase in their YoY revenue, which was their highest ever after any of their past brand improvements.
Wrap Up
With public consciousness around mental and physical wellness at an all-time high and at the current pace of growth the fitness industry is witnessing, hundreds of gyms are being established, and it's practically impossible to compete if you don't even have a clearly defined identity as a gym brand to start with.
To avoid having to play catch up, strengthen the connection with your customers, boost trust & loyalty, and ultimately expand your business. This leaves you needing a strong brand. With one, like gyms in the big league, you too can create your own fitness fortress that will garner a very loyal following from customers.
We get that it may seem daunting to build a flourishing fitness brand at first, but like many who have successfully carved out a reputation for their gym with branding, you too can scale through effectively with proper and professional guidance.
While the tips we have outlined above are a step in the right direction, a skillful implementation of these tips requires that you lean on the experienced shoulders of professionals, preferably a brand agency with a multi-disciplinary team of experts who can partner with you through this delicate phase.
We are an award-winning agency with over 300+ unique completed projects with proven results. Are you just starting out and looking to 'own' your space in the fitness world? Are you a fitness giant looking to cement your leading status after a major acquisition? Looking to pivot your service offerings to a different group of clients?
Whatever your needs are, with the deep commercial understanding required to create scalable and long-serving branding gym branding solutions, we can offer made-for-you solutions that can place your gym firmly among the high-flyers regardless of what kind of gym you run.
To get started, take advantage of the opportunity to get a 100% free project pre-development consultation from our CEO here.