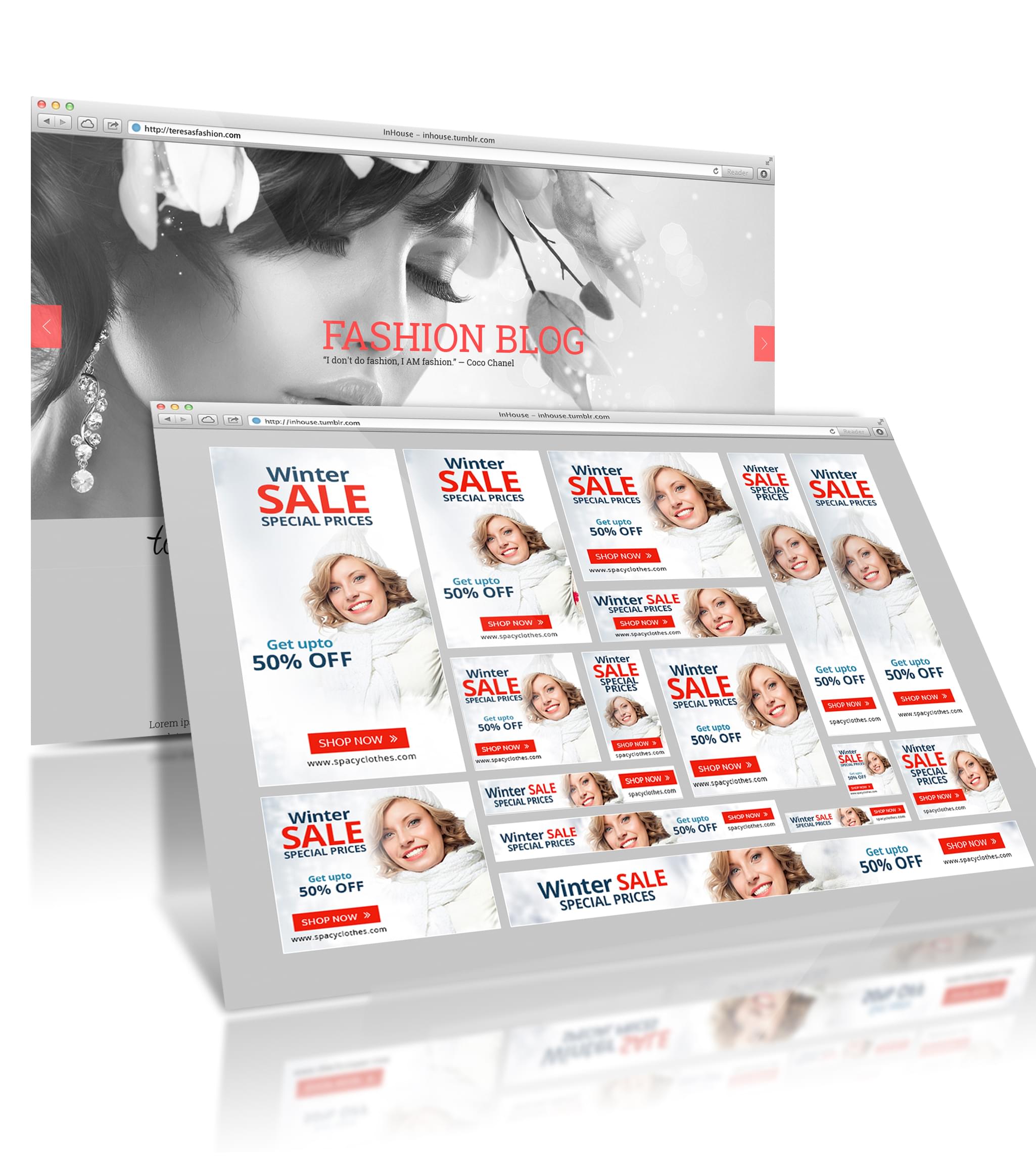 Looking for
Banner Design?
View More
Your target market sees dozens of digital ads every day. What makes you think they'll click yours?
They won't unless your own banner design is amazing. So, don't settle for an amateurish agency that'll throw together a half-baked concept and hope for the best. Your advertising dollars are too valuable.
You need a team of professional graphic designers who will stay ahead of advertising trends and can create unique banner designs that grab your audience's attention and won't let go until they click. You need Stan Agency.
We're a USA-based agency that specializes in developing quality, creative banner design for companies looking to leverage their online advertising budgets more efficiently.
We have extensive experience in designing custom banners in a variety of formats, including square, horizontal, and vertical banner design. We'll work with you to measure the effectiveness of each banners through PPC stats to optimize them for ultimate profitability.
We're committed to making your brand and product image stand out through innovative banner design. And we'll do it at an affordable price.
How can banner advertising help my business?
Banner ads are an easy, reliable way to drive website traffic. However, that's not the only reason you might design and implement a banner. In addition to pushing people to your homepage, you might use compelling banners to…
Retarget previous visitors.

Retarget previous visitors. If someone visits your business's site but fails to make a purchase, you can retarget them with a creative, engaging banner ad. It's a simple way to retarget people who've shown an interest in your offerings.

Generate leads for a landing page.

Banners won't just drive traffic to your homepage. You can design a banner that will drive people to specific landing pages. As you test different banner and landing page combinations, you'll be able to focus your strategy, boosting the efficiency of your ad spend.

Boost brand awareness.

Banners are an effective way to boost brand awareness and reach. The more you can get well-designed images with your brand into the wild, the more likely people will recognize and check you out.
How does Stan Agency achieve results?
To design powerful and compelling banners, we take the following approach…
We begin with an extensive consultation phase where we learn about your business, current brand image, core products' packaging design, and most important values. Then, we'll help you discover your banner design goals.
Once we understand your business, we'll examine similar companies, noting industry trends and analyzing advanced advertising strategies currently being employed by your competition.
We'll take that information and, along with any inspiration you might offer, develop a brief that includes rough banner design examples for you to consider. This will include a variety of potential options, including standing banner designs, vertical banner designs, and more.
Our team of professional designers will use the best design examples to create finalized custom banners that fit your business and industry impeccably. We can even create multiple banner options, so you run A/B tests in order to determine which designs are the most efficient.
After your new banners have had time to run, we can note the click-through-rate, and other statistics, to determine which banners have been most successful and how we might tweak them to boost your return.
Throughout, we'll keep your budget in mind, ensuring your cost doesn't get out of hand.
We'll always keep our lines of communication open so your feedback and ideas can be implemented into every step.
If you'd like to learn more about our banner design services, contact us today.